Robert Fulton
Quick Facts
Birthday: November 14, 1765
Nationality: American
Famous: American Men American Inventors & Discoverers
Sun Sign: Scorpio
Died At Age: 49
Born in: Little Britain, Lancaster County, Pennsylvania
Famous as: American engineer & inventor
Family:
Spouse/Ex-: Harriet Livingston
father: Robert Fulton
mother: Mary Smith
siblings: Abraham, Elizabeth, Isabella, Mary
children: Julia, Mary Cornelia, Robert
Died on: February 24, 1815
place of death: New York City
City, States, Provinces & Districts: Pennsylvania
More Facts
education: Quaker elementary school
Continue Reading Below
Robert Fulton was an inventor and engineer who constructed the first commercially successful steamboat. It was Fulton who built Nautilus, the first submarine after receiving order from Napoleon Bonaparte. Naval torpedoes were his other noteworthy inventions. He started his career as an apprentice whose works included creating miniature portraits to design lockets and rings. During his visit to Europe, he learnt various techniques of mechanical devices and remained busy in experimenting with those devices. At that time, he developed a special interest towards inland water transportation. His interest resulted in the development of a double inclined plane system. For this specific invention, he received a British patent. Gradually, he developed a plan for cast iron aqueducts and a digging machine. The credit for inventing the first panorama which was shown in Paris goes to him. In later period of his life, he constructed a vessel of 38 tons, named Fulton, on behalf of the United States Government. It was the first steam warship which consisted of central paddle wheels. His other remarkable inventions include various machines for spinning flax, for making ropes, for sawing and polishing stones like marble. Along with Robert Livingstone, he developed North River Steamboat, which was the first commercial steamboat.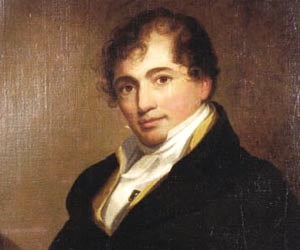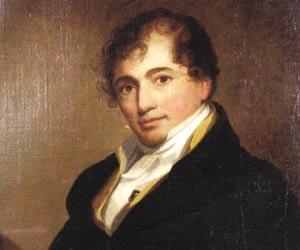 Recommended Lists:
Recommended Lists:
Continue Reading Below
Childhood & Early Life
As the son of Irish immigrants, Robert Fulton was born in Little Britain, Pennsylvania, US. He grew up with his three sisters and a brother. His father worked at farming.

His family lost their farm in 1771, and shifted to Lancaster where his father passed away in 1774. He received his early education at home. Later, he studied at a Quaker school.

Career

He worked as an apprentice in a jewellery shop in Philadelphia. Here he became an expert in creating painting of miniature portraits on ivory for designing lockets and rings.

During his stay in Philadelphia, he came in contact with Benjamin Franklin and several personalities of Revolutionary War. At that time, he planned to visit Europe. He went to London in 1787.

In London, with the assistance of Benjamin West, an Anglo-American painter, he received several commissions of painting portraits and landscapes. Although he managed some success, he didn't see a great future from himself in painting.

In 1794, he decided to concentrate on canal engineering. His first assignment was to design a canal system to replace the locks that were then in use.

In 1796, he published 'Treatise on the Improvement of Canal Navigation', which dealt with a complete system of inland-water transportation based on small canals extending throughout the countryside. He also patented a dredging machine and several other inventions.

In 1797, he went to Paris, where he proposed the idea of a submarine, the 'Nautilus,' to be used in France's war with Britain; but the French government rejected the idea.

In 1800, he built the submarine 'Nautilus' at his own expense. The submarine was used in the battle against British but it wasn't very successful.

Continue Reading Below

In 1801, when he met with Robert R. Livingstone, he decided to build a steamboat. For this purpose, he experimented with water resistance capacity of various hull shapes. Unfortunately, his designed boat sank.

In 1804, he moved to England where Prime Minister William Pitt commissioned him to build a range of weapons for the Royal Navy. At that time, he developed the world's first naval torpedoes with advanced design.

In 1806, he arrived in New York and started construction of his steamboat Clermont. It was named after Robert Livingstone's estate on the Hudson River. This boat was capable to make 150 mile trip in 32 hours.

In 1807, along with Robert Livingstone, he developed the North River Steamboat, the first commercial steamboat. It was operated on the Hudson River between New York City and Albany, New York.

In 1810, the three boats that he designed, served the Hudson and Raritan rivers. His designed steamboats replaced the horse ferries for the crossing of rivers in New York, Boston and Philadelphia.

In 1811, the 'New Orleans' that he designed was sent to south to validate the Livingston-Fulton steamboat monopoly of the New Orleans Territory. Later, he constructed three boats based on the design of 'New Orleans'.

In the same year, he became a member of the Erie Canal Commission and he remained this Commissions' member until his death. Later, he created design of Demologos which is the world's first steam driven warship that he made for the US Navy for the war of 1812.

Personal Life & Legacy

He tied the nuptial knot with Harriet Livingstone in 1806. They had four children whose names were Robert, Julia, Mary and Conelia.

In 1815, when he was trying to rescue his friend from the frozen Hudson River, he got soaked with icy water and later developed pneumonia. He passed away on account of his illness.

In 1816, the Commonwealth of Pennsylvania donated a marble statue of Fulton to the National Statuary Hall Collection in the US Capitol Building.

During Hudson-Fulton Celebration of 1909 in New York City, he was remembered for his unique design of steamship technology.

Trivia

BBC children's television portrayed the character of this extremely talented personality through its popular programs like 'Triton' and 'Pegasus'. The album titled 'Holland' by The Beach Boys, mentions the name of this gifted engineer through its song 'Steamboat'.

Translate Wiki

to Spanish, French, Hindi, Portuguese

Article Title

- Robert Fulton Biography

Author

- Editors, TheFamousPeople.com

Website

- TheFamousPeople.com

URL

-

https://www.thefamouspeople.com/profiles/robert-fulton-3376.php

Last Updated

- October 25, 2017

---

---

---