Ricky Tomlinson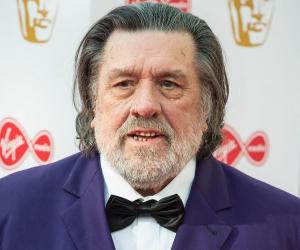 Quick Facts
Birthday: September 26, 1939
Nationality: British
Age: 80 Years, 80 Year Old Males
Sun Sign: Libra
Also Known As: Eric Tomlinson
Born Country: England
Born in: Bispham, United Kingdom
Famous as: Actor
Height: 5'8" (173 cm), 5'8" Males
Family:
Spouse/Ex-: Rita Cumiskey (m. 2003), Marlene Tomlinson (m. 1962–1986)
mother: Peggy Tomlinson
siblings: Richard Tomlinson, Simon Wallace
children: Clifton Tomlinson
City: Blackpool, England
More Facts
education: Walton Technical College
Continue Reading Below
Ricky Tomlinson is an English actor, political activist and an author who has appeared in many popular television shows and films since the 1980s. He won a British Comedy Award and a National Television Award for his role of 'Jim Royle' in the sitcom 'The Royle Family'. The veteran actor, who has appeared in many popular television shows, is also known for his work in shows like 'Brookside', 'Cracker', and 'Playing the Field'. Ricky Tomlinson has been featured in a few good films as well, most notably portraying the character of 'Mike Bassett' in the comedy film 'Mike Bassett: England Manager'. He has been a dedicated political activist since his early 30s. Interestingly, Tomlinson's political views changed drastically from right-wing to left-wing politics after being inspired by Robert Noonan's novel 'The Ragged-Trousered Philanthropists.' For his socio-political activism, Tomlinson spent two years imprisoned in the 1970s. He has also worked for the betterment of underprivileged children and has donated thousands of pounds to charities like Human Milk Bank of Cheshire and North Wales.
Recommended Lists:
Recommended Lists:
Continue Reading Below
Childhood & Early Life
Eric "Ricky" Tomlinson was born on September 26, 1939, in Blackpool, Lancashire, to Peggy Tomlinson. His father was a baker. He grew up in Liverpool and attended Walton Technical College.

Recommended Lists:

Recommended Lists:

Television Career

Ricky Tomlinson's journey as an actor started in 1981 with a small role in the television series 'Play for Today'.

He then received a great offer from the makers of the Channel 4 soap opera 'Brookside'. In the long-running television show, Tomlinson featured in 190 episodes between 1982 and 1988. His character of 'Bobby Grant' became fairly popular among the audience.

He appeared in a few more television shows, mostly in special roles, before getting the role of 'Cinders' in the show 'Roughnecks'. He was part of the 1994-95 season and appeared in a total of 13 episodes.

Tomlinson's portrayal of 'Charlie Wise' in the British crime television show 'Cracker' is one of his most popular works to date. He featured alongside Robbie Coltrane, Christopher Eccleston, and Barbara Flynn among the lead artistes.

In the late 1990s, Tomlinson appeared in another popular television show, 'Playing the Field', as 'Jim Pratt'. The show was inspired by the novel 'I Lost My Heart to The Belles' by Pete Davies, and featured Tomlinson in 29 episodes between 1998 and 2002.

In 1998, Tomlinson received an offer to play what would become the biggest role of his career. He accepted the role of 'Jim Royle' in the British television sitcom 'The Royle Family'. The show ran for three years. Tomlinson portrayed the central character, 'James Randolph "Jim" Royle', and was nominated at multiple award shows for his powerful performance.

Tomlinson featured in the television adaption of the film 'Mike Bassett: England Manager' as the title character and later featured in the series 'Nice Guy Eddie' as 'Eddie McMullen' in 2002.

Recommended Lists:

Recommended Lists:

Other Works

Ricky Tomlinson appeared in many feature films but his most popular work was in Steve Barron's comedy film 'Mike Bassett: England Manager'. The film also featured Amanda Redman and Bradley Walsh alongside Tomlinson in lead roles.

Tomlinson has always shown a keen interest in music and also plays the Banjo. He has played musical instruments during his performance in the 'The Royle Family'.

Tomlinson was a supporter of right-wing politics as a young man. However, inspired by Robert Noonan's novel, he began leaning towards left-wing politics. Over the years, he has taken part in many movements, including the flying pickets of a worker's dispute.

Recommended Lists:

Recommended Lists:

Major Works

Ricky Tomlinson's portrayal of 'James Randolph "Jim" Royle', in the sitcom 'The Royle Family' is one of his best performances in his nearly four-decade-long acting career. His portrayal of a negligent, lazy, and a cynical person on the show earned him a nomination at the BAFTA Awards for the Best Comedy Performance in 2000. Tomlinson also the Best Actor/Performance Award at the British Comedy Awards and the National Television Awards, UK.

As a political activist, he joined the flying pickets during the Shrewsbury building workers' dispute in 1972. Tomlinson was charged with "conspiracy to intimidate" owing to his participation. He pleaded his innocence but was still sentenced to two years of jail term in 1973.

Recommended Lists:

Recommended Lists: