Ringo Starr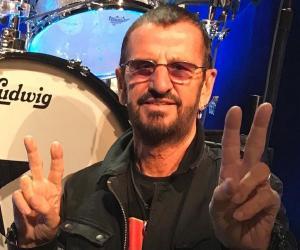 Quick Facts
Nationality: British
Famous: Left Handed School Dropouts
Age: 78 Years, 78 Year Old Males
Sun Sign: Cancer
Also Known As: Richard Starkey
Born in: Dingle, Liverpool, England
Famous as: Drummer
Height: 1.68 m
Family:
Spouse/Ex-: Barbara Bach - Maureen Starkey Tigrett
father: Richard Starkey
mother: Elsie
Personality: ESFP
More Facts
education: St Silas primary school,
Continue Reading Below
Ringo Starr is a famous English musician, songwriter and singer, best-known as the drummer of the famous band, 'The Beatles'. Though he suffered from illnesses for most part of his childhood, his poor medical condition inspired him to create a mark in the world of 'rock and roll'. When 'The Beatles' was formed, he was a member of another band called 'Rory Storm and the Hurricanes'. After receiving moderate acclaim with that group, he joined 'The Beatles', replacing Pete Best – it was a move that changed his life for good! With his inclusion in the group, the band peaked with their albums on most international music charts and although his contribution to music with the band was not lauded as expected, he at least became a well-recognized figure on his own. Apart from music, this famous personality has been featured in a number of documentaries, television shows and has also hosted the television series, 'Thomas & Friends'. He is also the founder of a supergroup called 'Ringo Starr and His All-Starr Band'.
Recommended Lists:
Recommended Lists:
Continue Reading Below
Childhood & Early Life
Richard Starkey was born on July 7, 1940 to Elsie and Richard Starkey, in Liverpool, Lancashire, England. By the time he turned four, the family moved to another neighborhood. However, his parents separated and divorced in a year.

Following his parents' divorce, his mother took up a number of jobs to make ends meet. However, tragedy struck when young Starkey, aged 6, developed appendicitis and fell into a coma for three days. He recovered completely only after a year.

After his discharge from the hospital in 1948, his mother did not allow him to go to school and till the age of 8, the young boy was unschooled. As a result of his gap year, he was alienated at school and fared poorly in academics.

In 1953, disaster once again struck the family, when he contracted tuberculosis and was admitted to an infirmary for nearly two years. In order to stimulate motor activity and enhance quicker recovery, the hospital encouraged patients to join the hospital band and indulge in music. This was when he began to develop interest in drumming.

Meanwhile, in 1953, his mother married an ex-Londoner, Harry Graves, who introduced young Starkey to soundtracks by Sarah Vaughan, Dinah Shore and Billy Daniels. After he was discharged from the hospital, he chose not to return to school and preferred to stay at home instead, listening to music and learning it.

Continue Reading Below

Recommended Lists:

Recommended Lists:

Career

He was briefly employed with the British Rail, but since he was unable to pass the physical examination, he was out of work and was given unemployment benefits.

He then did a number of odd-jobs and sometime around the 1956, he worked as an apprentice machinist with an equipment manufacturer. While he worked there, he became friends with Roy Trafford, who shared an equal passion for music like him.

He began his musical career in a Skiffle band and took the nickname, 'Ringo', because of the number of rings he wore. He joined Al Caldwell's, 'Texans' Skiffle group and then finally settled for the band, 'Rory Storm and the Hurricanes'. By now, he had fully adopted the stage name; 'Ringo Starr' and his drum solos were allocated as 'Starr Time'.

In 1960, he met a Liverpool band, 'The Beatles' and joined them two years later, replacing the-then drummer, Pete Best. He was soon on the path of success with his new band members, John Lennon, George Harrison and Paul McCartney.

In 1962, Starr had his first professional recording experience with the Beatles. They recorded their first single, 'Love Me Do/P.S. I Love You' and followed this with 'Please Please Me' the next year. With their first album, 'The Beatles' had already created frenzy, leading to 'Beatlemania'.

Starr also made a rare appearance on lead vocals for the song, 'Boys' on the album. In the early 1960s, the group was already making headlines across the Atlantic and took their music to the big screen with a comical documentary film, 'A Hard Day's Night', in 1964, where Starr had an acting role.

In 1965, for 'Help!' a film venture, Starr was once again given a chance to prove his acting abilities and also provided the vocals for thesingle 'Act Naturally'. He gained immense praise from critics for his poker-faced one-liners and silent scenes, though he was not very well-acknowledged by fans like the other members of the band.

Continue Reading Below

After a brief illness, Starr became more isolated than ever with the group and feared that they may have substituted him. In 1966, in their seventh album, 'Revolver', he was given only one single in the album as the lead singer titled, 'Yellow Submarine'.

Following a brief period of creative rigidities with 'The Beatles', he decided to spend time on other projects including the film, 'The Magic Christian', in 1969.

The next year, the Beatles split after Paul McCartney's announcement that he was leaving the group. Starr's work with one of the greatest groups in musical history also ended with the group's break up.

He began his career as a solo artist in 1970 with his debut solo album, 'Sentimental Journey'. The next year, he decided to experiment with country music for the album, 'Beaucoup of Blues'.

From 1971 to 1974, apart from recording albums, Starr was also involved in other creative pursuits. He appeared in films like '200 Motels', 'That'll Be the Day' and 'Son of Dracula'. He also produced the documentary, 'Born to Boogie'.

In 1975, he founded his own record label company, 'Ring O' Records'. For the next three years after its formation, the company signed on a number of artists and albums, including the works of Rab Noakes, Graham Bonnet and David Hentschel.

From 1977 to 1978, his albums, 'Ringo the 4th' and 'Bad Boy' became commercial disasters in the world of music.

Continue Reading Below

In 1981, he starred in the comedy film, 'Caveman' along with his future wife, Barbara Bach. The same year, he released 'Stop and Smell the Roses', his eighth studio solo album.

In 1984, he teamed up with Paul McCartney once again for the musical drama, 'Give My Regards to Broad Street'. He also hosted the children's series, 'Thomas & Friends' till the next two years.

In 1989, 'Ringo Starr & His All-Starr Band' gave their first performance to a jam-packed audience in Dallas, Texas. The band's members were all successful artists in their own right and featured a whole lot of creative musicians.

In 1990, the group released their first official live album, 'Ringo Starr and His All-Starr Band', which was a compilation of all their live performances. The next year, he made a brief cameo appearance as himself for an episode on 'The Simpsons'.

In 1992, he released his first studio album, 'Time Takes Time' that featured guest performances by a number of artists. Two years later, he began working on the 'Beatles Anthology' project with the members of the 'Beatles'.

One of the singles that Paul McCartney, George Harrison and Starr worked on, titled 'Free As A Bird' released in 1995 after Lennon's death, and became a huge hit. The following year, another single, 'Real Love' did equally well on the charts and went on to become a big hit.

In 2003, he formed 'Pumpkinhead Records' with his All-Starr band member, Mark Hudson. Three years later, he featured on the Jerry Lee Lewis duet album, 'Last Man Standing' in which he performed a cover of 'Sweet Little Sixteen'.

Continue Reading Below

In 2008, Starr released another solo album, 'Liverpool 8'. Two years later, he released another studio album, 'Y Not' and appeared for the 'Hope for Haiti Now: A Global Benefit for Earthquake Relief' the same year.

In 2012, he released the album, 'Ringo 2012'. The same year, the 'All-Starr' band announced that they would be touring the Pacific Rim the next year.

Recommended Lists:

Recommended Lists:

Major Works

His third solo album 'Ringo', released by Apple Records in 1973, was placed at the number 2 position on the Billboard 200. Upon its release, the RIAA certified the album 'platinum' and in Canada, the album reached the no.1 position on the RPM National albums chart. The songs from this album would be signature singles that he would use for many of his tours. In the United Kingdom, the album was certified 'Gold' by the BPI.

Recommended Lists:

Recommended Lists:

Awards & Achievements

He was appointed as one of the 'Members of the Order of the British Empire', during the Queen's Birthday celebrations, in 1965.

In 1971, the Beatles won an Academy Award for 'Best Original Song Score' for the film, 'Let It Be'.

He was inducted into the 'Rock and Roll Hall of Fame' in 1988 along with the other Beatles members.

Continue Reading Below

He 2010, he was honored with a star on the Hollywood Walk of Fame.

In 2013, he was inducted into the 'Rock and Roll Hall of Fame' for his successful solo career.

Recommended Lists:

Recommended Lists:

Personal Life & Legacy

He married his first wife, Maureen Tigrett, in 1965. They had three children together; Zak, Jason and Lee. The couple divorced exactly a decade later in 1975.

In 1980, he met actress Barbara Bach on the sets of the movie, 'Caveman', fell in love with her and married her on April 27, 1981.

He has an estimated personal wealth of $150 million by the 'Sunday Times Rich List' in 2011.

Recommended Lists:

Recommended Lists:

Trivia

The planet, '4150 Star' is named in this musician's honor.

Recommended Lists:

Recommended Lists:

| | | |
| --- | --- | --- |
| 1971 | Best Music, Original Song Score | Let It Be (1970) |

| | | |
| --- | --- | --- |
| 1997 | Best Music Video - Long Form | The Beatles Anthology (1995) |
| 1997 | Best Music Video, Short Form | The Beatles: Free as a Bird (1995) |
| 1971 | Best Original Score Written for a Motion Picture or Television Special | Let It Be (1970) |

Translate Wiki

to Spanish, French, Hindi, Portuguese

Article Title

- Ringo Starr Biography

Author

- Editors, TheFamousPeople.com

Website

- TheFamousPeople.com

URL

-

https://www.thefamouspeople.com/profiles/richard-starkey-2671.php

Last Updated

- July 07, 2017

---

---

---