Peter Weller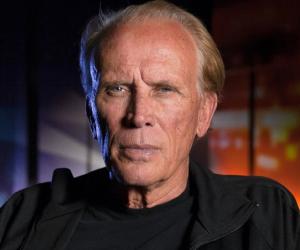 Quick Facts
Nationality: American
Famous: Actors American Men
Age: 72 Years, 72 Year Old Males
Sun Sign: Cancer
Also Known As: Peter Francis Weller
Born in: Stevens Point, Wisconsin
Famous as: Actor
Height: 6'0" (183 cm), 6'0" Males
Family:
Spouse/Ex-: Shari Stowe (m. 2006)
father: Frederick Bradford Weller
mother: Dorothy Jean Weller
children: Kate Linden Weller
U.S. State: Wisconsin
More Facts
education: Syracuse University, American Academy of Dramatic Arts, University of California, Los Angeles, University of North Texas, Alamo Heights High School
Continue Reading Below
Peter Weller is an American actor who is popularly known for portraying the character of 'Officer Alex J. Murphy/RoboCop' in the cyberpunk action film 'RoboCop'. He earned a nomination at the Saturn Awards for Best Actor for his role of the iconic character which became very popular among the audience of various age groups. He also reprised the same role in the sequel of the original film three years later. Interested in acting and music from a young age, Weller studied at the American Academy of Dramatic Arts before embarking on a career in the field of entertainment. He began his career as a stage actor and eventually made his way into the TV and film industries. He portrayed the role of 'Buckaroo Banzai' in the science fiction film 'The Adventures of Buckaroo Banzai Across the 8th Dimension.' His role of 'William "Bill" Lee' in the drama film 'Naked Lunch' earned him a nomination at the Genie Awards for Best Performance by an Actor in a Leading Role. Weller is a very popular face in the television industry as well, making over 40 appearances across television series and TV films. Weller earned a nomination at the Academy Award for Best Live Action Short Film for his role of a doctor in the short film 'Partners'.
Recommended Lists:
Recommended Lists:
Continue Reading Below
Childhood & Early Life
Peter Francis Weller was born on June 24, 1947, in Stevens Point, Wisconsin, to lawyer Frederick Bradford Weller and Dorothy Jean. Weller's father was also a federal judge and a career helicopter pilot for the United States Army, which was one of the main reasons he moved around the world with his family during his childhood.

Weller spent a few years in Germany where he received his primary education and later moved to Texas with his family and enrolled at the Alamo Heights High School. Later, he attended the University of North Texas and received his Bachelor of Arts in theatre. He also received training at the American Academy of Dramatic Arts.

Recommended Lists:

Recommended Lists:

Career in Theatre & Films

Peter Weller began his journey as a theatre artiste in the 1970s and appeared in several Broadway productions including Otto Preminger's 'Full Circle', William Inge's 'Summer Brave' and 'Picnic'.

He made his debut on the silver screen in 1979, appearing as 'Joe Le Fors' in 'Butch and Sundance: The Early Days'. He later appeared in films like 'Just Tell Me What You Want', 'Shoot the Moon', and 'Of Unknown Origin' before making his mark in the 1984 drama film 'Firstborn'.

His portrayal of 'Buckaroo Banzai' in the adventure sci-fi film 'The Adventures of Buckaroo Banzai Across the 8th Dimension' in 1984 became an iconic role.

Weller portrayed the title character in the 1987 American cyberpunk action film 'RoboCop'. The characterization of 'Officer Alex Murphy' became overshadowed by that of 'RoboCop', both played by Weller. Apart from Weller, the film also featured Nancy Allen, Dan O'Herlihy, Ronny Cox, Kurtwood Smith, and Miguel Ferrer in major roles. Three years later, Weller reprised his role in the sequel of the film, 'RoboCop 2'.

Weller appeared in the critically acclaimed film 'Naked Lunch'(1991) which was based on the novel of the same name by William S. Burrough. He played the character of 'William "Bill" Lee' in the film and was nominated at the Genie Awards for Best Performance by an Actor in a Leading Role.

Apart from these popular roles, Weller has also portrayed notable characters in films like 'Mighty Aphrodite', 'The New Age', and 'Star Trek Into Darkness'.

Recommended Lists:

Recommended Lists:

Television Career

Peter Weller has had a distinguished career on television as well. He made his debut in the TV film 'The Man Without a Country' as '' Lt. Fellows' in 1973. He then appeared in a few other TV films before making an appearance in 'Partners', for which he earned a nomination at the Academy Awards.

Over the years, Weller appeared in shows like 'Odyssey 5' as 'Chuck Taggart', '24' as 'Christopher Henderson', 'Dexter' as 'Stan Liddy', and 'Sons of Anarchy' as 'Charles Barosky'. He also hosted 'Engineering an Empire' on the History Channel.

He has also directed a few episodes in a number of television shows including 'The Mob Doctor', 'Longmire', 'Hawaii Five-0', 'The Strain', 'Under the Dome', 'Tyrant', and 'Shades of Blue'.

Recommended Lists:

Recommended Lists: