Peter Jackson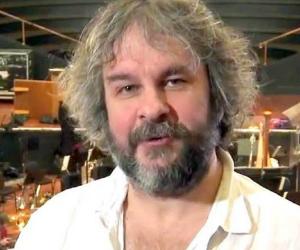 Quick Facts
Birthday: October 31, 1961
Nationality: New Zealander
Famous: Directors Screenplay Writers
Age: 57 Years, 57 Year Old Males
Sun Sign: Scorpio
Also Known As: Sir Peter Robert Jackson
Born in: Pukerua Bay, New Zealand
Famous as: Film Director, Producer & Screenwriter
Height: 1.69 m
Family:
Spouse/Ex-: Fran Walsh (1987–present)
father: William (Bill) Jackson
mother: Joan (born Ruck)
children: Billy Jackson, Katie Jackson
Net worth: $450 M as of January 3, 2017
More Facts
Continue Reading Below
For movie buffs and film aficionados, Peter Jackson is the real 'King Kong' of filmmaking. He is the director of the world renowned films such as 'The Lord of the Rings' trilogy, 'The Hobbit' trilogy and 'King Kong'. The bug of filmmaking bit Jackson when he was very young. Inspired by the classic cinema, he aspired to become a filmmaker and at the age of 12, made his first attempt at the same by making a remake of 'King Kong'. He turned professional in 1987 with the release of his debut venture, 'Bad Taste'. No sooner, he gained a cult status among his fans for his low budget splatter movies. Impregnated with novel ideas and futuristic thinking, he achieved much fame and appreciation for 'Heavenly Creatures'. However, this was just the beginning of a long-lasting legacy! He then worked to come up with the film adaptation of JRR Tolkien's 'The Lord of the Rings' which created history. His childhood dream of making a remake of 'King Kong' realized in 2005. Other than being a director, he has also donned the hat of a screenwriter and producer for his flicks. He has been involved in a number of charitable works as well.
Recommended Lists:
Recommended Lists:
Continue Reading Below
Childhood & Early Life
Peter Jackson was born to immigrant English parents - Joan and William Jackson. While his mother was a factory worker cum housewife, his father was a wages clerk.

Since his childhood days, he has a strong affinity towards films and filmmaking. An avid movie buff, he started making short films as a child.

Films like 'King Kong', 'Casinos', 'Goodfellas' and 'Waterloo' inspired him as a child.

Ever since watching 'King Kong' he long aspired to make a remake of the same. At the age of 12, he did make a first attempt at the same using a puppet.

His most impressive filmmaking during this phase included the special prize winning short film, 'The Dwarf Patrol'. In it, he first employed special effects which later on became a key feature in most of his films.

He gained his formal education from Kapiti College but dropped out of the same when he was sixteen, to pursue his film hobby.

Recommended Lists:

Recommended Lists:

Career

His first ever professional vocation was as a photographic lithographer at a local newspaper. He worked in the profile for about seven years.

Within a short span of time, he saved enough money to buy a state-of-art camera. He employed the one-day off from work to begin shooting his own film.

What essentially started out to be a short film eventually turned into a full-fledged 90-minutes comedy feature film titled Bad Taste. Four years and finance from the New Zealand Film Commission later, 'Bad Taste' was released in 1987 at the Cannes Film Festival.

After his debut work, he started working on film scripts along with established names from the film industry.

'Meet The Feebles' was his next venture which released in 1989. The movie, a musical comedy, is a black satirical fare that was originally intended to be a short film for television. It was also the first film with special effects team Richard Taylor and Tania Rodger.

Expanding his genre of filmmaking, he came out with a horror comedy titled 'Braindead' in 1992. Gaining a cult status, the movie became a landmark among splatter movies. It employed extensive use of special effects and gruesome make-up.

He changed his style, course and treatment with the 1994 released film, 'Heavenly Creature'. Based on real life events, the movie was apprehensively looked upon until its release. It however fared exceptionally well and became a rundown success, receiving much critical acclaim and making it to the top ten films of the year.

Continue Reading Below

Post the massive success of the 'Heavenly Creatures', he collaborated with Costa Botes to come up with the mockumentary, 'Forgotten Silver'. A made-for-television piece, it caused an outrage among the people who were annoyed to discover that Colin McKenzie, on whom the show was based, never existed.

Having established his name and reputation, he received offers from Hollywood. His first big budget Hollywood film was 'The Frighteners' which released in 1996. The film, unlike its predecessors, failed to appeal to the critics.

The declining graph continued further as his attempt to make a remake of King Kong was dismissed by Universal Studiosdue to 'Mighty Joe Young' and 'Godzilla' being under production stages.

It was after the rejection of his effort for the King Kong remake that he turned his attention to JRR Tolkien and his works. After much chaos and confusion over making a trilogy or a sequel or a single film of the series, he signed a deal with New Line Cinema who agreed on a trilogy.

He commenced story boarding the script of the trilogy in 1997. Two years later, shooting for The Lord of the Rings series began. Interestingly, the shooting for all the three instalments were done at one go from 1999 to December 2000.

Keeping in mind the background as penned by Tolkien, aesthetically rich and geographically different landscapes were chosen. The first instalment, 'The Fellowship of the Ring' was released in 2001 to much critical and commercial acclaim. It won four out of the thirteen Academy Award nominations.

The second part of the trilogy titled 'The Two Towers' was released in 2002. The film gained massive success and won similar critical and commercial acclaim as it forerunner.

Continue Reading Below

The last and final film of the series came in 2003 titled 'Return of the King'. With a box office collection exceeding the $1 billion mark, it became the top grossing film of all time. The film made a clean sweep at the Academy Awards winning all of the 11 nominations.

Finally in 2005, he realized his childhood dream and his reason to venture forth in the vocation of film direction by coming up with a remake of the 1933 classic film, 'King Kong'. The film was a huge success and was soon enlisted in the 50 top grossing films of the year. Furthermore, it bagged four wins at the Academy Awards.

In 2009, he came up with an adaptation of the Alice Sebold's bestseller, 'The Lovely Bones'. It dwelled on the themes of fantasy and murder and had some similarities to his prior work, 'Heavenly Creatures'.

He was one of the producers of the Steven Spielberg movie, 'The Adventures of Tintin'. In the earlier days, he even doubled up with Spielberg as its director as well. The film was a major success at the box office.

His involvement in The Hobbit series has been a point of controversy since its evolution. He was initially roped in as a writer and an executive producer but went on to serve as the director after Guillerodel Toro dropped out of the same.

In 2012, it was announced that the Hobbit series which was initially intended for a two-movie instalment would be made into a trilogy. The plot of the movie would expand the Hobbit story further by using material from the Lord of The Rings Appendixes.

Awards & Achievements

His long list of exemplary work till date has been bestowed with a number of prestigious awards and honors including three Academy Awards, three Australian Film Institute Awards, four British Academy Film Awards and one Golden Globe Award.

Continue Reading Below

Other awards received by him include one Critics Choice Award, one Director's Guild of America Award, three New Zealand Film and TV Awards, one Producer's Guild of America Awards and four Saturn Awards.

In 2002, he was made a Companion of The New Zealand Order of Merit.

Later in 2010, he was promoted to the rank of the Knight Companion of the New Zealand Order of Merit for his outstanding contribution to films.

In 2012, he was bestowed with New Zealand's highest honour as he was appointed to the Order of New Zealand.

Personal Life & Legacy

He tied the nuptial knot with Fran Walsh, a writer by profession. The two first met while working on the film scripts together in the initial phase.

During his heydays, Walsh turned out to be the perfect partner for him both personally and professionally assisting him in all his endeavors.

The couple has been blessed with two children Billy, who was born in 1995 and Katie in 1996. His wife and two children have had their share of screen space in various movies directed by him.

He has been involved in a number of philanthropic activities starting from giving donation for accentuating stem cell research, contributing to the defense fund, to saving a church in Wellington from demolition and more.

Being a World War I aviation enthusiast, he is the chairman of the 14-18 Aviation Heritage Trust and owns an aircraft restoration and manufacturing company, The Vintage Aviator, which is dedicated to World War I and World War II fighter planes

Trivia

This accomplished director-producer of the Lord of the Rings fame is believed to have used one pair of shoes and two t-shirts during the entire filming of the first instalment of the trilogy.

1. The Lord of the Rings: The Return of the King (2003)

(Drama, Fantasy, Adventure)

2. The Lord of the Rings: The Fellowship of the Ring (2001)

(Drama, Fantasy, Adventure)

---

3. The Lord of the Rings: The Two Towers (2002)

(Adventure, Action, Drama, Fantasy)

4. Untitled WWI Documentary (2018)

(Documentary, War, History)

---

---

5. District 9 (2009)

(Thriller, Sci-Fi)

6. The Hobbit: An Unexpected Journey (2012)

(Fantasy, Family, Adventure)

---

---

---

7. The Hobbit: The Desolation of Smaug (2013)

(Fantasy, Adventure)

8. Hot Fuzz (2007)

(Mystery, Action, Comedy)

---

---

---

---

| | | |
| --- | --- | --- |
| 2004 | Best Picture | The Lord of the Rings: The Return of the King (2003) |
| 2004 | Best Director | The Lord of the Rings: The Return of the King (2003) |
| 2004 | Best Writing, Adapted Screenplay | The Lord of the Rings: The Return of the King (2003) |

| | | |
| --- | --- | --- |
| 2004 | Best Director - Motion Picture | The Lord of the Rings: The Return of the King (2003) |

| | | |
| --- | --- | --- |
| 2004 | Best Film | The Lord of the Rings: The Return of the King (2003) |
| 2004 | Best Screenplay - Adapted | The Lord of the Rings: The Return of the King (2003) |
| 2002 | Best Film | The Lord of the Rings: The Fellowship of the Ring (2001) |

Translate Wiki

to Spanish, French, Hindi, Portuguese

Article Title

- Peter Jackson Biography

Author

- Editors, TheFamousPeople.com

Website

- TheFamousPeople.com

URL

-

https://www.thefamouspeople.com/profiles/peter-jackson-5061.php

Last Updated

- January 03, 2018

---

---

---