Patton Oswalt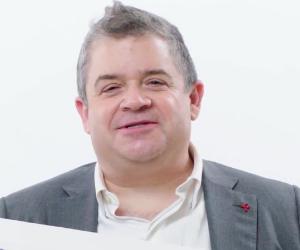 Quick Facts
Birthday: January 27, 1969
Nationality: American
Age: 50 Years, 50 Year Old Males
Sun Sign: Aquarius
Also Known As: Patton Peter Oswalt
Born in: Portsmouth, Virginia
Height: 5'3" (160 cm), 5'3" Males
Family:
Spouse/Ex-: Michelle Eileen McNamara
father: Larry J. Oswalt
mother: Carla
children: Alice Rigney Oswalt
U.S. State: Virginia
Notable Alumni: College Of William And Mary
Diseases & Disabilities: Depression
More Facts
education: College of William and Mary, Broad Run High School
Continue Reading Below
Patton Oswalt is a stand-up comedian and actor who has appeared in several successful comedy shows and films, and has also released his own popular comedy albums. Comedy did not seem to be a likely choice for this son of a Marine Corps officer, but that is what he was destined to make a mark in. As a youngster he would greedily devour comic books and watch horror movies. He also developed a taste for comedy as a child and drew inspiration from the likes of Steve Martin, Richard Pryor and Jonathan Winters. He began writing and performing comedy while at high school and soon realized that comedy was his life's calling. His career as a stand-up comedian began while he was still in college when he began performing comedic acts in small-time clubs. By chance he met Blaine Capatch who would become his long term friend and business collaborator. Along with Capatch he moved to Los Angeles to try his hand at writing and performing comedy. At first, he landed only small roles in television programs that did not grab much attention. Gradually he began getting more substantial roles—his big break came when he was selected to play Spence Olchin on 'The King of Queens'. From then on his career began moving uphill and he got the chance to become the successful comedian he always wanted to be.
Continue Reading Below
Childhood & Early Life
He was born to Larry Oswalt and his wife Carla. Larry was a U.S. Marine Corps Officer and the family used to move a lot because of his career.

He attended Broad Run High School in Virginia and graduated in 1987. He enrolled at the College of William and Mary where he majored in English and earned his degree in 1991.

While still at college he performed his first stand-up routine at an open mic in Washington, D.C. in 1988 and soon began performing comedy at small clubs in Virginia, Maryland, and Washington D.C.

Continue Reading Below

Recommended Lists:

Recommended Lists:

Career

While performing at the clubs he met aspiring comedian Blaine Capatch and both became good friends. The duo traveled to San Francisco in 1992 to try their luck there, and from there they went to Los Angeles in 1994.

Oswalt got a job as a writer on the new comedy show 'MAD TV' in 1995. He worked there for two seasons before appearing in 'HBO Half Hour Comedy Hour' in 1997.

He found his big breakthrough when he was cast as Spencer "Spence" Olchin, a supporting character in the highly popular sitcom 'The King of Queens' in 1998. He played this role in 122 episodes of the show till 2007.

From 2003 till 2007 he lent his voice to the character Professor Demento in ten episodes of the animated children's television series 'Kim Possible'. During the 2000s he also served as a voice actor in several other television shows.

He voiced several characters including Dungeon Master, Kenny Rogers, Assassin, and Boozehammer of Galen in the television comedy series 'Reno 911!' from 2004 to 2009.

His comedy album 'Werewolves and Lollipops' was released in 2007 with a bonus DVD. The album was positively reviewed and was called a classic comedy album.

After appearing in cameo roles in films over the 1990s and early 2000s, he got the opportunity to voice the character, Remy, an idealistic and ambitious young rat, in the animated comedy 'Ratatouille' in 2007.

Continue Reading Below

He voices several characters including Tobey, Robot, 4th Grader, and Irate Driver in the animated children's television series 'WordGirl' which premiered in 2007. The show is designed to teach children about the expansive English language and its vocabulary.

He appeared as Neil in 21 episodes of the television comedy drama, 'United States of Tara' which ran from 2009 till 2011. The show revolved around a suburban woman who copes with dissociative identity disorder.

His comedy albums 'My Weakness is Strong' (2009) and 'Finest Hour' (2011) were also very popular and peaked at No.1 on the U.S. Top Comedy Album Chart.

His most memorable movie role was as Matt Freehauf in the comedy drama 'Young Adult' in 2011 which also starred Charlize Theron. His role was highly appreciated and he won several awards and nominations for it.

Recommended Lists:

Recommended Lists:

Major Works

'Young Adult' was his breakthrough movie in which he played the character of a partially disabled man. His performance was lauded and he received several award nominations of which he won many. It is his most successful film so far.

Recommended Lists:

Recommended Lists:

Awards & Achievements

He won the New York Film Academy Award for Best Supporting Actor – Comedy for portraying Matt Freehauf in the film 'Young Adult' in 2011.

Personal Life & Legacy

He married Michelle Eileen McNamara in 2005 and has a daughter with her.

He worked with PETA in 2013 to protest against the practice of chaining of pet dogs.

Trivia

He has authored a book called 'Zombie Spaceship Wasteland'.

He has also voiced several videogame characters.

1. Ratatouille (2007)

(Fantasy, Family, Comedy, Animation)

2. Magnolia (1999)

(Drama)

---

3. Man on the Moon (1999)

(Comedy, Drama, Biography)

4. The Comedians of Comedy (2005)

(Documentary, Comedy)

---

---

5. The Secret Life of Walter Mitty (2013)

(Drama, Comedy, Romance, Adventure, Fantasy)

6. Mune, le gardien de la lune (2014)

(Fantasy, Animation, Family, Adventure)

---

---

---

7. Your Friend the Rat (2007)

(Comedy, Animation, Short, Family)

8. 22 Jump Street (2014)

(Action, Comedy, Crime)

---

---

---

---

| | | |
| --- | --- | --- |
| 2016 | Outstanding Writing for a Variety Special | Patton Oswalt: Talking for Clapping (2016) |

| | | |
| --- | --- | --- |
| 2017 | Best Comedy Album | Winner |

Translate Wiki

to Spanish, French, Hindi, Portuguese

Article Title

- Patton Oswalt Biography

Author

- Editors, TheFamousPeople.com

Website

- TheFamousPeople.com

URL

-

https://www.thefamouspeople.com/profiles/patton-oswalt-4041.php

Last Updated

- September 26, 2017

---

---

---