Patti LaBelle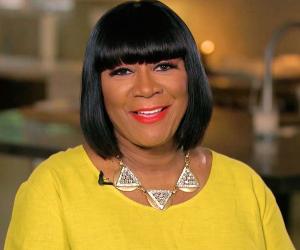 Quick Facts
Nationality: American
Famous: Black Actresses African American Actress
Age: 74 Years, 74 Year Old Females
Sun Sign: Gemini
Also Known As: Patricia Louise Holte-Edwards, Patricia Edwards
Born in: Philadelphia, Pennsylvania, United States
Famous as: Singer
Height: 1.65 m
Family:
Spouse/Ex-: Armstead Edwards (m. 1969–2001)
father: Henry Holte
mother: Bertha Holte
siblings: Barbara, Jacqueline, Vivian
children: Zuri Kye Edwards
U.S. State: Pennsylvania
More Facts
Continue Reading Below
Patti LaBelle is a Grammy award winning singer, actress and author who made a name for herself in the entertainment industry. In her five decades of career in the music fraternity, she gave numerous hits as a singer for the band, Patti LaBelle and the Bluebelles and also as a solo singer. However, unlike many other talented musicians and singers, LaBelle did not have a smooth start. In fact, her career started with a rocky phase as most of the albums and songs released failed to impress both the public and the critics. It was her song, 'Lady Marmalade' that actually established her position as a classic singer. The song peaked at the number 1 status on the Billboard Hot 100. After years of her involvement with a band, she disbanded to start her solo career in 1977. She came up with several albums, each of which exposed her brimming talent and skills and recorded her total sales of over 50 million records. For her outstanding musical abilities, she has been inducted into various Halls of fame, including the Grammy Hall of Fame, the Hollywood Walk of Fame, the Apollo Hall of Fame, and the Songwriters' Hall of Fame.
Recommended Lists:
Recommended Lists:
Continue Reading Below
Childhood & Early Life
Patti LaBelle was born as Patricia Louise Holte to Henry Holte and Bertha Holte in Philadelphia, Pennsylvania. While her father was a railroad worker and lounge singer, her mother was a housewife. She was the third of the four daughters born to the couple.

Following the separation of her parents, she was raised by her mother single-handedly. As a child, she was reserved and coy but made great friends with Claudette Grant whom her mother had adopted.

Gifted with a soulful voice, she actively participated in the church choir group. Two years later, at the age of twelve, she sang her first solo at the Beulah Baptist Church.

She did not concentrate on gospel music alone and listened to jazz, rhythm and blues. As she entered teenage, she was called by the nickname, Patsy.

Eager to form a girl group, in 1958, she realized this dream by forming The Ordettes, along with three friends. Started informally, the group reduced to two as two of its members willingly dropped out. However, the scenario soon changed as singers Nona Hendryx and Sarah Dash joined The Ordettes.

In 1961, The Ordettes were joined by Cindy Birdsong. Bernard Montague, the famed music impresario, took up as their manager. The upward shift of the career graph of the group looked promising as it gained much fame and reputation in and around Philadelphia.

The Ordettes were introduced to Newtown Records President, Harold Robinson. Robinson initially rejected the group due to their non-fancy appearance and plain Jane style but upon hearing her voice signed them. He changed the name of the group to The Blue Belles.

Continue Reading Below

Recommended Lists:

Recommended Lists:

Career

The Blue Belles gave their first single hit, 'I Sold My Heart to the Junkman'. Though the song peaked at the Billboard top 20, it stirred a controversy behind its credit.

After the success of its first song, the group however could not replicate the success and survived merely by touring. Adding to the woes, Robinson was sued for using the name Blue Belles which was previously being used by another group.

It was due to legal complications that Robinson changed her name to Patti LaBelle and the group name to 'Patti La Belle and Her Blue Belles' in 1963. The following year, the group terminated its contract with Newtown and instead signed up with Cameo-Parkway Records.

The group recorded their first song for Cameo-Parkway Records, 'Down the Aisle' which went on to become a huge hit. The song starred in the top 40 list. It was followed up by two more hit tracks, 'You'll Never Walk Alone' and 'Danny Boy'.

In 1965, they left Cameo-Parkway Records to sign a deal with Atlantic Records for a year. It was while working under Atlantic Records that the group came up with their debut studio album, 'Somewhere Over the Rainbow' in 1966. The album was a modest hit.

In 1966, the group came up with their second studio album, 'Dreamer'. This album too did not peak and remained an average selling album. Moreover, Cindy Birdsong left the group, leaving the vacated seat to be filled up by Florence Ballard.

In 1970, with Atlantic Records terminating its contract and manager Bernard Montague ending his services, the group found itself a new manager in Vicki Wickham who asked them to perform in London. However, Wickham's advices did not go well with her and led to musical disagreements.

Continue Reading Below

In 1970, returning to the U. S., the group changed its name to Labelle and signed a record deal with Track Records. The following year, they released their debut album, Labelle.

Despite Labelle being distinct from its predecessor album and venturing forth into the genre of soul music with hard rock elements, it failed to make a mark and so did its follow up album Moon Shadow.

In 1973, they signed a deal with RCA Records and came up with the album, 'Pressure Cookin'. The same however failed become a success.

In 1974, they signed a deal with Epic Records. The Same year, they came up with their most acclaimed album, 'Nightbirds'. The album became a major hit as did its' single, 'Lady Marmalade' which peaked at the number 1 on the Billboard Hot 100. Furthermore, they went on to become the first pop group to perform at Metropolitan Opera House.

In 1975, they came with a follow-up album, Phoenix. Though the album did not experience a meteoric rise as did 'Nightbirds', it nevertheless received positive reviewes.

In 1976, they came up with the album, 'Chameleon' which featured the singles, 'Get You Somebody New', and 'Isn't It A Shame'. Though the group was performing well, its musical direction did not quite appeal everyone which resulted in the group disbandment in December 1976.

In 1977, she ventured on her own and came up with a self-titled album, 'LaBelle' on Epic Records. The record gained critical acclaim with successful singles, 'Joy To Have Your Love', 'Dan Swit Me' and 'You Are My Friend'.

Continue Reading Below

Afer the success of her first album, she failed to duplicate the same and her eventual albums, 'Tasty', 'It's Alright with Me' and 'Released' failed. In 1981, she signed a record deal with Philadelphia International Records and came up with the album, 'The Spirit's In It'.

Moving over from music, she performed in a Broadway revival and recorded the ballad, 'The Best Is Yet To Come'. The ballad brought her much fame and success. Following this, in 1983, she worked in the play, 'Working'.

In 1983, she released a love track, 'If Only God Knew' which was followed by the album the following year 'I'm In Love Again'. The album went on to become her first successful album at the Billboard Hot 100, peaking at number 46. The album went on to achieve gold status in US.

She made her debut in acting in 1984 with the film, 'A Soldier's Story'. She followed this up by releasing singles 'New Attitude' and 'Stir It Up'. Later the next year, she signed a contract with MCA and came up with the album, 'Patti'.

In 1986, she came up with her subsequent album, 'Winner in You'. The album was a major hit, peaking at number 1 on the Billboard 200, with its single, 'On My Own' topping the charts. The album went on to become the highest-selling one of hers achieving a platinum status.

Her 1991 released album, 'Burnin' went on to win her, her first Grammy award. It released ten hits, selling half a million copies and becoming her third gold album. She replicated the success of her Grammy award in 1998 with the release of the live album, 'One Night Only!'

In the following years, she released the album, 'When A Woman Loves' and 'Timeless Journey'. The latter album became her highest-charted album in eighteen years.

Continue Reading Below

In 2006, she released her first gospel album, 'The Gospel According to Patti LaBelle'. The album peaked at number 1 on Billboard′s gospel album chart. Briefly, she reunited with Nona Hendryx and Sarah Dash as Labelle for the group's first new album after three decades, 'Back to Now'.

Meanwhile, alongside releasing music albums, she also acted in various sitcoms and participated in several shows. She returned to Broadway for the award winning musical 'Fela!'.

Furthermore, she performed for President Barack Obama at the 9/11 tribute, singing 'Two Steps Away'. In August 2013, she performed on 'What Can I Do For You' on the Tonight Show with Jay Leno including the high profile guest Barack Obama.

Recommended Lists:

Recommended Lists:

Awards & Achievements

She twice won the Grammy Award in Traditional R&B Vocal Performance and Best Female R&B Vocal Performance in 1991 and 1998.

She has been inducted into the Grammy Hall of Fame, Legends Walk of Fame, and BET Walk of Fame.

She has received numerous awards in various categories, some of which include, Lifetime Achievement Awards, Best Soul/R&B Artist & Gospel Artist. She even won an award for her acting abilities.

Recommended Lists:

Recommended Lists:

Personal Life & Legacy

She tied the nuptial knot with Armstead Edwards in 1969. The couple was blessed with a child. They adopted two boys and raised a girl. However, the couple separated in 2003.

Recommended Lists:

Recommended Lists:

Trivia

This famous African-American singer and actress is popularly known as the Godmother of Soul.

Translate Wiki

to Spanish, French, Hindi, Portuguese

Article Title

- Patti LaBelle Biography

Author

- Editors, TheFamousPeople.com

Website

- TheFamousPeople.com

URL

-

https://www.thefamouspeople.com/profiles/patti-labelle-4039.php

Last Updated

- October 05, 2017

---

---

---