Pat Sajak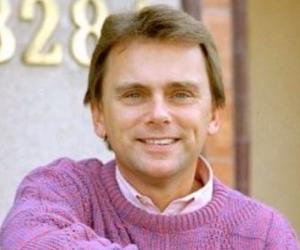 Quick Facts
Birthday: October 26, 1946
Nationality: American
Famous: TV Presenters American Men
Age: 72 Years, 72 Year Old Males
Sun Sign: Scorpio
Also Known As: Patrick Leonard Sajdak
Born in: Chicago, Illinois
Famous as: Television Personality
Height: 1.77 m
Family:
Spouse/Ex-: Lesly Brown (m. 1989), Sherrill Sajak (m. 1979–1986)
father: Leonard Anthony Sajdak
mother: Joyce Backal
children: Maggie Sajak, Patrick Michael James Sajak
City: Chicago, Illinois
U.S. State: Illinois
More Facts
education: Columbia College Chicago
awards: Daytime Emmy Award for Outstanding Game Show Host
Daytime Emmy Award
Continue Reading Below
Pat Sajak is an American TV personality, best known as host of the popular game show 'Wheels of Fortune.' Born and raised in Chicago, he struggled from poverty since his early days, but he was determined to change his fortune and studied hard to achieve his goals. Before embarking on a career in television, Pat served the US national army during the Vietnam War as a radio host. After serving as an anchor and a weatherman for 'NBC,' he was eventually offered the job as a host of their successful show 'Wheels of Fortune.' Pat accepted the offer in 1983 and this changed his life around. Thereafter, he starred in many films and TV series' and became a renowned face. He next hosted a few more shows, such as 'Live with Regis and Kelly' and 'Larry King live.' He has also made guest appearances on the soap opera 'Days of Our Lives' and the sitcom 'The King of Queens.' 'Wheels of Fortune' remains one of the most well-known game shows, and the world knows Pat Sajak as a highly skilled television personality.
Recommended Lists:
Recommended Lists:
Continue Reading Below
Childhood & Early Life
Pat Sajak was born Patrick Leonard Sajdak in Chicago, USA, on October 26, 1946. His parents, Leonard Anthony Sajak, and Joyce Helen, worked in a factory to make both the ends meet. The poor financial condition of the family affected Pat; he was determined to do something big with his life.

besides financial issues, he also had to undergo the pain of the separation of his parents. After the divorce, his mother got married to another man.

While Pat struggled with emotional issues, he finished his high school education from Farragut High School and right after his graduation, he started looking for a job. He found a job as a desk clerk at a hotel in Chicago, and at the same time, he continued his education at Columbia College, Chicago.

While he was in college, he got an offer to host a radio show, from midnight until 6 in the morning. The work was demanding, but he continued his studies along with the radio job. Slowly, he realised that entertaining people was something he loved.

He joined the US Army in 1968 and hosted a radio show 'An Officer and a Movie.' His stint with the army ended following a controversy when he cut off the 'Christmas Day Broadcast' by President Nixon, directed to the army personnel stationed in Vietnam. Although the goof-up was inadvertent, but Pat thought it better to quit.

Recommended Lists:

Recommended Lists:

Career

During the early 70s Pat worked as a DJ and when his popularity started increasing, he was offered a voiceover job at NBC's 'Today's Show,' which quickly turned into anchoring.

'KNBC-TV' was looking for a weatherman in the late 70s and when they came across Pat. They offered him the job and he gladly accepted it.

In 1981, the channel was looking for a host for their game show 'Wheel of Fortune' and the management asked Pat to host the show. This decision was not welcomed by many within the network, but many others supported this move. Before hosting 'Wheel of Fortune,' Pat had hosted two game show pilots in 1980 ('Press Your Luck' for Ralph Edwards, and 'Puzzlers' for Mark Goodson). This experience helped Pat get 'Wheel of Fortune.'

He started hosting the show in 1983, and for the next six years, he hosted both the daytime and the evening versions of the game. Later, he continued with the prime time, but left the daytime version. The audiences loved him for his earthy demeanour and quick wit.

Not much later, he started hosting a few other programmes, which included a late night talk show for 'CBS,' which was on air for a short time and 'Larry King Live' for some time. Besides these, he also hosted a few more shows, such as 'Dream House' and 'Just Men.'

He had a small stint with the soap opera 'Days of our Lives,' where he appeared as Kevin Hathway, in 1983. He also made an appearance as himself in the popular kid's cartoon show 'Rugrats.'

In the 1982 comedy film 'Airplane II: The Sequel,' he appeared as a newscaster. In the year 2001, he made one-episode appearance on the sitcom 'The King of Queens.' Although he has expressed his desire to appear in more fiction shows, he has not featured in many of them.

Continue Reading Below

He has also served as a guest writer for Ricochet.com, which deals in social political issues. In his first article for the website, he questioned whether the public employees be allowed to vote for the issues that directly concern them.

In 2007, Pat came out with his own puzzle game 'Lucky Letters,' which was just one among many similar games that Pat has designed over the years.

Pat has appeared along with Dan Le Batard on two radio programs: 'The Dan Le Batard Show with Stugotz' and 'Highly Questionable.'

As for his current position, he is serving as a director of the 'Eagle Publishing House,' which happens to be a conservative institution. Apart from that, he is one of the members of 'Board of Trustees at the Hillsdale College, Michigan,' and serves as the vice chairman. He has also served the 'Claremont Institute' on their board of directors.

Pat has been a self-confessed baseball freak since his childhood days and he has carried on with his love for the game throughout his life. In 2005, he became one of the investors in the 'Golden Baseball League.'

Personal Life

Pat Sajak has married twice. He married Sherrill Sajak in 1979, only to get a divorce in 1986. Three years after his divorce, he started dating Lesly Brown and married her in 1989. The couple has a daughter and a son, and the family lives in a massive mansion in Maryland, with a second home in Los Angeles.

Pat is a keen supporter of conservative political parties. He contributed a number of articles for the conservative magazine 'Human Events.'

Pat also happens to be a highly religious person and is one of the members of 'Churches of Christ.'

Translate Wiki

to Spanish, French, Hindi, Portuguese

Article Title

- Pat Sajak Biography

Author

- Editors, TheFamousPeople.com

Website

- TheFamousPeople.com

URL

-

https://www.thefamouspeople.com/profiles/pat-sajak-11398.php

Last Updated

- March 22, 2018

---

---

---