Nipsey Hussle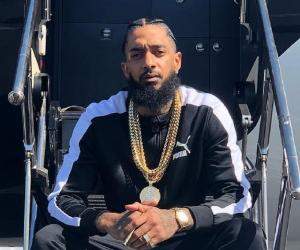 Quick Facts
Nationality: American
Girlfriend: Tanisha Foster (ex)
Famous: Rappers American Men
Died At Age: 33
Sun Sign: Leo
Also Known As: Ermias Joseph Asghedom
Born Country: United States
Born in: Los Angeles
Famous as: Rapper
Height: 6'3" (190 cm), 6'3" Males
Family:
father: Dawit Asghedom
mother: Angelique Smith
siblings: Samiel, Samiel and Samantha, Samiel Ghebrehet Asghedom and Samantha Smith
children: Emani Asghedom, Kross Asghedom
Partner: Lauren London; (2013–2019; his death)
Cause of Death: Assassination
U.S. State: California
City: Los Angeles
Continue Reading Below
Nipsey Hussle was a noted American rapper from the 'West Coast Hip Hop' scene. Born in Crenshaw neighborhood of South Los Angeles, he was raised amidst an atmosphere of gun violence, drug hustling and police brutality and eventually became drawn towards it. At the age of 14, he left home to join the local 'Rollin 60's Neighborhood Crips' (a street gang based in Los Angeles), mainly because he felt it was important to carry on the "legacy" of his community. He made a U-turn when at the age of 19, his emigrant father took him to his homeland Eritrea, which was torn by war and poverty. He returned home to concentrate on his music career, releasing one mixtapes after another, sending positive messages through them. Concurrently, he started undertaking community work, opening several businesses to keep the youngsters away from violence. He also founded a record label and a flagship store as a symbol of economic self-sufficiency. He died at the age of 33, after being fatally shot in front of his store, possibly due to personal enmity.
Recommended Lists:
Recommended Lists:
Continue Reading Below
Childhood & Early Life
Nipsey Hussle was born as Ermias Joseph Asghedom on August 15, 1985 in Los Angeles, California. His father, Dawit Asghedom, was a first generation immigrant from the African state of Eritrea, while his mother, Angelique Smith, was of African-American origin.

He had two siblings, an elder brother called Samiel Ghebrehet Asghedom and a younger sister named Samantha Smith. They were raised in the Crenshaw neighborhood of South Los Angeles, famous for its gang rivalry.

He became interested in music early in his childhood, writing his first song at the age of nine, idolizing rappers like Snoop Dog and Ice T. His mother also urged him to study well. However, living in violent environment, he naturally felt an attraction towards it.

Continue Reading Below

Recommended Lists:

Recommended Lists:

Joining Crips

Possibly in 1999, while studying at Hamilton High School, Nipsey Hussle was placed in a boot camp, allegedly for an attempted school robbery. On his release, he left home, shortly joining the local Rollin 60's Neighborhood Crips.

It is not known for how long he remained with the gang, but eventually he came out of it unscathed. During this period, he watched many of his friends got killed or maimed, which had a profound impact on him.

In 2004, at the age of 19, his father took him and his brother on a three months' trip to Eritrea. The visit, which was a cultural shock for him, totally changed him and he returned home with a new vision and a will to work for his community.

Recommended Lists:

Recommended Lists:

Career

On returning home, Ermias Asghedom began working on his music and adopted Nipsey Hussle as his stage name. In December 2005, he released his first mixtape, 'Slauson Boy Volume 1', in which he tried to send a message to his community through his music.

The mixtape had moderate success and helped him not only to develop a small fan base, but also to attract the attention of music companies. Eventually, he was signed both to Epic Records and Cinematic Music Group.

In 2007, he debuted in films, appearing in a small role in 'I Tried', a semi-autobiographical film of the rap group 'Bone Thugs-n-Harmony'. Concurrently, he continued working on his music.

Continue Reading Below

In 2008, he released two more mixtapes, 'Bullets Ain't Got No Name Vol. 1' and 'Bullets Ain't Got No Name Vol. 2'. They were followed by 'Bullets Ain't Got No Name Vol. 3', which he released in August 2009. The series was released under the label of Cinematic Music Group.

In 2010, he left Epic Records to establish his own music label, 'All Money In, No Money Out', as a symbol of Black entrepreneurship, releasing his fourth mixtape, 'The Marathon' through it on 21 December. Also in 2010, he starred as Ricky in his second film, 'Caged Animal'.

'The Marathon', which peaked at 179 in the US Billboard 200, was followed by 'The Marathon Continues'. Released in November 2011, it received high downloads on mixtape hosting sites. Nipsey Hussle also went on a tour to promote it and planned for a sequel, 'The Victory Lap'.

Although he initially planned to release 'Victory Lap' in 2013, he later decided against it, instead releasing it as his debut studio album in 2018. Meanwhile in October 2013, he released his eighth mixtape, 'Crenshaw'.

Continuing to record mixtapes, he released 'Mailbox Money' in 2014, 'Slauson Boy Volume 2' in 2016, 'Famous Lies and Unpopular Truths', in 2016 and 'No Pressure' in 2017.

In 2017, he also inaugurated the 'Marathon Clothing' store which he co-founded with Steve Carless, Karen Civil and his brother Samiel.

Major Works

Nipsey Hussle is best remembered for his studio album, 'Victory Lap'. Released in 2018, it debuted at number four on the US Billboard 200 chart and at number three on the US Top R&B/Hip-Hop Albums chart. After his death in 2019, it reached number two on the US Billboard 200.

Personal Life & Legacy

Nipsey Hussle was in a relationship with actress Lauren London since 2013. They had a son named Kross, born in 2016.

From his earlier relationship with Tanisha Foster, he also has a daughter called Emani, born in 2009. After his death, Nipsey Hussle's sister, Samantha Smith, won Emani's custody.

Death

At about 3:25 P.M. on March 31, 2019, Nipsey Hussle was shot multiple times in the parking lot of his store, Marathon Clothing, by Eric Holder. He was immediately taken to the hospital and was declared dead at 3:55 P.M. He was buried at Forest Lawn Memorial Park.

Translate Wiki

to Spanish, French, Hindi, Portuguese

Article Title

- Nipsey Hussle Biography

Author

- Editors, TheFamousPeople.com

Website

- TheFamousPeople.com

URL

-

https://www.thefamouspeople.com/profiles/nipsey-hussle-15679.php

Last Updated

- June 18, 2019

---

---

---