Nikolai Rimsky-Korsakov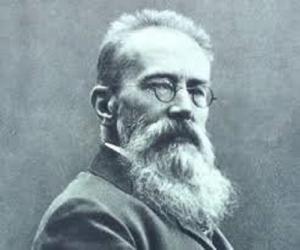 Quick Facts
Nationality: Russian
Famous: Atheists Russian Men
Died At Age: 64
Sun Sign: Pisces
Born in: Tikhvin
Famous as: Music composer, teacher and editor
Family:
Spouse/Ex-: Nadezhda Rimskaya-Korsakova (m. 1872)
children: Andrey Rimsky-Korsakov, Nadia Rimsky-Korsakov
place of death: Saint Petersburg
Continue Reading Below
Nikolai Rimsky-Korsakov was reputed for his symphonic works and his Russian folkloric influences. Although he had a naval background, he had a great passion towards music. Some of his famous compositions were the popular symphonies such as 'Scheherazade', 'Russian Easter Festival Overture' and 'Capriccio Espagnol'. He also had a wide opus that included his unique chamber works, operas and orchestrations. Rimsky's music touched hearts worldwide and his works were noted and followed by many Russian and non-Russian composers alike. Encouraged and pushed by a certain Mily Balakirev, he went on to refine and develop his interest for composition and varied music. It is through this person that he also met four other talented composers, who would, later, go on to become a part of a big venture called the 'Five.' Rimsky's music inspired a long list of composers such as Claude Debussy and went on to cultivate and encourage future talents for generations to come.
Recommended Lists:
Recommended Lists:
Continue Reading Below
Childhood And Early Life
Nikolai Andreyevich Rimsky-Korsakov was born on 18th March 1844, in the quaint town of Tikhvin, to a Russian aristocrat family. Everyone in the family either had an army or a naval background, and Rimsky's brother, 22 years his senior, was a sea explorer and navigator. Rimsky's mother was a piano player herself and his father could play the piano by listening to the notes. Rimsky believed that he inherited his mother's quality of playing and learning slowly. He had an inherent quality and liking for music but never believed that he could make it his forte.
Rimsky began taking piano lessons at six and showed a talent for aural skills but later, gave up the interest himself. He started composing at the tender age of 10, but showed more interest in literature than music at the time. Nikolai Rimsky's brother, 'Voin' egged him to study more and concentrate less on music and his fables at sea inspired Rimsky so much that he began to develop a poetic love for the sea. Rimsky opted for a naval career over a musical one and joined the College of Naval Cadets in St. Petersburg in the year 1856. However, he never discontinued his piano lessons. During his tenure at school, Rimsky was trained by a well-known, local teacher 'Ulikh' who inculcated and nurtured Rimsky's interest in music. He was impressed by Rimsky's talent and recommended him to another teacher called Kanille who introduced Rimsky to Mily Balakirev, the man responsible for Rimsky's tremendous and successful musical career.
Personal Life
After graduating at the naval academy in 1862, Rimsky first set sail on a clipper ship called 'Almaz', on a long voyage during the American Civil war. The Russians were welcome in this part of the world, so there were no troubles. It was during this voyage that the love for the sea grew, that influenced him to write symphonies such as 'Scheherazade' and the 'Maiden Fevronia'. However, after a lack of outer stimuli from the musical world, he began to give up on the thought of pursuing music seriously. Upon his return from a long voyage, Balakirev conducted Rimsky's first symphony in the year 1865 at St. Petersburg, which was marked as an important historical event and also marked a fruitful beginning as a composer for Nikolai Rimsky.
Balakirev began to get very critical and Rimsky, finding the behavior very restraining, eventually broke loose from Balakirev but always remembered him fondly as the one who nurtured his talent and cultivated his passion. It was during this time he completed his other famous works including 'Overture on three Russian themes' and began to perform with the other reputed musicians who then collectively went on to be known as the 'Five'. Borodin, Cui, Mussorgsky, Balakirev and Rimsky believed in 'nationalistic' music, free from the clasps of the western ways and methods. Out of the five, Rimsky was given a lot of importance and held a special place because of his knowledge in various fields of music and his sheer talent in the field of 'Operas and Orchestration'. He was particularly acclaimed for his work for the 'Stone guest' and 'Maid of Pskov'. In 1872, he married Nadezhda Purgold, a budding pianist herself.
Teaching, Marriage And Compositions
Rimsky-Korsakov was appointed as the professor of orchestration and composition at the St. Petersburg conservatory in the year 1871. He was still very young and admitted to not having taught or learnt music academically, except under the guidance of Balakirev and Tchaikovsky's professional advice. In the year 1873, he left his post at the Navy and went on to orchestrating the Navy band till the year 1884.
In the early periods of 1873, Rimsky conducted and composed songs that were filled with the evergreen Russian folklore. It was during this time he also composed the opera 'May night' which was based on a mythical background. This was then followed with another opera called the 'Snow Maiden' in 1882, also based on a Slavic myth. The composer's life was filled with many saddening moments from 1875-1885. Just as he was working and refurbishing his dead friend, Mussorgsky's works, another team member died. He pledged to finish their unfinished scripts and orchestrated, rewrote and completed the famous works such as 'Khovanshchina' and 'Prince Igor'. Even while he was at the pinnacle of success and went on to completing his flag-bearer works such as "Scheherazade" and the "Spanish Capriccio", he went into a phase of disconsolateness following the deaths of his near and dear ones, including his mentor, Tchaikovsky, who died in 1893. Rimsky continued with his elaborate labyrinth of songs and compositions and successfully completed another Gogol opera, 'Christmas Eve', and went on to produce story-heavy compositions such as 'The Tsars bride', 'The legend of the invisible city of Kitezh' and, the famous, 'Sadko'. Most of his compositions of the time were distinguished by elegance and Russian poetic rhythm.
Death And Legacy
Rimsky went on to inspire two generations of music. His works had a touch of magic-realism and were heavily influenced by the music created by 'Five'. He had many religious, liturgical, oriental and folk themes incorporated in his various styles of music and was very critical of his own music. He worked, reworked and, even, scrapped pieces he felt were not up to standards. Rimsky explored with harmonies, rhythms and was brave enough to cut off from total westernization while cleverly incorporating its styles with traditional, or as he called it, 'nationalistic' music.
His death left behind a long list of followers who were moved and inspired by his radical music. Even though he faced countless struggles and oppression during his productions, he continued to make daring and, at times, conservative musical harmonies that even evoked government restrictions and censorship. At the start of 1890, Rimsky began to develop angina problems and he succumbed to the illness on 8th June 1908. He died near his Lubensk Estate and was buried, next to his fellow musicians, at Tikhvin Cemetery.
NIKOLAI RIMSKY-KORSAKOV TIMELINE
1844 :
Nikolai Rimsky-Korsakov was born.
1850 :
Started taking his first piano lessons.
1854 :
Started composing music at the age of 10.
1856 :
Enrolled in the College of Naval Cadets.
1859 :
Started working with French Pianist, Theodore Kanille.
1862 :
Set sail for a long voyage with a clipper ship called 'Almaz'.
1865 :
First symphony by Rimsky conducted by Balakirev.
1871 :
Started teaching at the St. Petersburg Conservatory and married the next year.
1873 :
Quit the navy and began orchestrating navy bands.
1880 :
Worked on the 'Snow Maiden' based on a Slavic myth that was performed two years later.
1881 :
Rimsky's best friend Mussorgsky dies.
1887 :
Wrote the Spanish Capriccio and another friend, Borodin dies.
1895 :
This period saw more compositions such as the 'Christmas Eve' and the 'Legend of Kitezh.'
1905 :
Temporarily dismissed from the teaching post.
1907 :
'Legend of the Kitezh' produced this year.
1908 :
The composer dies on 8th June, of an ailing heart problem known as 'Angina'.
Translate Wiki
to Spanish, French, Hindi, Portuguese
Article Title
- Nikolai Rimsky-Korsakov Biography
Author
- Editors, TheFamousPeople.com
Website
- TheFamousPeople.com
URL
-
https://www.thefamouspeople.com/profiles/nikolai-rimsky-korsakov-433.php
Last Updated
- March 28, 2018
---
---
---