Nancy Reagan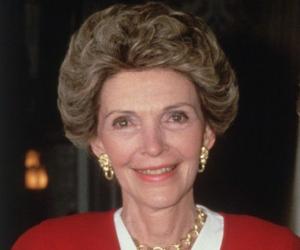 Quick Facts
Nationality: American
Famous: First Ladies American Women
Died At Age: 94
Sun Sign: Cancer
Born in: Midtown Manhattan, New York City, New York, United States
Famous as: Former First Lady of the United States
Height: 1.63 m
Family:
Spouse/Ex-: Ronald Reagan (m. 1952; d. 2004)
father: Kenneth Seymour Robbins
mother: Edith Luckett Davis
children: Patti Davis, Ron Reagan
City: New York City
U.S. State: New Yorkers
Ideology: Republicans
Notable Alumni: Smith College
More Facts
Continue Reading Below
Nancy Reagan was an actress and the wife of the 40th president of United States, Ronald Reagan. She was the first lady of America for the eight years during her husband's presidency from 1981 to 1989. Nancy had a great career in acting before she met Ronald Reagan. Her mother was an actress and she started acting even before completing her college. She had a bad childhood after her parents separated. But she found comfort from her stepfather who was one of the famous neurosurgeons of his time. Nancy got small roles as actress before signing a contract with MGM. Later, she got some important roles in movies. As a first lady, she played an active role in fighting drugs. She continued her fight on drugs even after the completion of her husband's presidency. Promotion of Stem Cell Research was another cause that she took up in her last years. Nancy Reagan was one of the most famous and best loved first ladies in the history of the USA.
Recommended Lists:
Recommended Lists:
Continue Reading Below
Childhood & Early Life
Nancy Reagan was born Anne Frances Robbins on July 6, 1921 in Midtown Manhattan in New York City. Her father was a farmer turned car salesman. Her mother was actress and radio presenter, Edith Prescott Luckett.

Her father's family was once very prosperous but became poor by the time of her birth. Nancy spent the first two years of her life in a two-story house in New York City. Her parents separated shortly after her birth and divorced in 1928.

The separation parents hit her adversely and she was raised by her Aunt in Virginia for six years. Due to lack of money, Nancy's mother used to travel all over USA in search of acting roles. In an interview given after she grew up, Nancy told that she used to yearn for her mother during the stay with her aunt.

Her mother married Loyal Edward Davis, a Chicago-based neurosurgeon. Nancy got well with her stepfather. Nancy's stepfather adopted her in the year 1935. At the time of adoption, her name was formally changed to Nancy Davis.

She went to Girl's Latin School of Chicago and graduated in the year 1939. Nancy later attended the Smith College in Massachusetts and graduated in the year 1943 with a major in English and Drama.

Career

While in college, she showed keen interest in acting. In the year 1940, she appeared in a short film by National Foundation for Infantile Paralysis shot for the purpose of raising donations to fight polio.

After her graduation, Nancy worked as a sales clerk and as a Nurse's aide. With the aid of her mother's colleagues in theatre, she got roles in some of the famous plays of her time like 'Ramshackle Inn' and 'Lute Song'.

She cleared a screen test with Metro-Goldwyn-Mayer Studios Inc. in the year 1949 and entered into a nine year contract with the studio. During her contract period with MGM, she appeared in eleven feature films. She mostly got small roles of a loyal wife and had to aggressively compete with other famous actresses of the time.

Nancy's career as a major actress began in 1949 when she got supporting roles in two films, viz. 'The Doctor and the Girl' and 'East Side, West Side'. In 1951, she got another major role in the movie 'Night into Morning'.

In early 1950s, Nancy's career faced a big challenge when her name figured on the Hollywood Blacklist. The Blacklist was created to warn the Hollywood studios regarding communist sympathizers and omit them from any future roles.

She contacted Ronald Reagan, the President of the Screen Actors Guild to check if he could help her in removing her name from the blacklist. They both were immediately attracted to each other and started dating.

They both dated for long but did not marry as Ronald Reagan was skeptical of marriage after his painful divorce with actress Jane Wyman. They finally married after three years of togetherness in the year 1952.

Continue Reading Below

She continued acting after marriage but became a full-time homemaker. She completed three films after marriage and acted in some minor roles of TV programs. Due to her growing family (the couple had four children by then), Nancy discontinued acting and focused on managing the house.

As First Lady & After

The political fortunes of Ronald Reagan started to rise when he was elected as the governor of California in the year 1967.

During the governorship of Ronald Reagan, Nancy was appreciated as a 'model first lady' for her style, glamour, and youthfulness by the Los Angeles Times.

After serving two terms as the governor, Ronald Reagan began his quest for the office of the President of the USA. She took the conventional role of a candidate's wife by organizing luncheons, parties, and talks with citizens.

Reagan lost his first bid for Republican Nomination in 1976. But he again contested in 1980 and won the election.

Immediately after moving into the White House, she announced that the executive mansion was in a bad shape and needed repairs. She was heavily criticized for spending extravagantly on her house at the time when the country was going through a recession.

Nancy countered the criticism by championing the fight against drug abuse awareness and education. She travelled all through the country and visited drug rehabilitation centers and prevention programs.

Continue Reading Below

After the assassination attempt on Reagan in the year 1981, Nancy took on the role of personal protector of her husband and took care of all the aspects of his itinerary. This created friction between her and the staff of the White House.

She was diagnosed with breast cancer in the year 1987, and underwent through a mastectomy. In the year 1988, she addressed the United National General Assembly and argued for strengthening international drug trafficking laws.

After the end of Reagan's presidency, Nancy set up a foundation in support of after-school prevention programs. She and her husband spent an active life after their retirement and moved to Los Angeles.

After the death of Ronald Reagan, Nancy became an advocate of stem cell research and opposed President George W. Bush on many his policies.

In the year 2016, Nancy died from congestive heart failure at the age of 94. Till date, she is remembered as one of the most distinguished first ladies who played an active role in public life.

Awards & Achievements

In the year 2007, Nancy received the 'Order of First Eagle' by the government of Poland. It was the highest Polish distinction and was presented to her husband for his contribution to the development of Poland.

She was presented an honorary degree by Ronald Reagan's Alma matter, Eureka College.

Apart from being an actor and first lady, Nancy Reagan was also an accomplished author. She published a number of books in her life-time like I Love You Ronnie: The Letters of Ronald Reagan to Nancy Reagan (2000), My Turn: The Memoirs of Nancy Reagan (1989), and Entertaining at the White House (2007).

Personal Life & Legacy

Before she met Ronald Reagan, Nancy had affairs with several Hollywood actors like Peter Lawford and Clark Gable.

Nancy was said to have a bad relationship with her children. She was often seen to be fighting and quarreling with her children and stepchildren.

Trivia

She was very much interested in fashion and always wore the latest apparel. She modeled for some of the most prestigious American publications like Vogue even after she became the first lady of the USA.

Translate Wiki

to Spanish, French, Hindi, Portuguese

Article Title

- Nancy Reagan Biography

Author

- Editors, TheFamousPeople.com

Website

- TheFamousPeople.com

URL

-

https://www.thefamouspeople.com/profiles/nancy-reagan-31349.php

Last Updated

- March 16, 2017

---

---

---