Mikhail Lomonosov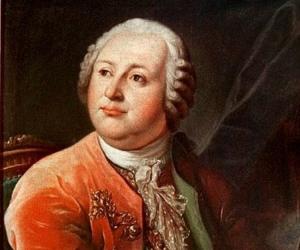 Quick Facts
Birthday: November 19, 1711
Nationality: Russian
Died At Age: 53
Sun Sign: Scorpio
Born in: Lomonossowo, Russia
Famous as: Scientist, Poet, Geologist, Astronomer
Family:
Spouse/Ex-: Elisabeth Zilch (m. 1740)
children: Yelena Lomonosova
Died on: April 15, 1765
discoveries/inventions: Coaxial Rotors
Continue Reading Below
Mikhail Lomonosov was a Russian scientist, poet, geologist and astronomer, who is also believed to have influenced the formation of the modern Russian literary language. His expertise in diverse fields earned him the title of becoming the first scientist-naturalist from Russia to have gained international acclaim. Born into a family of peasants, he was urged to pursue the family business from a young age; however, his passion to study led him to Moscow, Kiev and later to Germany. Upon his return to Russia, he began his teaching career at the St. Petersburg Academy of Sciences. Alongside he made several independent discoveries like the determination of freezing temperature of mercury, definition of the law of mass conservation, atmosphere around planet Venus, explanation of the phenomenon of icebergs and understanding gravity from a mechanical perspective. He was an advocate of progress in domestic education and was responsible for the establishment of the first Russian chemical laboratory at St. Petersburg Academy of Sciences. He also co-founded the Moscow University. A linguistic reformer, he was known to have set the foundation for Russian literature. Other than writing poems and books, he also composed plays that were well appreciated. He was elected as Secretary of State in 1764; however, he could serve in the position only for a year.
Recommended Lists:
Recommended Lists:
Continue Reading Below
Childhood & Early Life
Mikhail Vasilyevich Lomonosov was born on 19 November 1711, at Denisovka (later renamed as Lomonosovo) in Russia, to Vasily Dorofeyevich Lomonosov and Elena Ivanovna Sivkova. He belonged a family of coast- dwelling peasants called 'pomory'.

At the age of ten, he began assisting his father in his cod-fishing and cargo business. During this period he also pursued education in Russian grammar.

During the 1720's he travelled to several ports across the White Sea and northern Arctic sea. He got the opportunity to understand maritime meteorology, pearl-diving, astronomy and navigation along with being accustomed with the culture of people like the Nenets, Finns and Laplanders.

He was issued a passport in 1730, and in order to continue his education, he travelled to Moscow in the same year. After some time he was inducted into the Slavic Greek Latin Academy.

He was a brilliant student and post three years of study he was sent to Kiev to spent a year at the Kyiv-Mohyla Academy. However, he was displeased with the education he received in Kiev and returned to Moscow in a short while. Mikhail Lomonosov completed his scheduled twelve year course within five years and was the topper in his class.

In 1736 he received a scholarship from St. Petersburg Academy and continued his education at the Imperial Academy of Science in Saint Petersburg. The following year, he, along with a few fellow students, was chosen to study at the University of Marburg, Germany.

Between 1739 and 1740, he studied chemistry, philosophy, metallurgy and mineralogy. He intently read the works of philosopher Robert Boyle. Other than this, he was also passionate about German literature and mastered the language. He was known to have had been fond of the works of German poet Johann Christian Günther.

During this period he also started composing his own poems, predominantly odes. He wrote 'A Letter on the Rules of Composing Russian Poetry' in which he stressed that the syllabatonic mode was the most basic part in Russian verse composition.

Recommended Lists:

Recommended Lists:

Career

Mikhail Lomonosov came back to Russia in 1741 and commenced research work under Professor Amman at the St. Petersburg Academy of Science. A short while later he was made adjutant professor of physics at the Academy department.

In 1745, he was inducted into the chemistry of St. Petersburg Academy of Science as full time professor. The same year he published a catalogue of more than 3000 minerals.

In 1748, he published his work 'Short Guide to Rhetoric'. A few years later, in 1750, as per orders of Russian Empress, Elizaveta, he wrote a five act tragedy under the title 'Tamira and Selim' for the upcoming national theatre. The play was well appreciated.

In 1751, St. Petersburg Academy published the debut collection of poems of Mikhail Lomonosov.

In 1752, he released his poem titled 'On the Utility of Glass' along with composing his second play 'Demofont'.

He was keen to improve the quality of education in Russia and in 1755, he, along with Count Ivan Ivanovich Shuvalov, established the Moscow University.

In 1765, Mikhail Lomonosov outlined the law of conservation of mass that implies that mass can neither be created nor destroyed, although it may be rearranged in space, or the entities associated with it may be changed in form.

Continue Reading Below

He conducted experiments to prove the law of conservation of mass. This in turn led to his finding that the phlogiston theory stated by Johann Joachim Becher was incorrect.

He was appointed as the Director of the University and Gymnasium of the St. Petersburg Academy of Science in 1760. The same year as a result of his study, he explained the development of icebergs.

He was the first person to record the freezing point of mercury. His other scientific discoveries include the development of the kinetic theory of gases, wave theory of light and a mechanical interpretation of gravity. He also regarded heat to be a form of motion.

In 1761, he made an observation of planet Venus and its orbit around the sun from an observatory near his house in St. Petersburg. His observation led to the hypothesis regarding the existence of atmosphere around the planet.

He developed an updated model of a reflecting telescope that allowed viewers to look at the image with an eyepiece without any obstruction. He presented the model at the Russian Academy of Sciences; however, the type of telescope was published much later.

He was also an ardent lover of the art of mosaics. In 1763 he established a glass factory that made the first ever stained glass mosaics outside Italy. The same year, he also published his most important geological literary work titled 'On the Strata of the Earth'.

In 1764, he was appointed as the Secretary of State. However, he could serve in the position only for a year.

Recommended Lists:

Recommended Lists:

Major Works

Mikhail Lomonosov was an expert in diverse fields, such as, geology, physics, literature, geography and chemistry. He gave much importance to the development of education system in Russia and founded the first Russian chemical laboratory at the St. Petersburg Academy of Sciences along with the establishment of the Moscow University. As a result of his studies, he explained the phenomenon of icebergs, challenged certain previous scientific theories like the phlogiston theory as well published theories like the law of mass conservation.

Recommended Lists:

Recommended Lists:

Awards and Achievements

He was elected as a foreign member of the Royal Swedish Academy of Sciences in 1761.

He was a member of the prestigious Academy of Arts at St. Petersburg.

Recommended Lists:

Recommended Lists:

Personal Life & Legacy

Mikhail Lomonosov met Elizabeth Christine Zilch while studying in Germany and they got married in 1740.

He died of influenza on 15 April 1765, at his residence in St. Petersburg, Russia, at the age of 53.

Trivia

In his honour, the Moscow State University was renamed as the M. V. Lomonosov Moscow State University in 1940.

An underwater ridge in the Arctic Ocean was named after him as the Lomonosov Ridge in 1948.

The USSR Academy of Sciences (later renamed the Russian Academy of Sciences) awarded the Lomonosov Gold Medal for achievements in humanities and natural sciences. The medal was named in honour of Mikhail Lomonosov. From 1967, the academy awards two medals, one to a Russian national and another to a foreign scientist.

A crater on the moon as well as a crater on planet Mars have been named after Mikhail Lomonosov.

Translate Wiki

to Spanish, French, Hindi, Portuguese

Article Title

- Mikhail Lomonosov Biography

Author

- Editors, TheFamousPeople.com

Website

- TheFamousPeople.com

URL

-

https://www.thefamouspeople.com/profiles/mikhail-lomonosov-7496.php

Last Updated

- November 01, 2017

---

---

---