Mick Foley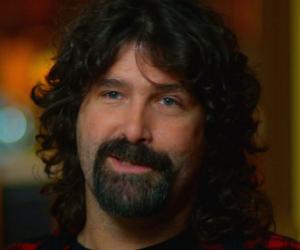 Quick Facts
Nationality: American
Famous: WWE Wrestlers American Men
Age: 54 Years, 54 Year Old Males
Sun Sign: Gemini
Also Known As: Michael Francis Foley
Born in: Bloomington
Famous as: WWE Wrestler
Height: 6'2" (188 cm), 6'2" Males
Family:
Spouse/Ex-: Collette Foley (m. 1992)
father: Jack Foley
mother: Beverly Foley
children: Dewey Francis Foley, Hughie Francis Foley, Michael Francis Foley Jr., Noelle Margaret Foley
U.S. State: Indiana
More Facts
education: State University of New York at Cortland
Continue Reading Below
Michael Francis Foley Sr., often referred to as Mick Foley, is a former wrestler, author wrestling manager, referee, and commentator signed to WWE. He was a professional wrestling champion who worked for many wrestling promotions, including 'World Championship Wrestling', 'National Wrestling Alliance', and 'Extreme Championship Wrestling' during his career. He has also taken part in several wrestling promotions in Japan. His career took off when his video stunts were noticed and appreciated by Demonic DeNucci, who later decided to mentor him. Since then, Foley never had to look back. With a prolific career, Foley stands tall among the greatest wrestlers for WWE. To honor his achievements, he was included in the WWE Hall of Fame in 2013. His awards include the WWE championship, TNA Legends Champion, WWE Hardcore Champion, and TNA World Heavyweight Championship. Apart from wrestling, he has made several guest appearances in hit TV series and has penned an ongoing series of memoirs as well. These books have received critical appreciation and were adapted into a documentary starring him. Foley hasn't limited his fame to wrestling but decided to actively champion for various causes. He is a well-known supporter of many organizations and assists in fundraising for RAINN, an anti sexual-violence charity.
Recommended Lists:
Recommended Lists:
Continue Reading Below
Childhood & Early Life
Mick Foley was born on June 7, 1965, in Bloomington, Indiana to a family of Irish descent. He spent his initial years in New York, where he attended the Ward Melville High School. His interest in wrestling was evident in his schooling years.

He attended the State University of New York . During this time, his interest in wrestling had peaked, and he went to watch several matches that inspired him to take it up professionally.

Recommended Lists:

Recommended Lists:

Wrestling Career

Mick Foley began his career by training under Dominic DeNucci and eventually earn his debut in 1983. He also worked as a jobber, where he faced several tough opponents. His work at the independent circuit was recognized and he received many offers.

He joined Continental Wrestling Association under the name, 'Cactus Jack,' and held the CWA Tag title along with Gary Young in 1988. He, however, left it and joined 'World Class Championship Wrestling' (WCCW).

He was nicknamed, 'Cactus Jack Manson,' in WCCW and won many light-heavyweight titles. While he left this to join World Championship Wrestling, but his stay there was short-lived. He jumped to 'Universal Wrestling Federation' before joining 'Tri-State Wrestling'.

Foley's character caught the eyes of 'World Championship Wrestling', which he joined full time in 1991. He retained the label 'Cactus Jack' and started working on his catch phrase: 'Bang, Bang!' He fought Sabu and Vader in high-profile matches.

He joined Eastern Championship Wrestling in 1994 but left it in a grand exit to join 'Smoky Mountain Wrestling' towards the end of the year. He moved on to 'International Wrestling Association of Japan', in 1995.

He began his career with WWE, formerly, WWF, in 1996. His three-persona image comprising Cactus Jack, Mankind, and Dude Love became a huge hit at his Royal Rumble debut, in 1998. His catch phrase 'have a nice day' remained popular too. His storyline was eventually phased out in 1998.

He assumed a new identity as 'Mr. Socko' which was instantly popular. He won the Hardcore Championship and eventually went on to defeat The Rock to win his first WWE Championship title in December 1998. The recorded show was telecasted in January 1999.

Continue Reading Below

Mick Foley teamed up with The Rock and they earned the label 'Rock and Sock connection,' thus becoming one of the most popular teams who won many tag team titles.

He went on to win the WWE championship two more times. He retired from his storyline after WrestleMania 2000. He began working as a storyline commissioner for WWF in 2000. He also appeared as a guest referee on RAW. He left his role after a long absence in 2001.

In his hiatus from 2000 to 2003, Foley remained active in the independent wrestling circuit in various roles. During this time, he was seen at the 'International Wrestling Cartel', 'HUSTLE', 'Triple Crown Championship', 'New England Championship', 'World League Wrestling', and 'New York Wrestling Connection'.

He returned to WWE in June 2003 where he was honored with a Hardcore Championship Belt. He then became the co-manager of RAW. His wrestling bouts became intermittent since 2004 as he backed out of many matches.

Foley then assumed the role of a color commentator for ECW One Night Stand, under WWE. He subsequently started working as a referee as well. He returned to participate in the WWE championship in 2007, but lost to Cena. He left WWE after his contract expired in September 2008, citing creative differences.

He next signed a deal with Total Nonstop Action Wrestling. He won the TNA World Heavyweight Championship in April 2009 and the TNA Legends Championship in July 2009. He also wrote a weekly column for their website. He left TNA in 2011.

He later returned to WWE in November 2011. He appeared in 2012 Royal Rumble, Wrestlemania XXVII and the Survivor Series. However, his injuries increased and it was stated that he was not medically fit to participate in the ring. He thus announced his retirement, in August 2012.

Continue Reading Below

He was inducted in the WWE Hall of Fame in 2013. He was often seen on RAW and SmackDown despite never playing in the ring. He was later appointed as the General Manager for RAW. However, he was fired soon by Stephanie MacMahon.

Recommended Lists:

Recommended Lists:

Other Accomplishments

Mick Foley is also a bestselling author of fiction, children's book, and his memoirs. His memoirs—'Have a Nice Day: A Tale of Blood and Sweatsocks', 'Foley Is Good: And the Real World is Faker than Wrestling', 'The Hardcore Diaries', 'Countdown to Lockdown', and 'Saint Mick'—have been hugely popular.

He has also dabbled in acting. He appeared in 'G vs. E', 'Anamorph', and a documentary based on his life titled, 'Beyond the Mat'. In 2009, he appeared on the Daily Show with Jon Stewart to discuss the importance of LGBT rights.

He is an active philanthropist as well. He has participated in several events, had funded many children with Child Fund International, and remains a leading donor in assisting worldwide education.

He works as a volunteer with RAINN, a group founded by Tori Amos, as a hotline member. His records have been exemplary with several logged hours and fundraising. He auctioned off his wrestling paraphernalia to fund the organization.

He is a vocal supporter of feminist causes and has extended his support to the equality for women's professional wrestling.

Awards & Achievements

In his long career, Foley won many championship belts and award. Some of these include CWA Tag Team Championship, ECW World Tag Team Championship, NAW Heavyweight Championship, NWL Heavyweight Championship, WCW World Tag Team Championship, WWF Championship, and WWF Hardcore Championship.

He was titled the Most Inspirational Wrestler of the year, in 1993, by Pro Wrestling Illustrated. He also featured at #19 among the 500 best wrestlers in the PWI 500 list.

In 2010, He was awarded a 'Medal of Reasonableness' by Jon Stewart for his active contributions and vocal support for many causes.

Family & Personal Life

He is married to Colette Foley and the couple has four children: Dewey Francis, Noelle Margaret, Michael Francis Jr., Hughie Francis.

Trivia

His sons, Mickey and Hughie, have their own YouTube channel featuring the family. These vlogs often include Mike Foley in lighthearted situations and parodies.

Translate Wiki

to Spanish, French, Hindi, Portuguese

Article Title

- Mick Foley Biography

Author

- Editors, TheFamousPeople.com

Website

- TheFamousPeople.com

URL

-

https://www.thefamouspeople.com/profiles/mick-foley-9872.php

Last Updated

- January 10, 2019

---

---

---