Matthew McConaughey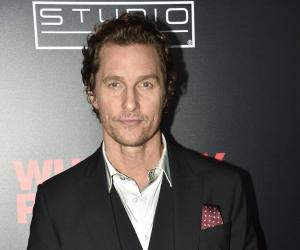 Quick Facts
Birthday: November 4, 1969
Nationality: American
Famous: Quotes By Matthew McConaughey Actors
Age: 49 Years, 49 Year Old Males
Sun Sign: Scorpio
Also Known As: Matthew David McConaughey
Born in: Uvalde, Texas, U.S
Famous as: Actor, Producer
Height: 6'0" (183 cm), 6'0" Males
Family:
Spouse/Ex-: Camila Alves (m. 2012)
father: James Donald McConaughey
mother: Mary Kathlene McCabe
children: Levi Alves McConaughey, Livingston Alves McConaughey, Vida Alves McConaughey
U.S. State: Texas
More Facts
education: Longview High School, University of Texas at Austin College of Communication, University of Texas at Austin
Continue Reading Below
Matthew McConaughey is one of the leading actors in Hollywood, who first tasted stardom with the critically successful film, 'Dazed and Confused'. Born into a middle class family, this charming Texan, unlike his brothers refused to join his father's business. He had a mind of his own and instead chose to go to Australia as an exchange student. Upon his return he went to the University of Texas at Austin College of Communication, graduating with a degree in film, television and radio. He initially appeared in a few TV commercials and played minor roles in a couple of films, before getting a breakthrough in the Joel Schumacher thriller film, 'A Time to Kill'. His film career soon took a big leap and he bagged many acting offers. Some of his well-known films include, 'Amistad', 'EDtv', 'Ghosts of Girlfriends Past', 'The Wedding Planner', 'How to Lose a Guy in 10 Days','The Lincoln Lawyer' and 'Magic Mike'. He is a passionate animal lover and the founder of the 'J.K. Livin Foundation', dedicated to the betterment of the lives of high school children.
Recommended Lists:
Recommended Lists:
Continue Reading Below
Childhood & Early Life
Matthew David McConaughey was born on November 4, 1969 in Uvalde, Texas, to James Donald McConaughey, a gas-station owner and oil supplier and Mary Kathleen, a kindergarten teacher.

His family relocated to Longview, Texas, where he went to the Longview High School. In high school he was voted 'most handsome in the Longview Lobo Yearbook'.

In 1988, he went on an education exchange program for a year to Warnervale, New South Wales, Australia. He was a Rotary exchange student. He later attended the University of Texas at Austin College of Communication.

In 1993, he graduated from the University of Texas with a B.S. degree in Radio-Television-Film. In university, he was a member of the Delta Tau Delta International Fraternity.

Continue Reading Below

Recommended Lists:

Recommended Lists:

Career

In 1991, he began his career in the entertainment business. He appeared in a series of TV commercials, before bagging for himself a role in the coming of age comedy film, 'Dazed and Confused', which earned immense critical acclaim.

He was seen in minor roles in a series of films like, 'Texas Chainsaw Massacre: The Next Generation', 'Boys on the Side', 'Angels in the Outfield', and the TV series 'Unsolved Mysteries'.

In 1996, he got his big break in the Joel Schumacher thriller film, 'A Time to Kill', in which he played the role of a lawyer 'Jake Brigance'. This critically acclaimed film was an adaptation of a John Grisham novel of the same name.

In 1997, he starred in the Academy Award nominated historical drama film, 'Amistad', which was directed by Steven Spielberg. The film received good reviews from film critics.

In 1999, he played the role of, 'Ed Eddie Pekurny' in the American comedy film 'EDtv', directed by Ron Howard. The following year, he was seen in the film, 'U-571'.

In 2000, he played as himself in the 'Escape from New York' episode of the TV series, 'Sex and the City'. The next year, he starred in the romantic comedy film 'The Wedding Planner'.

In 2002, he starred in the film, 'Reign of Fire'. The same year, he was seen in the films, 'Thirteen Conversations About One Thing', a drama film and 'Frailty', a psychological thriller.

Continue Reading Below

In 2003, he appeared in the TV series documentary, 'Freedom: A History of Us'. That year, he played the character of 'Steven Bedalia' in the film, 'Tiptoes'. He even starred in the romantic comedy film, 'How to Lose a Guy in 10 Days'.

In 2005, he played 'Brandon Lang' in the film, 'Two for the Money' and also acted in the action-comedy adventure film, 'Sahara'. He played the voice of 'Al Bean' in 'Magnificent Desolation: Walking on the Moon 3D', a 3D documentary film.

In 2006, he played 'Jack Lengyel' in the romantic comedy film, 'Failure to Launch', which was directed by Tom Dey. The same year he also starred in the American adventure film, 'Fool's Gold'.

In 2008, he starred in the action comedy film, 'Tropic Thunder', which was immensely successful at the box office. That year, he was also seen as 'Steve Addington' in the film 'Surfer, Dude'.

In 2009, he starred opposite Jennifer Garner in the romantic comedy film, 'Ghosts of Girlfriends Past'. The film was a commercial success but received negative reviews from critics.

In 2010, he starred in the American TV comedy series, 'Eastbound & Down', broadcast on HBO. He was seen in three episodes of the show. The following year he starred in the film, 'The Lincoln Lawyer'.

In 2012, he played the title role in the coming-of-age drama film, 'Mud', directed by Jeff Nichols. That year he was seen in the films, 'Bernie', 'Killer Joe', 'Magic Mike' and 'The Paperboy'.

Continue Reading Below

In 2013, he appeared in the biographical drama film 'Dallas Buyers Club'. He received appreciation and success for portraying a cowboy diagnosed with AIDS in the film. The role earned him the Academy Award for Best Actor and Golden Globe Award for Best Actor – Drama. In addition to these two he also won other awards and nominations. In 2013, he starred in 'The Wolf of Wall Street' as well.

He appeared in the 2014 2014 HBO crime anthology series True Detective.

Recommended Lists:

Recommended Lists:

Major Works

He starred in 'The Wedding Planner', which was a massive commercial success, earning $94,728,529 at the box office. The film was at the number one position on the box office in the opening weekend.

He starred in the film, 'Magic Mike', a critical success that made it to several critics' lists for the category of Best Filmin 2012. The film received the National Society of Film Critics Award and the Independent Spirit Award.

'Dallas Buyers Club' fetched him the Academy Award for Best Actor and Golden Globe Award for Best Actor – Drama.

Recommended Lists:

Recommended Lists:

Awards & Achievements

He received the MTV Movie Award for Best Breakthrough Performance for the movie, 'A Time To Kill' in the year 1996.

Continue Reading Below

In 2012, he received the New York Film Critics Circle Award for Best Supporting Actor for 'Bernie' and 'Magic Mike'. The same year, he received an award by the National Society of Film Critics and Independent Spirit Award for a similar category for the film 'Magic Mike'.

He won a Saturn Award in the category of Best Actor for his role in the film, 'Killer Joe'.

He won an Academy Award for Best Actor and Golden Globe Award for Best Actor – Drama for his role in 'Dallas Buyers Club' in 2013.

Personal Life & Legacy

His foundation, 'J.K. Livin Foundation', is dedicated to high school students. The main objective is to empower high school students to lead an active live and make healthy choices.

He rescued several animals from danger during the Hurricane Katrina.

In 2012, he married his girlfriend, Camila Alves, a Brazilian model and television performer. They live in Austin, Texas, and have three children together.

In April 2014, Time magazine included McConaughey in its annual Time 100 as one of the "Most Influential People in the World.

Trivia

This acclaimed film actor was once arrested in his Austin, Texas home for allegedly playing the bongo drums late in the night. The police also found drugs at the venue. The actor was charged a fine and drug charges were dropped.

1. Interstellar (2014)

(Sci-Fi, Drama, Adventure)

2. Dallas Buyers Club (2013)

(Drama, Biography)

---

3. The Wolf of Wall Street (2013)

(Comedy, Drama, Crime, Biography)

4. The Lincoln Lawyer (2011)

(Crime, Thriller, Drama)

---

---

5. A Time to Kill (1996)

(Drama, Crime, Thriller)

6. Free State of Jones (2016)

(Drama, War, History, Action, Biography)

---

---

---

7. We Are Marshall (2006)

(Drama, Sport)

8. Dazed and Confused (1993)

(Comedy)

---

---

---

---

| | | |
| --- | --- | --- |
| 2014 | Best Performance by an Actor in a Leading Role | Dallas Buyers Club (2013) |

| | | |
| --- | --- | --- |
| 2014 | Best Performance by an Actor in a Motion Picture - Drama | Dallas Buyers Club (2013) |

| | | |
| --- | --- | --- |
| 1997 | Best Breakthrough Performance | A Time to Kill (1996) |

| | | |
| --- | --- | --- |
| 2006 | Favorite Male Action Star | Winner |

Translate Wiki

to Spanish, French, Hindi, Portuguese

Article Title

- Matthew McConaughey Biography

Author

- Editors, TheFamousPeople.com

Website

- TheFamousPeople.com

URL

-

https://www.thefamouspeople.com/profiles/matthew-david-mcconaughey-2316.php

Last Updated

- July 24, 2017

---

---

---