Markus Persson
Quick Facts
Nationality: Swedish
Famous: School Dropouts Miscellaneous
Sun Sign: Gemini
Age: 39 Years, 39 Year Old Males
Also Known As: Markus Alexej Persson, Notch, xNotch
Born in: Stockholm
Famous as: Video Game Programmer & Designer
Height: 1.75 m
Family:
Spouse/Ex-: Elin Zetterstrand (2011–2012; divorced)
Founder/Co-Founder: Mojang
Net worth: $1.4 billion as of 2017
Continue Reading Below
He is often referred to as the first superstar computer games developer. He broke the monotony in the video game industry by producing a creative adventurous sandbox video game, allowing players to create, craft and mine. His passion for developing and producing a virtual Lego game, with endless building possibilities, kept him engaged with programming to such an extent that he dropped out from high school. Markus Persson had been bitten by the computer bug since his childhood, which culminated into developing one of the most popularly played and enjoyed games across the globe, Minecraft. Referred to as 'Notch' by his teenage fans in the industry, he has crafted a number of games for die-hard game players. His exceptional and innovative video game releases have won him appreciation and prestigious awards from various organizations. Besides, he has also participated in numerous competitions as a platform to display his excellence in game creation. Such is his extraordinary talent that he has even won 48-hour game creating contests. He became the newest and one of the youngest billionaires of the world in 2014 when Microsoft purchased Mojang and he bought a posh glass palace perched atop Beverly Hills.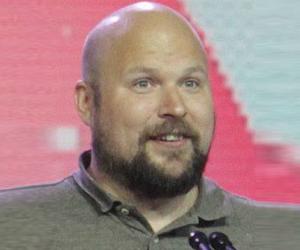 Recommended Lists:
Recommended Lists:
Continue Reading Below
Childhood & Early Life
Markus Alexej Persson, nicknamed as 'Notch', was born on June 1, 1979 in Stockholm, Sweden, into a Swedish-Finnish family. His Swedish father, Birger, was a railway employee while his Finnish mother, Ritva, worked as a nurse.

He spent his first seven years in Edsbyn before moving back to Stockholm with his parents.

He often spent his playtime building complex designs with Lego blocks, but when he ran into his father's Commodore 128 home computer, he started programming and creating games on cowboys and Indians.

He developed his first game, a text-based adventure game, at a tender age of eight years, after experimenting with a number of type-in programs.

Recommended Lists:

Recommended Lists:

Career

In 2005, he joined King.com as a game developer, but left the company in 2009 to move into Jalbum where he worked as a programmer for two years.

He founded the company Mojang AB in May 2009, along with his best friend Jakob Porser, and began developing video games under this brand.

He started producing his first sandbox video game, Minecraft, in 2009, and shifted from full-time to part-time at Jalbum, to concentrate on his creation.

He quit his job in 2010 to focus solely on Minecraft. And after the game was officially launched in 2011, he passed the lead creative authority to Jens Bergensten.

Minecraft has been released in various versions to suit all kinds of platforms, including Android, iOS, Xbox 360, PlayStation 3, PlayStation 4, Xbox One, PlayStation Vita and Windows Phone.

He announced his second game, 0x10c, a sandbox science fiction video game, in 2012, but shelved it due to lack of interest and concentration on other projects. Presently, a team of his fans is developing their own version of the game.

He appeared in the 2012 documentary showcasing the formation and growth of Mojang and Minecraft titled 'Minecraft: The Story of Mojang'.

Continue Reading Below

Apart from his work on developing new games and updating the existing ones, he often participates in various competitions, some being Ludum Dare, Jave 4K Game Programming Contest and LD12.

He has been a consistent participant at the Ludum Dare 48-hour game making contests. Some of his creations are Breaking the Tower, Metagun, Prelude of the Chambered, and Minicraft.

He sold his company, Mojang, to Microsoft at a whooping cash deal amounting to $2.5 billion, in November 2014, thereby handing over the Minecraft game's intellectual property to its buyer.

Major Works

He created his popular game, Minecraft, a survival open-ended, messy video game, by combining his two childhood activities, in 2009, and developed and published it under his company, Mojang, in 2011.

He developed the 3D massively multi-player online role-playing game (MMORPG), Wurm Online, in 2012, along with his designer friend Rolf Jansson. However, he does not work on it anymore.

In 2014, he released his third game, Scrolls, a strategy collectible card game, developed along with Jakoc Porser using the Unity game engine, thus enabling it to be played on multiple gaming platforms.

Awards & Achievements

His sandbox computer game, Minecraft, won him three awards at Game Developers Choice Awards in 2011 – Best Debut Game Award, Innovation Award, and Best Downloadable Game Award.

Continue Reading Below

In 2011, his game, Minecraft, was honored with two awards at the Independent Games Festival – Audience Award and Seumas McNally Grand Prize.

In 2012, his Minecraft game won the Best Downloadable Game at the Golden Joystick Awards.

He has been listed in the '100 Most Influential People' by Times magazine.

Minecraft had sold over 60 million copies across all platforms, including 12 million on Xbox 360 and 17 million on computers, by October 2014. This record-breaking game was listed under best-selling video games of all times.

Personal Life & Legacy

He got married to Elin Zetterstrand, who's more popular as 'Ez' in the Minecraft game, on August 13, 2011. However, the couple separated and he announced his status as single on the social networking site, Twitter, on August 15, 2012.

In December 2014, he purchased a $70 million 23,000-square-foot luxurious contemporary-style bungalow in Trousdale Estates, close to Beverly Hills, California, furnished with all ultra-luxury customized facilities.

Trivia

A number of his employees at Mojang have previously worked with Jalbum, his former organization. One of them included Mojang's CEO Carl Manneh.

After the Mojang-acquisition deal was officially announced by Microsoft, he, along with his co-founders, Carl Manneh and Jakob Porser, quit from the company.

Translate Wiki

to Spanish, French, Hindi, Portuguese

Article Title

- Markus Persson Biography

Author

- Editors, TheFamousPeople.com

Website

- TheFamousPeople.com

URL

-

https://www.thefamouspeople.com/profiles/markus-persson-5569.php

Last Updated

- October 04, 2017

---

---

---