Mark Ruffalo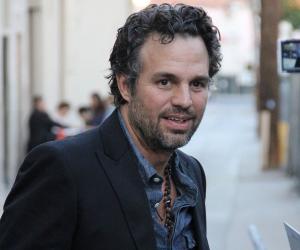 Quick Facts
Birthday: November 22, 1967
Nationality: American
Famous: Quotes By Mark Ruffalo Actors
Age: 51 Years, 51 Year Old Males
Sun Sign: Scorpio
Also Known As: Mark Alan Ruffalo
Born in: Kenosha
Famous as: Actor
Height: 1.73 m
Family:
Spouse/Ex-: Sunrise Coigney
father: Frank Lawrence Ruffalo
mother: Marie Rose Hebert
siblings: Nicole Ruffalo, Scott Ruffalo, Tania Ruffalo
children: Bella Noche Ruffalo, Keen Ruffalo, Odette Ruffalo
religion: Catholicism
U.S. State: Wisconsin
City: Kenosha, Wisconsin
Net worth: $20 million as of Aug 7, 2016
More Facts
education: Stella Adler Studio of Acting, First Colonial High School
Continue Reading Below
Mark Ruffalo is an American actor, director, and environmental activist. He is best known for portraying the character of 'the Hulk' in movies like 'The Avengers' (2012) and 'Avengers: Age of Ultron' (2015). From a young age, he was determined to enter show business and attended the Stella Adler Studio of Acting to hone his talent. Armed with a degree from the drama school, he co-founded the Orpheus Theatre Company and had to struggle with the multiple responsibilities of being an actor, writer, director, producer and even, light boy. As luck would have it, a chance meeting with playwright Kenneth Lonergan altered his fortune. His versatility as an actor landed him roles in Lonergan's play 'This is Our Youth' (1996) and later, in his famous movie 'You Can Count on Me' (2000). His performance won him praises from all corners and helped him establish a strong foothold in Hollywood. He went on to star in several notable movies like 'Collateral' (2004) and 'Shutter Island' (2010). Over time, he excelled in his art and his performance in 'The Kids Are All Right' (2010) and 'Foxcatcher' (2014) earned him Academy Award nominations. More recently in 2012 and 2015, his portrayal of 'the Hulk' has earned him international fame. A politically vocal person, he is also an activist and supports a number of causes like anti-fracking, renewable energies, pro-choice movement, and LGBTQ rights.
Recommended Lists:
Recommended Lists:
Continue Reading Below
Childhood & Early Life
Mark Ruffalo was born on November 22, 1967 in Kenosha, Wisconsin to Marie Rose, a hairdresser and stylist, and Frank Lawrence Ruffalo, Jr., a construction painter. He has two sisters, Tania and Nicole, and had a brother, Scott, who is no more. He is of Italian ancestry on his father's side and half French-Canadian and half Italian lineage on his mother's side.

He was brought up as a Catholic and attended both Catholic and Progressive schools in his childhood.

Although he suffered from undiagnosed Dyslexia and Attention Deficit Hyperactivity Disorder in his growing years, he recalled himself being a "happy kid" growing up in a "very big" family with "lots of love".

He lived his teen years in Virginia Beach with his family. While in Wisconsin and Virginia, he competed in wrestling in junior high and high school.

After graduating from the First Colonial High School, he moved with his family to San Diego, California. The family later migrated and settled in Los Angeles.

In Los Angeles, he took classes at the Stella Adler Conservatory. He eventually co-founded the Orpheus Theatre Company, wherein he worked in various different roles like acting, writing, directing and producing.

Continue Reading Below

Recommended Lists:

Recommended Lists:

Career

While acting in the Orpheus Theatre, Mark Ruffalo landed small roles on TV and in films like 'The Dentist' (1996), 'Safe Men' (1998) and 'Ride with the Devil' (1999).

Soon, a chance meeting and collaboration with playwright Kenneth Lonergan altered his fortune. He acted in several of his plays, particularly 'This is Our Youth' (1996), which landed him the role of the male lead in Lonergan's movie 'You Can Count on Me' (2000). His performance in the film received critical acclaim and won him several critics' awards.

The success of the film also helped him establish a strong foothold in Hollywood. He played prominent characters in subsequent movies like 'The Last Castle' (2001), 'XX/XY' (2002), and 'Windtalkers' (2002).

In 2002, he was diagnosed with a brain tumour. Though the tumour was benign, the surgery resulted in partial facial paralysis. Fortunately, he recovered fully after a brief spell of illness.

(In 2003, he returned to work with leading roles opposite two famous actresses, Meg Ryan and Gwyneth Paltrow in 'In the Cut' (2003) and 'View from the Top' (2003), respectively. However, both the films failed at the box-office.

In 2004, he acted in four extraordinary and varied films: 'We Don't Live Here Anymore', 'Eternal Sunshine of the Spotless Mind', '13 Going on 30', and 'Collateral'. These films collectively displayed his skill in different genres.

After 2004, he consistently appeared as a bankable actor in famous Hollywood productions as well as independent films. Films such as 'Just like Heaven' (2005), 'All the King's Men' (2006), 'Zodiac' (2007), 'Reservation Road' (2007), and 'The Brothers Bloom' (2008) established him as a strong actor.

Continue Reading Below

In 2006, he acted in Clifford Odets' play 'Awake and Sing!' at Belasco Theatre, New York. He was nominated for the 'Tony Award - Best Featured Actor in a Play' for his performance.

In 2008, his film 'What Doesn't Kill You' was shown at the famous Toronto Film Festival.

In 2009, he made his directorial debut with the film 'Sympathy for Delicious'. The film premiered at the Sundance Film Festival and won the Special Jury Award.

In 2010, he starred in the domestic comedy 'The Kids Are All Right', which earned him, among other nominations, his first Academy Award nomination and BAFTA nomination for Best Supporting Actor.

In 2012, he acted in the sixth instalment of Marvel Cinematic Universe, 'The Avengers' as Dr. Bruce Banner a.k.a. the Hulk and received critics' appreciation for his performance. He reprised the character again in Iron Man 3 (2013) and 'Avengers: Age of Ultron' (2015).

In between, he also appeared in the crime thriller 'Now You See Me' (2013), the comedy 'Thank You for Sharing' (2013), and the musical drama 'Begin Again' (2014).

In 2014, he starred as a lead in the television adaptation of the famous Broadway play about AIDS-era, 'The Normal Heart'. His performance earned him an Emmy nomination. Later that year, he starred in the film 'Foxcatcher' which earned him both Golden Globe and Academy Award nominations.

Continue Reading Below

Recommended Lists:

Recommended Lists:

Major Works

Mark Ruffalo's performance in 'You Can Count on Me' was widely appreciated and earned him comparisons with the young Marlon Brando. He also won several awards for the film.

He is known for his portrayal of 'the Hulk' in the movies 'The Avengers' (2012) and 'Avengers: Age of Ultron'. His performance earned him international fame.

Mark Ruffalo's performance in the movies The Kids Are All Right' and 'Foxcatcher' was hugely appreciated by the critics and earned him Academy Award nominations.

Awards & Achievements

He won the Sundance Film Festival Special Jury Prize in 2009 for 'Sympathy for Delicious'.

In 2010, he won the Boston Society of Film Critics Award for Best Cast (2nd place), and the New York Film Critics Circle Award for Best Supporting Actor for 'The Kids Are All Right'.

In 2013, he won the MTV Movie Award for Best Fight, for 'The Avengers'.

Continue Reading Below

In 2014, his televised play 'The Normal Heart' won him the Primetime Emmy Award for Outstanding Television Movie (co-executive producer); in 2015, he won the Satellite Award for Best Actor – Miniseries or Television Film, and the Screen Actors Guild Award for Outstanding Performance by a Male Actor in a Miniseries or Television Movie.

In 2014, he also won the Hollywood Film Ensemble Award and the Gotham Independent Film Jury Award, for 'Foxcatcher'. In 2015, he won the Screen Actors Guild Award for Outstanding Performance by a Male Actor in a Supporting Role for the same film.

In 2015, he won the Gotham Independent Film Award for Best Ensemble Performance, the Independent Spirit Robert Altman Award, and the Satellite Award for Best Cast in a Motion Picture, for 'Spotlight'.

Personal Life & Legacy

Mark Ruffalo married Sunrise Coigney in June 2000 and the couple has three children; a son and two daughters.

Humanitarian Work

Mark Ruffalo is well known as an anti-fracking activist in the state of New York.

He has founded the 'Solutions Project' which works towards achieving 100% renewable energy.

He also supports the group 'Water Defence' which undertakes clean water programs.

Trivia

He worked as a bartender for almost nine years before breaking into show business.

1. Avengers: Infinity War (2018)

(Action, Sci-Fi, Adventure, Fantasy)

2. Eternal Sunshine of the Spotless Mind (2004)

(Sci-Fi, Romance, Drama)

---

3. The Avengers (2012)

(Sci-Fi, Action)

4. Shutter Island (2010)

(Thriller, Mystery)

---

---

5. Spotlight (2015)

(History, Drama, Crime)

6. Zodiac (2007)

(Drama, History, Thriller, Crime, Mystery)

---

---

---

7. You Can Count on Me (2000)

(Drama)

8. Collateral (2004)

(Thriller, Crime, Drama)

---

---

---

---

| | | |
| --- | --- | --- |
| 2014 | Outstanding Television Movie | The Normal Heart (2014) |

| | | |
| --- | --- | --- |
| 2013 | Best Fight | The Avengers (2012) |

Translate Wiki

to Spanish, French, Hindi, Portuguese

Article Title

- Mark Ruffalo Biography

Author

- Editors, TheFamousPeople.com

Website

- TheFamousPeople.com

URL

-

https://www.thefamouspeople.com/profiles/mark-ruffalo-6792.php

Last Updated

- November 26, 2017

---

---

---