Mark Ronson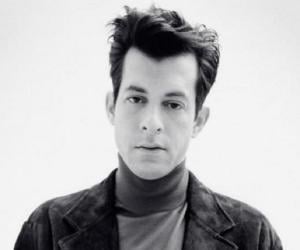 Quick Facts
Birthday: September 4, 1975
Nationality: British
Famous: DJs Pop Singers
Age: 43 Years, 43 Year Old Males
Sun Sign: Virgo
Also Known As: Mark Daniel Ronson
Born in: London
Famous as: Musician
Height: 6'0" (183 cm), 6'0" Males
Family:
Spouse/Ex-: Joséphine de La Baume
father: Laurence Ronson
mother: Ann Dexter-Jones
siblings: Charlotte Ronson, Samantha Ronson
City: London, England
Founder/Co-Founder: Allido Records
More Facts
education: Vassar College, Tisch School of the Arts
Continue Reading Below
Mark Ronson is an English record producer, musician, singer, songwriter, and DJ. In his career so far, he has earned nine Grammy nominations out of which he won five. Born in London, the UK, Ronson started his career as a DJ while he was a student at the New York University. His first album 'Here Comes the Fuzz' failed to register profits though it was well received by the critics. He soon formed his own record label, 'Allido Records,' along with Rich Kleiman. His second album 'Version' was a commercial success, reaching the 2nd position on the UK Albums Chart. It also entered the Billboard 200, standing at the 129th position. Reviews from the critics were mostly positive. The success of the album helped to establish him as a talent to reckon with in the music industry. Over the years, he released several critically acclaimed and commercially successful albums and singles. Along with winning the prestigious Grammy Awards five times, he has won other awards as well, such as two Brit Awards out of seven nominations and two Soul Train Music Awards out of five nominations.
Recommended Lists:
Recommended Lists:
Continue Reading Below
Childhood & Early Life
Mark Daniel Ronson was born on 4th September 1975 at St John's Wood, London, the UK. His father Laurence Ronson is a real estate speculator and a music manager and his mother's name is Ann Dexter. He has two younger sisters and three half-siblings from his father's previous marriage.

His parents are Jewish and he was brought up in Masorti Judaism. Though his family used to be one of Britain's wealthiest, they lost $1 billion during the early 1990s' property crash.

Ronson's parents divorced when he was young. Later, his mother got married to guitarist Mick Jones and this led to his being surrounded by music from an early age. Through this relationship, he acquired two more half-siblings. He studied at the private Collegiate School and later at the Vassar College. He then went to the New York University for his higher studies.

Recommended Lists:

Recommended Lists:

Career

While studying at the New York University, Mark Ronson started working as a DJ at the New York club scene. He soon gained a reputation for his diverse and genre spanning selection. As his popularity grew, he was booked for high-profile events and parties. He eventually started his career as a record producer as well.

He released his debut album 'Here Comes the Fuzz' in 2003. It was met with mostly positive reviews from the critics. However, it was a commercial failure and sold even less than 100,000 copies. The song 'Ooh Wee' from the album was featured in movies such as 'Hitch' and 'Harold & Kumar Escape from Guantanamo Bay.'

His record label 'Allido Records' was formed in 2004, in a partnership with Rich Kleiman, his manager. His second album 'Version' was released in 2007. It proved to be a commercial success, mostly in the UK, where it stood at the 2nd position on the UK Albums chart. It was also a mild success in the US, where it stood at the 129th position on the US Billboard 200. It was met with mostly positive reviews from the critics.

He won his first Grammy Award nomination in the category of 'Producer of the Year, Non Classical' in 2007. He won the Grammy Award for Amy Winehouse's album 'Back to Black in the category of 'Best Pop Album' in 2008. The song 'Rehab' from the album won him another Grammy for 'Record of the Year'.

His third album 'Record Collection' was released in 2010. It was a commercial success in the UK, and like his previous album, it peaked at the 2nd position on the UK Albums chart. It also stood at the 81st position on the US Billboard 200. It was met with favorable reviews from the critics. The next year, he produced the music for the film 'Arthur'.

His fourth album 'Uptown Special' became the most successful album in his career. It debuted at the fifth position on the US Billboard 200 and at the first position on the UK Albums chart. It received mostly positive reviews from the critics as well.

Some of the albums he produced for other artists are 'Arabia Mountain' (2011), 'New' (2013), 'Mr Wonderful' (2015), 'Joanne' (2016) and 'Villains' (2017). He has also appeared in the documentary films 'Amy' (2015) and 'Gaga: Five Feet Two' (2017).

Recommended Lists:

Recommended Lists:

Major Works

One of the most important works as a producer in Ronson's career is undoubtedly 'Back to Black', which was the second and final studio album by Amy Winehouse. It was a huge commercial success and it peaked at the first position on the UK Albums Chart and at the 2nd position on the US Billboard 200. It also topped the charts in several other countries. It won the Grammy Award for the Best Pop Album as well as several other accolades and was appreciated by the critics as well.

Ronson's fourth album 'Uptown Special' is another one of his most successful works. The album stood at the first position on the UK Albums Chart and at the 5th position on the US Billboard 200. It also reached the top ten in several countries such as Australia and the Netherlands. The album was met with positive reviews from the critics. It earned Ronson another Grammy nomination for 'Best Pop Vocal Album'.

Recommended Lists:

Recommended Lists: