Lauren Cimorelli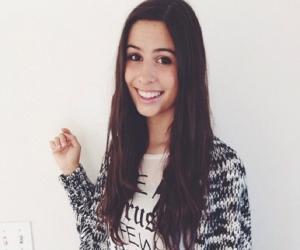 Quick Facts
Nationality: American
Famous: Pop Singers American Women
Age: 21 Years, 21 Year Old Females
Sun Sign: Leo
Also Known As: Lauren Christine Cimorelli, Little Muffin, Sugar
Born in: Sacramento, CA
Famous as: Pop Singer, R&B Artist
Family:
father: Mike Cimorelli Sr.
mother: Lynne Cimorelli
siblings: Alex, Amy, Christian, Christina, Dani, Joey, Katherine, Lisa, Mike Jr., Nick
U.S. State: California
City: Sacramento
Continue Reading Below
Lauren Christine Cimorelli is a pop singer, who is the second youngest member of the popular Cimorelli band made up of six sisters. The girls have created quite a stir in the American pop culture scene with their music. With five extended plays, one mixtape and two full length albums under their kitty as of May 2017, the band has been slowly inching forward and making a name for themselves in the R&B and pop circle. Interestingly, at the beginning of their career, the Cimorelli girls recorded and uploaded covers of charting songs on YouTube, but today they compose and write their own songs. Their music is mostly made up of a cappella singing with occasional instruments. Apart from providing the vocals, Lauren occasionally plays the piano and tambourine for the band. Lauren along with her sister Christine wrote the lyrics for their group's first ever EP. She also wrote the songs 'I'm a Mess' and 'Acid Rain'. Right now, the super talented girl has everything going for her. She is smart, witty, and has impressive looks in addition to being exceptionally skilled. However, despite the fanfare surrounding her, Lauren hasn't let any of it get into her head. She is grounded and simple which makes her unique and distinctive.
Recommended Lists:
Recommended Lists:
The Meteoric Rise to Stardom
When it comes to pop music and the R&B genre, the Cimorelli sisters have made a niche for themselves. The second youngest of the girls, Lauren Cimorelli was an original member of the band, which came to the forefront in 2007 as a vocal group. Dani, youngest of the Cimorelli sisters, joined the band in 2010. Early in their career, the girls recorded covers of charting songs and uploaded them on YouTube. It was in 2008 that the Cimorelli girls released their first EP. While Christina and Lauren penned the lyrics, Lisa arranged the vocal harmonies. The band came to limelight after they signed a record deal with Universal Music's Island Label.

In 2011, they released the CimFam EP which featured an original song and five covers. Over the consequent years, the EPs 'Believe It', 'Made in America' and 'Renegade' were released to thunderous response. Cementing their position further in the music industry, the Cimorelli girls came up with their first mixtape in 2015. Titled 'Hearts on Fire,' it included nine acoustically produced songs. Finally in May 2016, the group released their first album, 'Up At Night', which debuted at No. 24 on the Top Country Albums chart, selling 1,500 copies in the first week in the U.S. Its success led them to come up with their second album, 'Alive', later that year. Over the years, apart from providing vocals, Lauren has also occasionally worked as a pianist and tambourine player for the group. Though Lauren loves all the amazing work done by the Cimorelli sisters, her personal favourite songs include 'I'm A Mess', 'Renegade', and 'You're Worth It'. Furthermore, she loves the cover of 'You and I' by Lady Gaga and 'Lips are Moving'.

Recommended Lists:

Recommended Lists:

Continue Reading Below

Personal Life

Lauren Cimorelli was born in a bustling household on August 12, 1998 in Sacramento, CA, to Mike Sr and Lynne Cimorelli. She has ten siblings. She is the seventh child of the family, with two elder brothers and four elder sisters. She has a younger sister and three younger brothers. As a child, Lauren was shy and quiet. However with time, confidence and a sense of self worth changed her personality as she became outgoing and smart. She loves swimming and flag football. Lauren is beautiful with brown eyes and dark brown wavy hair. She is funny and has a sarcastic side too which is visible in her tweets and comments. If one were to go by the words of her sisters, Lauren is the most dependable of the group and the super chilled-out one as well. For Lauren, all her days aren't the same, for she may be very focussed and serious on some days while on others she is extremely laid back. She is funny and jovial on some days and hyper on rare occasions.

Since an early age, Lauren Cimorelli has had a celebrity crush on Benedict Cumberlach. Besides singing, her hobbies include drawing, painting, skateboarding, going to the beach and body surfing. She is fond of spaghetti and ice creams and hates cereals. Lauren loves to travel and would like to have her vacation on Bahamas. She loves superhero films, 'Iron Man' being her favorite. When asked what she would choose as a super power if given a chance, the talented girl immediately said her superpower would be shape shifting. Apart from being musically inclined and headstrong, Cimorelli is deeply religious too. She visits the church weekly and has claimed that she is happiest when she focuses on God.

Recommended Lists:

Recommended Lists:

Translate Wiki

to Spanish, French, Hindi, Portuguese

Article Title

- Lauren Cimorelli Biography

Author

- Editors, TheFamousPeople.com

Website

- TheFamousPeople.com

URL

-

https://www.thefamouspeople.com/profiles/lauren-cimorelli-32677.php

Last Updated

- May 10, 2017

---

---

---