Lady Gaga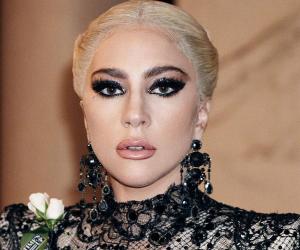 Quick Facts
Nick Name: Lady Gaga
Nationality: American
Famous: Quotes By Lady Gaga Bisexual
Age: 32 Years, 32 Year Old Females
Sun Sign: Aries
Also Known As: Stefani Joanne Angelina Germanotta
Born in: New York City
Famous as: Singer-songwriter
Height: 1.55 m
Family:
father: Joe Germanotta
mother: Cynthia Germanotta
siblings: Natali Germanotta
religion: Catholicism
Personality: ISFP
Diseases & Disabilities: Depression, Lupus
U.S. State: New Yorkers
Net worth: $280 million as of Nov 16, 2016
More Facts
education: Convent of the Sacred Heart, Tisch School of the Arts
Humanitarian Work: Co-creator of 'Born This Way Foundation'
Continue Reading Below
Although the world boasts of many pop icons today, Lady Gaga has proved that she's poles apart from the rest of her kind. Apart from her foot-tapping numbers, the singer is also world-renowned for her eccentric personality. Her sense of fashion has become a great source of inspiration for many youngsters across the world. Putting her education at stake, during her teens, Gaga decided to embark on a path which would lead her towards her dream. Although she struggled for a break during the initial couple of years, Gaga's decision proved to be totally worth. She got her first break in 2008 through the album 'The Fame', and since then this celebrity's fame has just grown by leaps and bounds. 'The Beatles', 'Stevie Wonder', 'Pink Floyd', 'Led Zeppelin' and 'Mariah Carey' are some of the few artists who influenced this woman to turn towards music. Her songs not only became chartbusters and party anthems, but also won her three time 'Grammy' award winner, which in itself in an incredible accomplishment. Though few individuals from across the world opine that her songs promote Satanism, Gaga's popularity has continued to soar higher and higher over the past few years.
Recommended Lists:
Recommended Lists:
Continue Reading Below
Childhood & Early Life
Gaga was born to Joseph Anthony Germanotta Jr and Cynthia Louise, in Manhattan, on March 28, 1986. She was originally christened Stefani Joanne Angelina Germanotta, by her parents.

Stefani was admitted to a Roman-Catholic institution named 'Convent of the Sacred Heart' when she was eleven years old. Apparently, the girl was a good student who excelled both in Academics as well as extra-curricular activities.

Her first tryst with music at the age of four, when she was introduced to the piano. When she was barely thirteen years old, Stefani had even penned her first ballad tailored for the piano.

She moved to the renowned 'New York University's 'Tisch School for The Arts' after graduating from school, since the institution encouraged music by offering training classes in musical theatre. However, she discontinued her studies just a year after joining the institution.

Continue Reading Below

Recommended Lists:

Recommended Lists:

Career

After taking a sabbatical from college in 2005, Stefani decided to try her luck to get a break in the music industry. She first collaborated with American hip-hop artiste Melvin Grover on an audio book project aimed at children.

She even formed a band named 'SG Band' the same year, for which she joined hands with a few friends like Alex Beckmann and Eli Silvermann, who were also students of the 'New York University'.

The band started making waves in New York, after it started performing at various nightclubs around the city, such as the 'Mercury Lounge' and 'The Bitter End'. Their gigs earned 'SG Band' quite a few fans and they soon grabbed the attention of a music producer named Joe Vulpis, with whom the band worked for a brief period in 2005.

The band's talent was noticed by a musician named Wendy Starland in 2006. This man even introduced Stefani to a music producer named Rob Fusari at around the same time. Rob wanted to form a new band altogether with a lead female vocalist.

She started shuttling between New York and New Jersey quite often from then on, in a bid to record new songs which she had written for Fusari. Apparently, its Rob who gave her the name Gaga, inspired by the famous song 'Radio Ga ga'.

The singer and the producer even entered into business and started a firm named 'Team Lovechild'. Together, they produced some unusual pieces of music, mainly belonging to the Synthpop genre.

The tracks received accolades from the music fraternity and soon, many opportunities came knocking at Gaga's door. One of them being the offer from the American record label, 'Def Jam Recordings', who wanted to experiment by bringing out an album using this singer's voice.

Continue Reading Below

Unfortunately, Gaga's relationship with the record label ended within a short period, after which she started working with a label named 'Interscope Records', in 2007. The young singer worked mainly as a lyricist and penned a few songs for the celebrity singers associated with the label. A few of these eminent people include Britney Spears and 'The Pussycat Dolls'.

The record label 'RedOne' gave Gaga her much needed career break in 2008, through the single 'Just Dance'. The song went on to become well-acclaimed by both critics and music lovers. It also became popular in discotheques and nightclubs, thus, Gaga's music dream finally took wings.

2009 saw the release of 'The Fame Monster', which was more like an extension of her earlier album 'The Fame'. The tracks of this album went on to become chartbusters, especially 'Bad Romance', which took the radio and the world of internet by storm.

After tasting success with her earlier ventures, Gaga returned with her second official music album in 2011, titled 'Born This Way'. The same year she also staged a concert titled 'Monster Ball', which was held at Madison Square Garden, New York City. The singer had earned approximately $220 million through the tour.

In 2012, Gaga travelled to South Korea for another musical tour titled 'Born This Way Ball'. Eventually 110 shows were staged under this name and helped Gaga reached the peak of her career.

Even while she was busy with the 'Born This Way Ball' tour, this singer released her third album titled 'Artpop' in 2013 and sold approximately 2,60,000 copies at the time of its release. The album became really popular for its singles such as 'Do What U Want' and 'Applause'.

The singer tried experimenting with jazz after her third album and even collaborated with the American singer Tony Bennett for the same. The result was the 2014 album titled 'Cheek to Cheek'.

Continue Reading Below

If sources are to be believed, the celebrity singer would be releasing her next album in 2015.

Recommended Lists:

Recommended Lists:

Major Works

Although her first single was quite a head-turner, the track which made Gaga a household name was 'Poker Face' from her debut album 'The Fame'. The popularity of the song is said to have sold approximately 10 million copies worldwide. It also won the prestigious 'Grammy' as well as a couple of other awards.

Recommended Lists:

Recommended Lists:

Awards and Achievements

In 2010, Gaga bagged the prestigious 'Grammy' award for her album 'The Fame' in the 'Best Electronic/Dance Album'. She was also nominated in the 'Record of the Year' and the 'Song of the Year' categories at the same ceremony.

He became a recipient of the 'Bambi' award in 2011 and was even nominated for a 'Primetime Emmy' the same year for her venture 'The Monster Ball Tour at Madison Square Garden'.

She received yet another 'Grammy' in 2015 for her album 'Cheek to Cheek', which was nominated in the 'Best Traditional Pop Vocal Album' category.

She was nominated for a 'Kids Choice Music Award' on three occasions in the 'Favourite Female Singer' category.

Continue Reading Below

Recommended Lists:

Recommended Lists:

Personal Life & Legacy

Music producer Rob Fusari had apparently claimed that he and Lady Gaga were in a relationship during her days of struggle. It's also believed that the two decided to part ways in 2007. Later speculations about her relationship with the drummer of a metal band had also surfaced.

During the early days of her career, Gaga was addicted to drugs and alcohol, which also became a cause of serious worry for her father.

Gaga was one among the 25 singers who was a part of the 'We are the World 25' initiative to raise funds for the victims of the 2010 earthquake which shattered Haiti.

She even started an initiative called 'Born This Way Foundation' in 2012 to help shape the personalities and careers of youngsters.

The singer also raises her voice to advocate the right of people belonging to the 'LGBT Community' and has also emerged as a crusader of such individuals.

Net Worth

Lady Gaga's net worth is estimated to be around $230 million as of 2015.

| | | |
| --- | --- | --- |
| 2016 | Best Performance by an Actress in a Limited Series or Motion Picture Made for Television | American Horror Story (2011) |

| | | |
| --- | --- | --- |
| 2015 | Best Traditional Pop Vocal Album | Winner |
| 2011 | Best Pop Vocal Album | Winner |
| 2011 | Best Female Pop Vocal Performance | Winner |
| 2011 | Best Short Form Music Video | Lady Gaga: Bad Romance (2009) |
| 2010 | Best Electronic/Dance Album | Winner |
| 2010 | Best Dance Recording | Winner |

| | | |
| --- | --- | --- |
| 2011 | Best Female Video | Lady Gaga: Born This Way (2011) |
| 2011 | Best Video with a Message | Lady Gaga: Born This Way (2011) |
| 2010 | Video of the Year | Lady Gaga: Bad Romance (2009) |
| 2010 | Best Female Video | Lady Gaga: Bad Romance (2009) |
| 2010 | Best Pop Video | Lady Gaga: Bad Romance (2009) |
| 2010 | Best Dance Video | Lady Gaga: Bad Romance (2009) |
| 2010 | Best Collaboration | Lady Gaga Feat. Beyoncé: Telephone (2010) |
| 2009 | Best New Artist | Lady Gaga: Poker Face (2008) |

Translate Wiki

to Spanish, French, Hindi, Portuguese

Article Title

- Lady Gaga Biography

Author

- Editors, TheFamousPeople.com

Website

- TheFamousPeople.com

URL

-

https://www.thefamouspeople.com/profiles/lady-gaga-4930.php

Last Updated

- April 05, 2018

---

---

---