Kevin Costner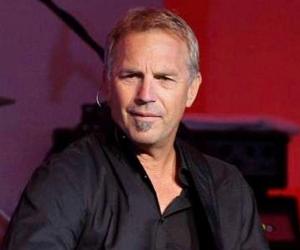 Quick Facts
Birthday: January 18, 1955
Nationality: American
Famous: Philanthropists Actors
Age: 64 Years, 64 Year Old Males
Sun Sign: Capricorn
Also Known As: Kevin Michael Costner
Born in: Lynwood
Famous as: Actor
Height: 6'1" (185 cm), 6'1" Males
Family:
Spouse/Ex-: Christine Baumgartner, Cindy Costner, Elle Macpherson
father: William Costner
mother: Sharon Costner
siblings: Daniel Craig Costner, Mark Douglas Costner
children: Annie Costner, Cayden Wyatt Costner, Grace Avery Costner, Hayes Logan Costner, Joe Costner, Liam Costner, Lily Costner
U.S. State: California
More Facts
education: Cabrillo Middle School, Villa Park High School, Mt. Whitney High School, California State University, Fullerton
Continue Reading Below
Kevin Michael Costner is an American actor, director and singer who is best known for his outstanding portrayal of rugged individuals with complex emotions. Born to middle class parents, he attended several schools to complete his education but was never too inclined towards academics. He took more interest in sports and artistic activities such as playing piano and writing poems. After graduating from the business school at California State University, Fullerton, Costner took up a marketing job although he desired to pursue a career in acting. After an accidental meeting with the actor, Richard Burton, who encouraged him to pursue acting seriously, Costner started taking acting lessons and worked different jobs to support his family. After appearing in cameos and minor roles in some of his early films, he appeared in the 1987 movie 'The Untouchables' which proved to be the turning point of his career. He followed it with breakthrough performances in films such as 'No Way Out', 'Bull Durham' and 'Field of Dreams', all of which solidified his status as a star. Later on he established himself as an exceptional director and producer with his epic Western war film 'Dances with Wolves' which earned him the Academy Award for Best Director as well as for Best Picture.
Recommended Lists:
Recommended Lists:
Continue Reading Below
Childhood & Early Life
Kevin Costner was born on January 18, 1955, in Lynwood, California, to William Costner, an electrician who later served as utilities executive, and his wife, Sharon Rae Costner, a welfare worker. Kevin was the youngest son in the family with two brothers, Daniel Craig Costner, and Mark Douglas Costner.

He received his education from Buena High School and Villa Park High School, but was not much inclined towards academics. He took piano lessons, wrote poetry, and also sang in the First Baptist Choir.

In 1978, he obtained a BA in marketing and finance from California State University, Fullerton (CSUF). While in college, he also served as a member of Delta Chi fraternity.

Continue Reading Below

Recommended Lists:

Recommended Lists:

Career

He had a keen interest in acting but upon his marriage to Cindy, he agreed to undertake a job as a marketing executive. But while returning from his honeymoon, he encountered Richard Burton on the plane who fueled his ambition to become an actor by advising him to drop everything else if he has to make a career in the movies.

Thereafter, Costner gave up his marketing job and started taking acting lessons five nights a week, with the support of his wife. He did odd jobs to support his career and family, including as a truck-driver, a Hollywood tour guide, and also piloted the Jungle Cruise ride at Disneyland.

In 1983, he was credited in the movie 'The Big Chill' as the dead friend, Alex, but his face never appeared on the screen.

In 1985, he was noted for his role of Scott Glenn's endearingly goofy brother in the American Western film, 'Silverado'.

His breakthrough came with the 1987 movie 'The Untouchables' in which he portrayed the role of Elliot Ness, a federal agent. The same year, he also played the lead role in the thriller 'No Way Out' which solidified his star status.

He achieved further success from the baseball movies such as 'Bull Durham' (1988) and 'Field of Dreams' (1989) which made him a popular leading man. Subsequently, he formed his own production company and made 'Dances with Wolves' (1990).

In 1991, he played the title role in 'Robin Hood: Prince of Thieves' and appeared in the movie 'JFK'. The following year, he starred in the romantic film, 'The Bodyguard' (1992).

Continue Reading Below

Some of his other movies in the 1990s include 'A Perfect World' (1993), 'Waterworld' (1995), 'The Postman' (1997), and 'For Love of the Game' (1999).

In 2000, he appeared in the movie 'Thirteen Days', and has since appeared in several other movies including 'The Upside of Anger' (2005), 'The Guardian' (2006), 'Swing Vote' (2008), and 'Man of Steel' (2013).

He is a singer in the 'Kevin Costner & Modern West', a country rock band which he founded. The band has released two albums, 'Untold Truths' (2008) and 'Turn It On' (2010), and has performed at various events.

Recommended Lists:

Recommended Lists:

Major Works

In 1990, Costner produced, directed, and acted in the movie 'Dances with Wolves', which was about an American Civil War soldier who assimilates into a Sioux community. The film was nominated for 12 Academy Awards and won seven of them.

Recommended Lists:

Recommended Lists:

Awards & Achievements

For his 1990 film 'Dances with Wolves', Costner won the Academy Award for Best Director and the Best Picture.

In 2012, he played the head of the Hatfield family in the three-part miniseries 'Hatfields & McCoys'. The role earned him an Emmy Award for Outstanding Lead Actor in a Miniseries or a Movie and also the Golden Globe for Best Actor – Miniseries or Television Film.

Personal Life & Legacy

In 1975, while studying in college, he started dating fellow student Cindy Silva, whom he married in 1978. They have three children: Anne "Annie" Clayton, Lily McCall, and Joseph "Joe" Tedrick. In 1994, the couple got divorced after 16 years of marriage.

Following his divorce, he had a brief relationship with Bridget Rooney, with whom he has a son, Liam.

In 2004, he entered into wedlock with his girlfriend, Christine Baumgartner, a German-American model. The couple is blessed with three children: Cayden Wyatt Costner, Hayes Logan, and Grace Avery.

1. Dances with Wolves (1990)

(Adventure, Western, Drama)

2. The Untouchables (1987)

(Drama, Thriller, Crime)

---

3. JFK (1991)

(Thriller, Drama, History)

4. Hidden Figures (2016)

(Drama, Biography, History)

---

---

5. A Perfect World (1993)

(Thriller, Crime, Drama)

6. Field of Dreams (1989)

(Sport, Family, Fantasy, Drama)

---

---

---

7. Open Range (2003)

(Western, Drama, Romance)

8. Frances (1982)

(Drama, Romance, Biography)

---

---

---

---

| | | |
| --- | --- | --- |
| 1991 | Best Picture | Dances with Wolves (1990) |
| 1991 | Best Director | Dances with Wolves (1990) |

| | | |
| --- | --- | --- |
| 2013 | Best Performance by an Actor in a Miniseries or Motion Picture Made for Television | Hatfields & McCoys (2012) |
| 1991 | Best Director - Motion Picture | Dances with Wolves (1990) |

| | | |
| --- | --- | --- |
| 2012 | Outstanding Lead Actor in a Miniseries or a Movie | Hatfields & McCoys (2012) |

| | | |
| --- | --- | --- |
| 1993 | Favorite Motion Picture Actor | Winner |
| 1993 | Favorite Dramatic Motion Picture Actor | Winner |
| 1992 | Favorite Dramatic Motion Picture Actor | Winner |

Translate Wiki

to Spanish, French, Hindi, Portuguese

Article Title

- Kevin Costner Biography

Author

- Editors, TheFamousPeople.com

Website

- TheFamousPeople.com

URL

-

https://www.thefamouspeople.com/profiles/kevin-michael-costner-2078.php

Last Updated

- September 14, 2017

---

---

---