Kelsey Grammer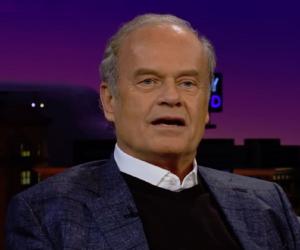 Quick Facts
Birthday: February 21, 1955
Nationality: American, U.S. Virgin Islander
Famous: American Men Tall Celebrities
Age: 64 Years, 64 Year Old Males
Sun Sign: Pisces
Also Known As: Allen Kelsey Grammer
Born Country: Virgin Islands (USA)
Born in: Charlotte Amalie, Saint Thomas
Famous as: Film Actor, Theater Actor, Television Actor
Height: 6'1" (185 cm), 6'1" Males
Family:
Spouse/Ex-: Camille Donatacci, Doreen Alderman, Kayte Walsh, Leigh-Anne Csuhany
father: Frank Allen Grammer Jr.
mother: Sally Grammer
Continue Reading Below
Allen Kelsey Grammer, better known as Kelsey Grammer, is an American actor, comedian, voice actor, producer, writer, singer and activist. He is best known for his portrayal of psychiatrist Dr Frasier Crane on the NBC sitcoms 'Cheers' and 'Frasier'. His trademark has been his deep smooth voice and portrayal of pompous character. He is the first actor in television history to receive multiple Emmy nominations for performing the same character in three different serials. He has a history of alcohol and drug abuse and credits his religion and Alcoholics Anonymous for helping him through his difficult days. He published his autobiography, 'So Far', in 1995. He was inducted in 'Hollywood Walk of Fame for television' in 2001.
Recommended Lists:
Recommended Lists:
Continue Reading Below
Childhood & Early Life
Grammer was born on February 21, 1955 in Charlotte Amalie, Saint Thomas, US Virgin Islands to Sally and Frank Allen Grammer who were both musicians and owned a coffee shop, bar cum grill called Greer's Place. He has English, Irish, German and Scottish ancestry.

He had a younger sister and his parents divorced when he was two years old. He attended Pine Crest School in Fort Lauderdale, which was a private preparatory school. Later he joined Julliard School.

After leaving Julliard School, he had a three year internship with the Old Globe Theatre in San Diego in the late 1970s. He also spent some time at the Guthrie Theatre in Minneapolis, Minnesota in 1980, before he made his Broadway debut in 1981 as 'Lennox' in Macbeth.

Recommended Lists:

Recommended Lists:

Career

His stage appearances progressed with him playing Michael Plummer in the Broadway revival of 'Othello' and in 2010 he made his Broadway musical debut in 'La Cage Aux Folles'.

Besides stage performances, he began his television career in the early 1980s when he played the role of Stephen Smith in the NBC miniseries, 'Kennedy'.

Grammer started making it big and got noticed when he played the role of Dr Frasier Crane in the NBC sitcom 'Cheers'. The character became the spin off 'Frasier', which is one of the most successful spin offs in TV history. In addition to acting he also directed more than 30 episodes in the second half of the series.

From 2005 to 2007, Grammer did not have much success as the television shows, 'Back to You' and an adaption of the British serial, 'The Sketch Show', in which he appeared, had to close down as they were just not funny enough.

The next few years had better luck for him as he won the Golden Globe Award (2012) for Best Actor in a Television Series Drama for his performance on 'Boss', where he played the role of Mayor of Chicago.

He then went on to play villain in the Paramount movies 'Transformers: Age of Extinction' and co-starred with comedian Martin Lawrence in the comedy 'Partners'.

He also guest starred as the Angel of Death on 'Medium' and Captain Morgan Bateson in the 'Star Trek: The Next Generation' episode 'Cause and Effect'.

Continue Reading Below

Grammer's mid-Atlantic accent made him popular for voiceover work. He is the voice behind Sideshow Bob on 'The Simpsons', Stinky Pete on 'Toy Story 2', Vladimir in the FOX animation movie 'Anastasia' and the title character in 'Gary the Rat'. He also narrated 'Mickey Mouse – Once Upon a Christmas'.

His voice has featured in a number of commercials including Hyundai and Honey Nut Cheerios, where he played the role of the wolf in 'Little Red Riding Hood'.

He started his own production company called Grammnet Productions that produced CW sitcoms 'Girlfriend' and 'The Game'. He also produced the NBC drama 'Medium'.

He is a member of the Republican Party and has expressed his desire to run for the United States Congress one day. He has also expressed interest in being the Mayor of New York and the US Presidency.

He supported the 'Tea Party' movement on economic issues such as lower taxes but was against issues such as same sex marriage.

Major Works

Grammer prominent films are 'Runway Brain' (1995) where he is the voice of Dr Frankenollie, 'Animal Farm' (1998) where he is the voice of Snowball, 'Just Visiting' (2001), 'A Christmas Carol' (2004), 'Even Money' (2007), 'Think Like a Man Too' (2014) and 'Bunyan and Babe' (2017).

He had a role in many television shows including 'Kennedy', 'Cheers', 'The Simpsons', 'Baby Talk', 'Frasier' and 'Everybody Hates Chris'.

Continue Reading Below

Grammer features in the video game 'The Simpson Game' and the theme park 'The Simpson Ride' where his voice is used for Sideshow Bob.

He has produced 'Girlfriend', 'In Laws' and 'The Game' and participated in the musical theatre 'La Cage Aux Folles' and 'Finding Neverland'.

Awards & Achievements

Grammer has been nominated for at least 45 major awards and won 18 times. He is the first American actor to be nominated for multiple Emmy awards for the same character on three different television shows.

He has won five Emmy Awards and three Golden Globe awards for his work in show business.

Besides this he won the American Comedy Award twice (1995 & 1996) for the Funniest Male Performer in a TV Series (Frasier) and the Tony Award twice for Bets Leading Actor in a Musical and Best Revival of a Musical for 'La Cage Aux Folles' and ' The Colour of Purple' respectively.

His name was inducted in the Hollywood Walk of Fame for television in 2001.

Personal Life & Legacy

Grammer has married four times and has seven children. He has one daughter from his first wife, Doreen Alderman and another daughter from hair and makeup artist, Barrie Buckner, after his divorce.

Continue Reading Below

His second marriage was to dancer, Leigh Anne Csuhany, which lasted for only a year. Thereafter he dated Tammy Alexander for some time and married Playboy model Camille Donatacci from whom he has a daughter and a son.

The marriage did not last and Grammer married a fourth time to a British flight attendant, Kayte Walsh, from whom he has a daughter and two sons.

Trivia

His younger sister was raped and murdered at the age of 18. In an interview on the Oprah Winfrey show he said that he was willing to forgive his sister's rapist if they at least accepted their crime.

In 1998 he filed a lawsuit against Internet Entertainment Group (IET) for stealing a sex tape of him. The charges were later dropped by him as the firm claimed to have no such tape. He has also been accused of statutory rape of his daughter's babysitter. The charges were dropped due to lack of evidence.

Grammer is known to have a history of alcohol and drug abuse. He has been arrested and sentenced to jail twice for possession of cocaine. He was known to behave erratic at work and subsequently checked into Betty Ford Centre for alcohol rehabilitation.

In 2008 he suffered what was termed to be a mild heart attack while he was holidaying at Hawaii. He attributed the attack to stress generated after his sitcom 'Back to You' was cancelled by FOX TV.

1. X-Men: Days of Future Past (2014)

(Thriller, Adventure, Sci-Fi, Action)

2. Toy Story 2 (1999)

(Adventure, Fantasy, Comedy, Animation, Family)

---

3. Anastasia (1997)

(Romance, Family, Drama, Fantasy, Animation, Mystery, Adventure, Musical)

4. Storks (2016)

(Adventure, Comedy, Fantasy, Family, Animation)

---

---

5. X-Men: The Last Stand (2006)

(Action, Fantasy, Adventure, Sci-Fi, Thriller)

6. Middle Men (2009)

(Crime, Comedy, Drama)

---

---

---

7. Entourage (2015)

(Comedy)

8. Down Periscope (1996)

(Comedy)

---

---

---

---

| | | |
| --- | --- | --- |
| 2012 | Best Performance by an Actor in a Television Series - Drama | Boss (2011) |
| 2001 | Best Performance by an Actor in a Television Series - Comedy or Musical | Frasier (1993) |
| 1996 | Best Performance by an Actor in a Television Series - Comedy or Musical | Frasier (1993) |

| | | |
| --- | --- | --- |
| 2006 | Outstanding Voice-Over Performance | The Simpsons (1989) |
| 2004 | Outstanding Lead Actor in a Comedy Series | Frasier (1993) |
| 1998 | Outstanding Lead Actor in a Comedy Series | Frasier (1993) |
| 1995 | Outstanding Lead Actor in a Comedy Series | Frasier (1993) |
| 1994 | Outstanding Lead Actor in a Comedy Series | Frasier (1993) |

| | | |
| --- | --- | --- |
| 2002 | Favorite Male Television Performer | Winner |
| 1994 | Favorite Male Performer in a New TV Series | Winner |

Translate Wiki

to Spanish, French, Hindi, Portuguese

Article Title

- Kelsey Grammer Biography

Author

- Editors, TheFamousPeople.com

Website

- TheFamousPeople.com

URL

-

https://www.thefamouspeople.com/profiles/kelsey-grammer-30394.php

Last Updated

- February 15, 2019

---

---

---