Kelly Clarkson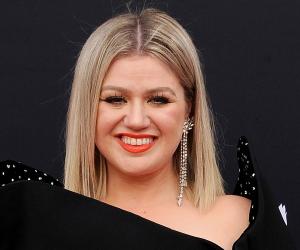 Quick Facts
Nationality: American
Famous: Pop Singers American Women
Age: 36 Years, 36 Year Old Females
Sun Sign: Taurus
Also Known As: Kelly Brianne Clarkson
Born in: Fort Worth, Texas, USA
Famous as: Singer
Height: 1.61 m
Family:
Spouse/Ex-: Brandon Blackstock
father: Stephen Michael Clarkson
mother: Jeanne Taylor
siblings: Jason Clarkson
children: River Rose Blackstock
U.S. State: Texas
Net worth: $29 Million as of Dec 10, 2016
More Facts
education: Burleson High School
Continue Reading Below
Kelly Clarkson is an American singer and songwriter who became the sweetheart of the nation after winning the 'American Idol' title in the first season of the show. The win not only catapulted her to stardom, but also earned her a multi-album record deal with RCA Records, 19 Recordings, and S Records. Since then, she has released seven studio albums, three of which reached the top of the 'US Billboard 200' chart, while the other albums narrowly missed the coveted spot by peaking at number two and three. She is one of the most successful artists to come out of the 'American Idol' series. As she achieved success, she experimented with different themes and music styles, often co-writing her songs to soak them with her personal feelings. She earned critical acclaim, as well as a number of prestigious awards for her individuality and singing prowess. Most notably, she has won the 'Grammy Award' three times. Apart from her music career, she has appeared in films and television shows, wrote the children's book 'River Rose and the Magical Lullaby', and has been involved with various charitable organizations.
Recommended Lists:
Recommended Lists:
Continue Reading Below
Childhood & Early Life
Kelly Brianne Clarkson was born on April 24, 1982, in Fort Worth, Texas, to Jeanne Ann and Stephen Michael Clarkson. Her mother was a first-grade English teacher and her father was an engineer. Her father divorced her mother when she was only 6 years old.

She has an older brother Jason and an older sister Alyssa, and two step-brothers from her father's second marriage. She did not grow up with her siblings as her brother went to live with her father, and her sister was raised by an aunt. They later became closer after they grew up.

While she was in the seventh grade, studying at Pauline Hughes Middle School, she was encouraged to join the choir by a teacher who heard her singing in the hallway. She later attended Burleson High School, where she performed in several musicals and participated in a talent show.

Recommended Lists:

Recommended Lists:

Early Career

After completing her graduation in 2000, Kelly Clarkson was determined to pursue her musical dreams and to meet that objective, she recorded a demo with the money she saved by doing a number of odd jobs. She was so confident of making it big in the music industry that she declined two recording contracts from Jive Records and Interscope Records during this time.

In 2001, she moved to Los Angeles to look for opportunities, and ended up working as an extra in television series such as 'Sabrina, the Teenage Witch' and 'Dharma & Greg'. She eventually got to work as a vocalist with songwriter Gerry Goffin, and recorded five demo tracks in the hope of bagging a record deal.

She suffered a major disappointment when most US recording studios rejected her stating that her voice sounded 'too black'. Finally, after a fire catastrophe, she returned to Texas heartbroken, and started working as a telemarketer and a waitress.

Recommended Lists:

Recommended Lists:

Success Following 'American Idol' Fame

In May 2002, Kelly Clarkson learned about the upcoming talent search show, 'American Idol: The Search for a Superstar', from her friends, who encouraged her to audition for it. She got a "golden ticket", a pass to the Hollywood rounds, and was eventually crowned the winner of the inaugural season of the show on September 4, 2002. Her successful stint in the show earned her a million-dollar record deal from RCA Records.

She debuted her music career on September 17, 2002 with the double-A-side singles "Before Your Love" and "A Moment Like This". The former became the bestselling single of 2002 and both singles jumped a record 52 positions to top the 'Billboard Hot 100' chart.

On April 15, 2003, she released her debut album, 'Thankful', which received positive reviews from critics. The album debuted at number one on the 'US Billboard 200', while its lead single, "Miss Independent", was a top ten hit in the US.

With her second album, 'Breakaway', which was released on November 30, 2004, she decided to break away from her 'American Idol' image and adopted a rock music style. The album surpassed the commercial success of her debut album, and also earned her two 'Grammy Awards'.

Continue Reading Below

On June 22, 2007, she released her third studio album, 'My December', in which she once again experimented with darker themes and a heavier rock sound. However, it caused a dispute with her producer and music mogul, Clive Davis, who wanted her to record songs with more universal appeal. While the album received positive reviews, its sales numbers suffered for lack of promotion.

Clarkson, who had started co-writing her songs in her third album, continued to do so in her next album, 'All I Ever Wanted', which was released on March 10, 2009. For this album, she denounced the darker themes, and collaborated with a number of popular artists, which helped it debut at number one on the 'Billboard 200'.

Following the success of her country duet 'Don't You Wanna Stay' with Jason Aldean in 2010, she decided to adopt country music for her fifth studio album, 'Stronger'. The album, released on October 21, 2011, was a critical and commercial success and earned her another 'Grammy Award'.

She received critical acclaim for her live performance of 'My Country, 'Tis of Thee' at the second inauguration of the U.S. President Barack Obama in January 2013. Her next album, 'Wrapped in Red', was a Christmas record which released on October 25, 2013, and contained five original songs that she also co-wrote.

Her seventh studio album, 'Piece by Piece', tells a single story of heartbreak through its singles. Released on February 27, 2015, the album became her third album to debut at number one on the 'Billboard 200' chart.

Major Works

Kelly Clarkson's debut album, 'Thankful', was a commercial success, selling over 4.5 million copies worldwide. It sold over 2.7 million copies in the USA and received 2x platinum certification.

Her second album 'Breakaway' is her most commercially successful album to date. It received 6x platinum certification in the USA and was also certified multi-platinum in many other countries like Australia, England, Ireland, Canada and New Zealand.

Awards & Achievements

With her debut singles, Kelly Clarkson broke The Beatles' 38 year old record of biggest leap to number one on the 'Billboard Hot 100' chart. She later broke Britney Spears' record for the biggest jump to number one on a single week after her single 'My Life Would Suck Without You' reached the top of the chart from 97th position.

She has been nominated for the 'Grammy Award' 13 times so far, winning it three times for her albums 'Breakaway' and 'Stronger'. She has also received 4 'American Music Awards', 3 'MTV Video Music Awards', and 6 'Teen Choice Awards'.

Personal Life & Legacy

Kelly Clarkson married Brandon Blackstock, the son of her manager Narvel Blackstock, on October 20, 2013, at Blackberry Farm in Walland, Tennessee. The couple welcomed a daughter in June 2014 and a son in April 2016.

Trivia

Many of Kelly Clarkson's songs are about her strained relationship with her estranged father. While initially the songs were pessimistic, she was eventually able to convey a positive message through the track 'Piece by Piece'.

| | | |
| --- | --- | --- |
| 2013 | Best Pop Vocal Album | Winner |
| 2006 | Best Female Pop Vocal Performance | Winner |
| 2006 | Best Pop Vocal Album | Winner |

| | | |
| --- | --- | --- |
| 2006 | Best Female Video | Kelly Clarkson: Because of You (2005) |
| 2005 | Best Pop Video | Kelly Clarkson: Since U Been Gone (2004) |
| 2005 | Best Female Video | Kelly Clarkson: Since U Been Gone (2004) |

Translate Wiki

to Spanish, French, Hindi, Portuguese

Article Title

- Kelly Clarkson Biography

Author

- Editors, TheFamousPeople.com

Website

- TheFamousPeople.com

URL

-

https://www.thefamouspeople.com/profiles/kelly-clarkson-10352.php

Last Updated

- June 23, 2017

---

---

---