Kathie Lee Gifford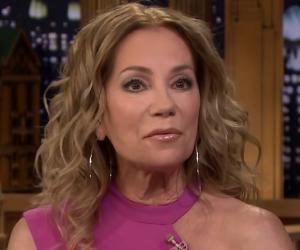 Quick Facts
Age: 65 Years, 65 Year Old Females
Sun Sign: Leo
Also Known As: Kathryn Lee Gifford
Born Country: France
Born in: Paris
Famous as: TV Host, Actress
Height: 1.65 m
Family:
Spouse/Ex-: Frank Gifford (m. 1986–2015), Paul Johnson (m. 1976–1983)
father: Aaron Epstein
mother: Joan Cuttell
siblings: David Paul Epstein
children: Cassidy Gifford
Notable Alumni: Oral Roberts University
City: Paris
More Facts
education: Oral Roberts University
Continue Reading Below
Kathryn "Kathie" Lee Gifford is an American television host, singer, songwriter, comedian, and actress. She began her career as a Christian entertainer and sang in Baptist churches. She later became popular for her talk show 'Live! with Regis and Kathie Lee,' which ran for 15 years. She has featured in numerous TV programs and movies during her career spanning 40 years, and has written several musicals, like the Broadway show 'Scandalous,' which featured Carolee Carmello in the lead role and earned her a Tony nomination for Best Actress. She also starred on Broadway in 'Putting It Together' and 'Annie'. An Emmy Award winner, the multifaceted lady is a New York Times best-selling author as well. She wrote three bestselling books including 'Just When I Thought I'd Dropped My Last Egg', 'I Can't Believe I Said That', and the popular children's book 'Party Animals'. Her book 'Good Gifts, A Year in The Heart of a Home', raised over $1 million for the Salvation Army. Apart from her acting and writing projects, she launched GIFFT, a line of wine, with the Scheid Family Vineyards in Monterey, California.
Continue Reading Below
Childhood & Early Life
When Gifford was born on August 16, 1953, she was named Kathryn Lee Epstein by her mother, Joan, a former naval secretary turned radio singer, and father Aaron Epstein, a musician and former US Navy Chief Petty Officer. Gifford's paternal grandfather was a Russian Jew from Saint Petersburg and her paternal grandmother was of Native American ancestry. Her mother was a relative of writer Rudyard Kipling.

Gifford and her two siblings, David and Michelle, grew up in France and other European countries where their father was stationed. In 1957, they returned to the US, and settled in Bowie, Maryland, where her father worked as a newspaper distributor and insurance agent. Her parents later became proprietors of a resort hotel.

After seeing the film 'The Restless Ones' at age 12, she became a born-again Christian.

She went to Bowie High School. During high school, she sang in a folk group, 'Pennsylvania Next Right', and performed at school assemblies.

After completing high school in 1971, she attended Oral Roberts University in Tulsa, Oklahoma, where she studied drama and music. However, she dropped out of the university during her junior year.

Recommended Lists:

Recommended Lists:

Career

At the age of 17, Kathie Lee Gifford won the state Junior Miss pageant and visited Mobile in Alabama to represent Maryland in the competition. There she met Anita Bryant, a co-host of the pageant, and a Christian singer. In the early 1970s, she agreed to work as a live-in secretary and babysitter for Anita Bryant at her home in Miami.

In 1972, she sang on Oral Roberts' television show that was broadcast from Burbank, California. She also traveled throughout the Bible Belt, attending revival meetings.

In 1976, her spiritual book 'The Quiet Riot' was published. She also released three gospel albums between 1976 and 1978, and appeared on religious television shows like 'The 700 Club' with her first husband Paul Johnson, her Bible study group leader and owner of a Christian music publishing company.

While visiting a friend on the set of the NBC soap opera 'Days of Our Lives', she was selected to play Nurse Callahan, which she did for nine months.

In 1977-78, she was featured as a singer on 'Name That Tune'. This exposure opened up a number of career opportunities, including a role in the TV sitcom 'Hee Haw Honeys'.

In 1981, when a producer of 'Good Morning America', an American morning television show, heard her host an A.M. radio show, she invited Gifford to the show to do some reporting. Gifford also occasionally substituted for Joan Lunden on GMA in New York. After divorcing her first husband in 1983, she moved to New York City and began to appear on the televised show.

In June 1985, she replaced Ann Abernathy as co-host of 'The Morning Show' on WABC-TV with Regis Philbin. The program was re-introduced in 1988 as 'Live! with Regis and Kathie Lee,' which made her well-known across the country. They became an instant hit for their chemistry. However, she left the show in July 2000 to concentrate on her musical career.

Continue Reading Below

She became a spokesperson for Ultra Slim-Fast diet shakes, and was also the face of Carnival Cruise Lines, Home Furnishings Council and Revlon in the late 1980s and early 1990s.

She also produced her own fitness video, 'Kathie Lee's Feel Fit and Fabulous Workout', and wrote an autobiography 'I Can't Believe I Said That' in 1992.

In the late 1990s, she worked in musical theatre, and also wrote and produced 'Under The Bridge', based on the children's book 'The Family Under The Bridge'.

She released a number of albums, including 'The Heart of a Woman' and 'Born for You' in 2000, and 'Party Animals' in 2002. She also made guest appearances in many films and television series.

In 2005, she became a special correspondent on 'The Insider', an entertainment magazine television show. In 2006, she played the role of Miss Hannigan in a concert performance of 'Annie' at Madison Square Garden. In 2007, she premiered 'Saving Aimee', a stage musical about Aimee McPherson, with actress Carolee Carmello in the lead role. The show ran on Broadway.

In April 2008, she joined Hoda Kotb on NBC's morning show 'Today' as a co-anchor. She is also a contributing NBC News correspondent. As of 2014, 'Today' with Gifford and Kotb had averaged 2.148 million total viewers, an increase of 26 percent over the 2008 ratings.

Recommended Lists:

Recommended Lists:

Major Works

Kathie Lee Gifford is best known for her appearance in the TV talk show 'Live! with Regis and Kathie Lee' which she co-hosted with Regis Philbin. The show, which ran for over a decade, was a highly successful one and helped establish Gifford as a household name in America.

Recommended Lists:

Recommended Lists:

Awards & Achievements

Kathie Lee Gifford won a Daytime Emmy in 2010 for her contribution to the TV show 'Today.'

Recommended Lists:

Recommended Lists:

Personal Life

In 1976, Kathie Lee Gifford married Paul Johnson. She later admitted that it was a show-biz marriage; it lasted for six years.

After her divorce from Johnson in 1983, she met sports commentator Frank Gifford during an episode of 'Good Morning America'. They were married from 1986 till his death in 2015. Their son Cody Newton Gifford was born on March 22, 1990 and daughter Cassidy Erin Gifford was born on August 2, 1993.

She is a celebrity ambassador for the non-profit organization Childhelp. She makes appearances at fund raising events for child abuse prevention.

She raised money for, and also financially supported two shelters in New York City for babies born with HIV or a congenital crack cocaine addiction. These shelters were named after her children, Cody and Cassidy.

In 1996, the human rights group National Labor Committee reported that sweatshop labor was used in the factory that produced Gifford's clothing line for Wal-Mart. Initially she denied the knowledge of Wal-Mart's production process. She also defended herself by ensuring that the profit from her clothing line went to Cassidy's Place, a home she had set up for the benefit of underprivileged children.

In August 2017, she joined the Animal Medical Center's (AMC) Board of Trustees and will serve for a three-year term.

Recommended Lists:

Recommended Lists:

Kathie Lee Gifford Movies

1. Adventures of Serial Buddies (2011)

(Comedy)

2. The First Wives Club (1996)

(Comedy)

---

3. Dudley Do-Right (1999)

(Family, Romance, Comedy)

Translate Wiki

to Spanish, French, Hindi, Portuguese

Article Title

- Kathie Lee Gifford Biography

Author

- Editors, TheFamousPeople.com

Website

- TheFamousPeople.com

URL

-

https://www.thefamouspeople.com/profiles/kathie-lee-gifford-10071.php

Last Updated

- February 15, 2019

---

---

---