Katharine McPhee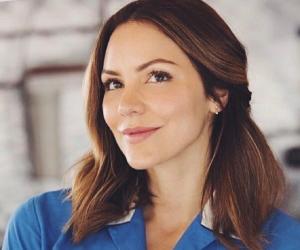 Quick Facts
Nationality: American
Age: 35 Years, 35 Year Old Females
Sun Sign: Aries
Also Known As: Katharine Hope McPhee
Born in: Los Angeles, California, United States
Famous as: Actress
Height: 5'8" (173 cm), 5'8" Females
Family:
Spouse/Ex-: Nick Cokas
father: Daniel McPhee
mother: Patricia Burch McPhee
siblings: Adriana McPhee
U.S. State: California
City: Los Angeles
More Facts
education: Boston Conservatory
Continue Reading Below
Katharine McPhee is an American actress, singer and songwriter who came to prominence after her stint at the fifth season of 'American Idol'. Already an actor by then, McPhee was literally pushed to show her singing skills to the world by her parents and then fiancé Nick Cokas. With absolutely no objective to bag the coveted trophy, McPhee entered the show. However, performance after performance, she rose to emerge at the top three ranks. Though McPhee did not win the title, she had built up a reputation of a talented singer. In 2007, McPhee came up with her self-titled album. Its positive reception led her to continue with her music career. What followed was a string of singles, albums and EPs including 'Unbroken', 'Had It All', 'Christmas Is the Time to Say I Love You', 'Have Yourself a Merry Little Christmas', 'Hysteria' and so on. Meanwhile, McPhee also established her acting career. She has been part of a couple of important projects including 'The House Bunny', 'Shark Night 3D', 'Smash', 'Scorpion' and so on.
Recommended Lists:
Recommended Lists:
Continue Reading Below
Childhood & Early Life
Katharine McPhee was born on March 25, 1984 in Los Angeles, California, to Daniel McPhee and Peisha McPhee. Her father works as a television producer and her mother is one of the vocal coaches on American Idol since 2011. She has an elder sister Adriana.

McPhees' moved to Sherman Oaks neighbourhood of Los Angeles when Katharine was 12. There she attended Notre Dame High School. Since an early age, Katharine displayed a talent for music. While at school, she participated in school plays and musicals. To nurture and hone her musical skills further, Peisha started training her daughter early on.

Graduating from the high school in 2002, Katharine McPhee attended Boston Conservatory for three semesters, majoring in Musical Theatre. However, she left college before graduation and moved back to Los Angeles to try her luck in television.

Recommended Lists:

Recommended Lists:

Career

During the struggle period, Katharine McPhee found the role of an elder sister in a mall-based MTV soap opera pilot, 'You Are Here'. However, the series never aired as MTV did not pick up on it.

In 2005, she was cast as Annie Oakley in a Cabrillo Music Theatre production of the musical 'Annie Get Your Gun'. McPhee was nominated for a Los Angeles Stage Ovation Award in the category of 'Lead Actress in a Musical'.

Her next project was the role of Paramount Girl for the musical film 'Crazy', which was eventually released in 2007.

Around the same time as Katharine was working on a couple of television shows, her parents and future husband coaxed her to explore her musical skills further and try out for season 5 of American Idol. Katharine not just passed the audition but went on become one of top 3 finalists of the show. Though she finished it at the third spot, the influence was such that even after the show ended 'McPheever' didn't seem to die out.

In June 2006, McPhee signed a deal with Simon Fuller's 19 Recordings Limited and Sony BMG's RCA Records. Around the same time, she performed at the J.C. Penney Jam: Concert for America's Kids, soloing with the song 'Somewhere Over the Rainbow'. It was later released as a single by RCA Records. Upon its release, it peaked at number twelve on the Billboard Hot 100 and eventually rose to the number 4 position. In no time, it became the second highest best-selling single of 2006, remaining in the chart for 58 weeks.

In November 2006, Katharine recorded a duet with Andrea Bocelli on 'Can't Help Falling In Love' for the latter's 'Under the Desert Sky' album.

January 30, 2007 was a big day for McPhee in terms of her career. Her debut studio self-titled album 'Katharine McPhee' was released. The album debuted at the second spot on the Billboard 200 Albums chart, selling more than 116,000 copies in its first week itself. 'Over It' was the first single from the album which peaked at number 29 on the Billboard Hot 100.

Continue Reading Below

Alongside her music career, Katharine did not give up on her acting. Concurrently, she pursued acting and worked on several projects. She made a cameo appearance as herself on 'Ugly Betty'.

In 2008, she capped the role of Harmony for the film 'The House Bunny'. It marked her debut on the big screen. In it, she played one of the few members of a misfit sorority. She also released a cover of the song "I Know What Boys Like", featuring the other cast members of the movie.

In January 2009, she signed a record deal with Verve Forecast Records. Her most prominent work came later in the year when she took part in the United Negro College Fund's 'An Evening of Stars' concert. The concert paid a tribute to singer-songwriter Lionel Richie.

In January 2010, Katharine's second album 'Unbroken' was released. The album debuted at number 27 on the Billboard 200 chart, selling 15,000 copies in its first week. The first single from the album, 'Had It All' was released on Katharine's MySpace page on August 25, 2009.

On March 9, 2010, she performed 'Surrender' at the White House, in front of the-then USA President Obama and the First Lady as part of International Women's Day.

Her acting projects during this time include a play '110 Stories', the proceeds of which went to help the victims of the Haiti earthquake. She also guest starred in the TV series 'Community' in the episode "Basic Genealogy".

Katharine released her album 'Christmas Is the Time to Say I Love You' on October 12, 2010. The album debuted at number eleven on the Billboard Top Holiday Albums chart and sold 1,000 copies in its first week. One of its songs 'Have Yourself a Merry Little Christmas' peaked at number sixteen on the Billboard Adult Contemporary Chart.

Continue Reading Below

In February 2011, she found herself a starring role in TV pilot 'Smash'. Set as a musical drama, the series was about a group of characters who come together to put on a Broadway musical inspired by Marilyn Monroe. The show was picked up by NBC and telecasted on February 2012. Opened to favourable reviews, the show was renewed for a second season.

In June 2011, Katharine signed a record deal with Columbia Records. In the following month, she was listed by Forbes in its list of the 10 Top-Earning American Idols on number 10. Later in September, she was seen in the David Ellis's directorial shark thriller indie film 'Shark Night 3D'

Year 2012 was an important year for Katharine in terms of her acting. She did a voiceover for 'Family Guy' in April. Later in August, she was seen in the rom-com 'You May Not Kiss The Bride' in a lead role.

In 2014, Katharine started working as the female lead Paige in TV series 'Scorpion'. Due to it, she had to put her fourth album on hold. Though 'Scorpion' received mixed reviews from the critics and the audience, it was renewed for a second season. Having acted both in television and films, McPhee expanded her boundaries and took up a role in Wesley Taylor's web series 'It Could Be Worse' with fellow 'Smash' actor Megan Hilty.

Katharine has hosted several awards shows and championships. These include: 2015 People's Choice Awards, 2015 Greatest Super Bowl Commercials special and 2015 Grammy Awards on CBS. She sang the national anthem for NFC Championship Game in Seattle.

In May 2015, Katharine came up with the first single of her fourth album; the song was titled "Lick My Lips". She followed it with the second single "Stranger Than Fiction". She released her fourth album 'Hysteria' release in September 2015.

Katharine gave various stage performances from the end of 2015 to 2016. In December 2015, she performed "You Make Me Feel So Young" and "You and Me (We Wanted It All)", at the Sinatra 100: An All-Star Grammy Concert. She also performed and won the Lip Sync Battle 2016. She was one of the performers on the Andrea Bocelli's tour in December 2016.

Continue Reading Below

In March 2017, CBS renewed 'Scorpion' for a fourth season. Next month, she performed the song 'Emotion' at the CBS concert 'Stayin' Alive: A Grammy's Salute to the Music of the Bee Gees'.

Recommended Lists:

Recommended Lists:

Major Works

Though Katharine had gained prominence after her runner-up victory at the American Idol show, her musical career experienced a major boost in 2007 when she came up with her debut self-titled album, 'Katharine McPhee'. The album was an instant hit, selling 116,000 copies its first week itself. It debuted at number two on the Billboard 200 Albums Chart with its single 'Over It' peaking at number 29 on the Billboard Hot 100 chart. What followed was s string of successful albums and singles.

Her musical career did not come in between her acting skills. In fact, after she found success as a singer, she found meaty roles come her way, both in films and television. 'The House Bunny' 'You may Not Kiss the Bride' are a few films McPhee starred in. In 2012, she found lead role as Karen Cartwright in 'Smash'. The series lasted for two seasons. In 2014, she bagged the female lead Paige in CBS series 'Scorpion'. Currently running in its fourth season, 'Scorpion' has made her a household name.

Recommended Lists:

Recommended Lists:

Awards & Achievements

In 2006, Katharine McPhee won the Favourite Hottie award from Fox Reality Awards. Same year, she won the VH1 Big in '06 Awards in the category Big 'It' Girl.

In 2007, she won the award for the Exciting New Vocalist at the Young Hollywood Awards.

In 2012, she won the Women's Image Network Awards for Best Actress in a Drama Series.

Marriage & Love Life

Katharine McPhee married long-time boyfriend, Nick Cokas, on February 2, 2008. In 2014, McPhee filed for divorce, after having been separated from Cokas for one year. The divorce legalized on February 8, 2016.

It has been rumoured that she is dating Michael Morris, the director of TV series, 'Smash'. She was photographed kissing him.

Trivia

Early in her life, Katharine struggled from eating disorder. When she was 13, she began starving herself and exercising compulsively and by 17 became bulimic. However, in college, she gained weight due to her bingeing. Later, she enrolled for a three-month rehabilitation program.

1. Peace, Love, & Misunderstanding (2011)

(Comedy, Music, Drama, Romance)

2. The House Bunny (2008)

(Comedy, Romance)

---

3. You May Not Kiss the Bride (2011)

(Romance, Action, Comedy, Crime)

4. Shark Night 3D (2011)

(Thriller, Horror)

---

---

Translate Wiki

to Spanish, French, Hindi, Portuguese

Article Title

- Katharine McPhee Biography

Author

- Editors, TheFamousPeople.com

Website

- TheFamousPeople.com

URL

-

https://www.thefamouspeople.com/profiles/katharine-mcphee-13594.php

Last Updated

- May 24, 2017

---

---

---