Julian Assange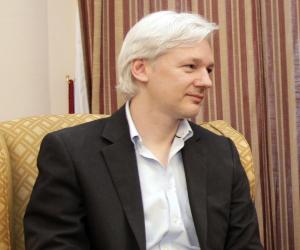 Quick Facts
Nationality: Australian
Famous: College Dropouts Activists
Age: 47 Years, 47 Year Old Males
Sun Sign: Cancer
Also Known As: Julian Paul Assange, Mendax
Born in: Townsville
Famous as: Computer programmer
Height: 6'2" (188 cm), 6'2" Males
Family:
Spouse/Ex-: Lisa, Sarah Harrison, Teresa Assange
father: Richard Assange
mother: Christine Ann Hawkins
children: Daniel Assange
Diseases & Disabilities: Depression
Personality: ENFP
Founder/Co-Founder: WikiLeaks
More Facts
education: University of Melbourne
awards: Sam Adams Award
Continue Reading Below
Julian Assange is an Australian computer programmer best known as the founder of the website WikiLeaks. Due to the controversial nature of the website, he is as famous as he is notorious. While his supporters hail him as a fearless campaigner for truth, his detractors accuse him of being a publicity seeker. Assange also made the headlines when it was alleged that he raped one woman and sexually molested another. Born in Queensland, Julian Assange had an unusual childhood. His biological father had separated from his mother even before he was born and he was raised by his mother and step-father. He travelled a lot as a child and had lived at over 30 different locations by the time he was a teenager. He became fascinated with computers as a teenager and discovered that he had an uncanny ability to hack and break into computer systems. Bright and intelligent, he enrolled at the University of Melbourne to study mathematics but dropped out without completing his degree. Eventually he went on to pursue a career as a computer programmer and software developer and began working on the website WikiLeaks which publishes secret information and news leaks. He has had several brushes with the law due to the controversial nature of his work.
Recommended Lists:
Recommended Lists:
Continue Reading Below
Childhood & Early Life
Julian Paul Assange was born on 3 July 1971, in Townsville, Queensland, Australia. His parents, Christine Ann, a visual artist, and John Shipton, an anti-war activist and builder, had separated before Julian was born.

His mother married Richard Brett Assange when Julian was a year old. Richard was an actor who ran a small theatre company. The couple ran theatrical productions together and travelled frequently, taking Julian with them. He had lived in over 30 different towns and attended as many schools by the time he was in his mid-teens.

He developed a passion for computers and discovered that he was really skilled at hacking and breaking into computer systems. He began hacking under the name Mendax in 1987. Along with two of his friends he formed an ethical hacking group.

During this time he hacked into several U.S. Department of Defense facilities, the U.S. Navy, NASA, and Australia's Overseas Telecommunications Commission. He also hacked the websites of several prominent corporations and institutions like Citibank, Lockheed Martin, Motorola, Panasonic, Xerox, the Australian National University, La Trobe University, and Stanford University.

His hacking activities came to light in the early 1990s and he was eventually charged with 31 counts of hacking related crimes in 1994. He pleaded guilty to 25 charges in 1996 and got away with a fine.

He studied programming, mathematics, and physics at Central Queensland University and graduated in 1994.

Continue Reading Below

Recommended Lists:

Recommended Lists:

Career

He embarked on a career as a programmer and software developer. In 1994 he started working on the Transmission Control Protocol scanner strobe.c which was completed in 1995. During this time he also worked on the open-source database PostgreSQL, Usenet caching software NNTPCache and the Rubberhose deniable encryption system.

He spent three years as a researcher working with the academic, Suelette Dreyfus, who was researching on the subversive side of the internet. Their intensive research culminated in the publication of 'Underground' (1997), a book about Australian hackers that became a bestseller in the computing fraternity.

Assange registered the domain leaks.org in 1999 and publicized a patent granted to the National Security Agency in August 1999 for voice-data harvesting technology. He felt that the common man should be concerned about the patent as it meant that everyone's overseas phone calls could be tapped by foreign spy agencies.

He enrolled at the University of Melbourne to study mathematics in 2003 but dropped out without completing his degree in 2006.

In 2006, he began working on WikiLeaks, a website intended to share secret information and news leaks on an international scale. The site was officially launched in 2007. Assange ran the site from Sweden, leveraging the country's strong laws protecting a person's anonymity.

Over the next few years Assange travelled extensively all over the world visiting countries in Africa, Asia, Europe and North America. During this time WikiLeaks released a U.S. military manual that provided detailed information on the Guantanamo detention center and shared emails from the vice presidential candidate, Sarah Palin.

Even though his initial reports generated some curiosity, he gained international attention in 2010 when WikiLeaks started publishing documents sent by Chelsea Manning. The Manning material included the Collateral Murder video (April 2010), the Afghanistan war logs (July 2010), the Iraq war logs (October 2010), and the Guantánamo files (April 2011).

Continue Reading Below

After the publishing of the Manning material, U.S. authorities began investigating WikiLeaks and Assange. During this time the Swedish police was also interrogating him in connection with two sexual assault cases and a European Arrest Warrant was issued by Swedish authorities. Assange turned himself in to the London police.

He spent several months in house arrest in London and in June 2012 he sought refuge in the Ecuadorean embassy in London and was granted political asylum by the Ecuadorean government.

Recommended Lists:

Recommended Lists:

Major Works

Julian Assange is best known as the founder, editor-in-chief, and director of the website WikiLeaks which publishes secret information. He gained international prominence after the site published controversial documents and footage from the War in Afghanistan not previously available to the public. He received widespread support from several prominent personalities including the Brazilian President Luiz Inacio Lula da Silva and Russian Prime Minister Vladimir Putin.

Recommended Lists:

Recommended Lists:

Awards & Achievements

He was presented with the Sam Adams Award in October 2010.

He won the Sydney Peace Foundation Gold Medal for Peace with Justice in February 2011. The same year he also won the Martha Gellhorn Prize for Journalism, Walkleys Award for Outstanding Contribution to Journalism and Voltaire Award of the Victorian Council for Civil Liberties.

Personal Life & Legacy

He married a girl called Teresa while he was still in his teens. They had a son named Daniel in 1989. The couple later separated and was involved in a bitter custody battle over the child.

Details of his personal life over the recent past are not known though it was rumored that he was once in a relationship with journalist Sarah Harrison.

Translate Wiki

to Spanish, French, Hindi, Portuguese

Article Title

- Julian Assange Biography

Author

- Editors, TheFamousPeople.com

Website

- TheFamousPeople.com

URL

-

https://www.thefamouspeople.com/profiles/julian-assange-6527.php

Last Updated

- July 31, 2017

---

---

---