Harry Connick Jr.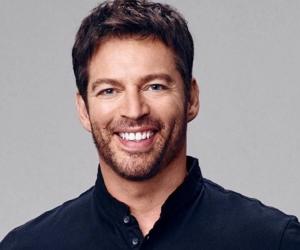 Quick Facts
Birthday: September 11, 1967
Nationality: American
Famous: Millionaires Jewish Singers
Age: 51 Years, 51 Year Old Males
Sun Sign: Virgo
Also Known As: Joseph Harry Fowler Connick Jr.
Born in: New Orleans
Famous as: American singer
Height: 1.85 m
Family:
Spouse/Ex-: Jill Goodacre
father: Harry Connick Sr.
mother: Anita Frances
siblings: Suzanna
children: Charlotte, Georgia Tatum, Sara Kate
U.S. State: Louisiana
Net worth: $35 million as of Mar 19, 2017
More Facts
education: Jesuit High School, New Orleans, LA (1985), Hunter College
Continue Reading Below
Harry Connick, Jr. is an American singer, conductor, pianist, actor, composer, and television music competition judge. Born Joseph Harry Fowler Connick, Jr., he was encouraged to develop his musical talents at a very early age, and by the age of nine performed with the New Orleans Symphony Orchestra. After earning a collegiate degree, he studied at the Manhattan School of Music to further refine his talent. His first album was the self-titled instrumental, "Harry Connick Junior". His other instrumental albums were "Other Hours: Connick on Piano Volume 1", "Occasion: Connick on Piano, Volume 2", also featuring Branford Marsalis on saxophone, and "Chanson du Vieux Carré". His bestselling album was "When My Heart Finds Christmas", and the highest charting album was "Only You", released in 2004. His Grammy winning albums were "We Are in Love" and "Songs I Heard". He has acted in a number of movies including "Little Man Tate", "Copycat", "Independence Day", "Hope Floats" and "Bug". The movies for which he has scored the soundtrack include "When Harry Met Sally" and "A Wink and a Smile". He has lent his support for various charities notably his work in support of relief for the victims of Hurricane Katrina.
Continue Reading Below
Childhood & Early Life:
Harry Connick, Jr. was born Joseph Harry Fowler Connick, Jr. to Anita Levy, a lawyer, judge, and later, a Louisiana Supreme Court justice, and Joseph Harry Fowler Connick, Sr., District Attorney of Orleans Parish.

He started learning the keyboard at three. At nine, he performed with the New Orleans Symphony Orchestra, and later played a duet with Eubie Blake at the Royal Orleans Esplanade Lounge.

Connick attended Jesuit High School, Isidore Newman School, and Lakeview School. He enhanced his musical talent at the New Orleans Center for Creative Arts, and under the tutelage of Ellis Marsalis and James Booker.

Recommended Lists:

Recommended Lists:

Career

Connick studied at Hunter College, and the Manhattan School of Music. Columbia Records persuaded him to sign with them, and brought out "Harry Connick Junior", an instrumental album, and "20", featuring his vocals.

He provided the soundtrack to Rob Reiner's 1989 romantic comedy, "When Harry Met Sally". It included "It Had to Be You", "Let's Call the Whole Thing Off" and "Don't Get Around Much Anymore".

He wrote and arranged the songs for "Blue Light, Red Light", his third consecutive multi-platinum album, released in October 1991. He starred in "Little Man Tate" directed by Jodie Foster.

His 1993 "When My Heart Finds Christmas" went multi-platinum, and was one of the bestselling Christmas albums in the US. He composed "A Wink and a Smile" to the "Sleepless in Seattle" soundtrack.

In 1994, he released "She", an album of New Orleans funk that also went platinum. He also released the song, "(I Could Only) Whisper Your Name", for the soundtrack of the movie, "The Mask".

The film "Copycat" was released in 1995 in which Connick plays a serial killer. A year later, his second funk album, "Star Turtle", was released. He also appeared in the blockbuster movie, "Independence Day".

His 1997 album, "To See You", consisted of original love songs. He toured the US and Europe, and played at the Nobel Peace Prize Concert in Oslo. He also starred in "Excess Baggage".

Continue Reading Below

His first leading role was in the movie, "Hope Floats" in 1998. The next year, he released the album, "Come By Me", and set out on a world tour.

In 2005, he appeared in "A Concert for Hurricane Relief", in support of victims of Hurricane Katrina. He was made honorary chair of Habitat for Humanity's Operation Home Delivery, a plan to re-build homes.

Connick's third album on Piano series was "Chanson du Vieux Carr�". He received two Grammy nominations for the track "Ash Wednesday". His third Christmas album, "What a Night!" was released in November 2008.

In 2009, he starred in "New in Town" opposite Ren�e Zellweger, and in the Broadway revival of "On a Clear Day You Can See Forever". His album, "Your Songs", was collaborated with Clive Davis.

Connick appeared as a mentor on American Idol Season 9 and Season 12. He performed "Every Man Should Know", the title track from his latest album.

Recommended Lists:

Recommended Lists:

Major Works

Connick's "Promise Me You'll Remember", the Godfather III soundtrack, was nominated for an Academy Award and a Golden Globe in 1991. "Swingin Out Live" got him an Emmy nomination for Best Performance.

2003 saw him release "Other Hours: Connick on Piano Volume 1", his first instrumental album in fifteen years. He also released his second Christmas album, "Harry for the Holidays", which was later certified platinum.

Continue Reading Below

The album, "Occasion: Connick on Piano, Volume 2", also featuring Branford Marsalis on saxophone, was recorded in 2005. A music DVD, "A Duo Occasion", was filmed at the Ottawa International Jazz Festival.

Recommended Lists:

Recommended Lists:

Awards & Achievements

The soundtrack for "When Harry Met Sally" won Connick his first Grammy in the Best Jazz Male Vocal Performance category. The album "We Are in Love" earned him his second Grammy.

In 2001, he wrote the score for the musical "Thou Shalt Not" which earned a Tony Award nomination. He released "Songs I Heard", which won a Grammy for Best Traditional Pop Album.

"Only You" was released in 2004. It was telecast as a Great Performances special on PBS. A DVD of the special received a Gold & Platinum Music Video — Long Form awards from the RIAA.

Recommended Lists:

Recommended Lists:

Personal Life & Legacy

On April 16, 1994, Connick married model Jill Goodacre, daughter of Glenna Goodacre. The song "Jill" from "Blue Light, Red Light" is about her. They have three daughters: Georgia Tatum, Sarah Kate and Charlotte.

Recommended Lists:

Recommended Lists:

Trivia

1. P.S. I Love You (2007)

(Drama, Romance)

2. Independence Day (1996)

(Action, Adventure, Sci-Fi)

---

3. My Dog Skip (2000)

(Family, Sport, Comedy, Drama)

4. Memphis Belle (1990)

(Action, War, Drama)

---

---

5. Dolphin Tale (2011)

(Drama, Family)

6. Little Man Tate (1991)

(Drama)

---

---

---

7. Copycat (1995)

(Thriller, Mystery, Drama)

8. Basic (2003)

(Crime, Drama, Thriller, Action, Mystery)

---

---

---

---

| | | |
| --- | --- | --- |
| 2011 | Outstanding Music Direction | Great Performances (1971) |
| 2004 | Outstanding Music Direction | Great Performances (1971) |

Translate Wiki

to Spanish, French, Hindi, Portuguese

Article Title

- Harry Connick Jr. Biography

Author

- Editors, TheFamousPeople.com

Website

- TheFamousPeople.com

URL

-

https://www.thefamouspeople.com/profiles/joseph-harry-fowler-connick-jr-1585.php

Last Updated

- January 08, 2018

---

---

---