Jonathan Pollard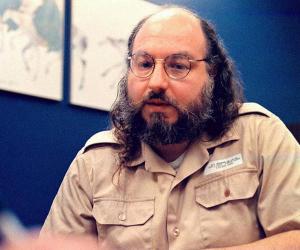 Quick Facts
Nationality: American
Famous: American Men Stanford University
Age: 65 Years, 65 Year Old Males
Sun Sign: Leo
Also Known As: Jonathan Jay Pollard
Born in: Galveston, Texas, U.S.
Famous as: Former U.S. Intelligence Analyst & Israeli Spy
Family:
Spouse/Ex-: Anne Henderson Pollard, Elaine Zeitz
father: Morris Pollard
mother: Molly Pollard
U.S. State: Texas
More Facts
education: 1976 - Stanford University, Tufts University
Continue Reading Below
Jonathan Jay Pollard is a former U.S. defense analyst who was convicted for spying and parting with classified information to Israel. In 1987 he was given a life sentence for violating the 'Espionage Act', thus becoming the first such American to get life imprisonment for disbursing top-secret information to an US ally. According to Pollard, he acted in such manner as American intelligence establishment collectively endangered Israel's security by withholding crucial information. He insisted that he provided Israel only that information which was crucial for its security. Many confidential state secrets were sold by him. He also revealed the identity of several thousand individuals who helped the U.S. intelligence agencies. He also accepted that he had provided paid service to few other nations in some cases. Though Israeli officials, few American politicians and American-Israeli activist groups lobbied to reduce his life imprisonment, many former and incumbent US high officials voiced against any kind of leniency. After thirty years of imprisonment he was released on November 20, 2015.
Recommended Lists:
Recommended Lists:
Childhood & Early Life
He was born on August 7, 1954, in Galveston, Texas, to Jewish parents Morris Pollard and Molly Pollard as their youngest child among three.

In 1961, his father, a microbiologist, moved with the family to South Bend, Indiana, and became a professor at the 'University of Notre Dame'.

Jonathan Pollard had knowledge of the 'Holocaust' and the dreadful consequences faced by his family. The family infused Jewish sentiments and a sense of zeal in their children for the cause of Israel.

In 1970 he visited Israel for the first time during a science program in Rehovot at the 'Weizmann Institute of Science'.

In 1976 he completed his graduation in political science from 'Stanford University'.

Career

In 1979 the 'Central Intelligence Agency' (CIA) turned him down for a job after it was found in a polygraph test that he used drugs during 1974 to 1978. The other reason was his inclination of manufacturing stories, few of which reflected him of being an Israeli intelligence agent.

Thereafter, he started attending the 'Tufts University' in Medford Massachusetts to study law and diplomacy.

From September 19, 1979 he served the 'Navy Field Operational Intelligence Office' ('NFOIO'), in Maryland. While doing a background check the 'NFOIO' sought information about Pollard from the CIA but was not provided the same by the latter.

In 1981 when '(NFOIO'), found out his repeated lies, they curtailed his security clearance and advised him to look for psychiatric help. However, later his security clearance was restored after he filed a grievance and warned to seek legal help.

In mid-1984, he expressed his intent of working as a spy to Aniem Sella, a former fighter pilot of Israeli 'Air Force' who later became 'Director of Operations'. A few days later in June 1984, he began his espionage by parting classified data to Sella.

He received $10,000 in cash and a diamond and sapphire ring for his service. Eventually his benefits and other perks escalated including a monthly salary of $2,500.

In response to his application in October 1984, he was made an analyst at the 'Naval Intelligence Command'.

His espionage was first suspected by a co-worker and later by his superior in 1985 following which he was interrogated by the FBI. He called his wife Anne to remove the classified documents from home ahead of a probable search there. Though Anne transferred most of the documents to a neighbour, who was a naval officer, the FBI got hold of some documents that went unnoticed by Anne.

When Pollard was asked to undergo a polygraph test, he admitted to his espionage with Israel. Meanwhile his neighbour, who became apprehensive of the suitcase full of documents, that Anne gave him, contacted the military intelligence and later cooperated with the probe.

Continue Reading Below

On November 21, 1985 he and his wife Anne tried to take refuge in the Israeli Embassy but the Israeli guards turned them away. Once they came out of the embassy Pollard was arrested by the FBI agents, but Anne managed to escape. As Anne informed the details to Sella and three others, all moved out of the U.S. within 24 hours and on November 22, 1985, Anne was incarcerated.

According to Ronald Olive, investigator of 'Naval Criminal Investigative Service', Pollard gave top-secret information to South Africa, stole data related to China for his wife's business benefits and tried several times to transact classified information with Pakistan.

Investigators figured out that he contacted an Iranian and three Pakistanis in 1985 to negotiate an arms deal.

It came to light that Pollard through his espionage had compromised data relating to sources and methods applied by American intelligence in procurement of information. He also copied the current version of Radio-Signal Notations.

He also acquired a ten volume manual of the 'National Security Agency' that laid down the ways by which America collects its signal intelligence. He disclosed names of several thousands of individuals who helped the US intelligence network.

Australian authorities confirmed during his trial that Pollard passed the U.S. classified data to one of their Royal Australian Navy officers, which Pollard later admitted.

He later agreed to cooperate with the probe and pleaded leniency for him and Anne.

On March 4, 1987, Judge Aubrey Robinson, Jr. gave life sentence to Pollard. Anne received five years imprisonment term but due to health issues, she was paroled after spending three and a half years in jail.

On many occasions Israel made efforts to get Pollard release including a three way exchange proposal in 1988; a 1990 offer to exchange Pollard with US spy Yosef Amit, originally an Israeli military intelligence officer, and a 1995 proposal of another three way exchange.

His application in 1995 for an Israeli citizenship was granted on November 22 of the same year.

Israel continued to deny his involvement but in May 1998 Israeli Prime Minister Netanyahu accepted the fact that Pollard worked as an Israeli agent.

Pollard filed several motions and petitions at different points of time but was denied release every time.

Several pro-Israel groups, Israeli officials and some US politicians pushed for his release or leniency in his life imprisonment but many former and incumbent US high officials opposed any kind of clemency to him asserting that his espionage was not an outcome of patriotism but that of greed.

On November 20, 2015, after thirty years, Pollard was released from prison.

Personal Life & Legacy

On August 9, 1985 he married Anne Henderson in Venice Italy, with whom he had a romantic relationship for several years.

As Pollard was facing a life sentence, he chose to divorce Anne, and the divorce materialised in 1990.

He then married Canadian teacher and activist Esther "Elaine" Zeitz. It was often doubted whether Esther, who conducted Pollard's release campaign and held a public hunger strike for him, was legally married to Pollard.

Translate Wiki

to Spanish, French, Hindi, Portuguese

Article Title

- Jonathan Pollard Biography

Author

- Editors, TheFamousPeople.com

Website

- TheFamousPeople.com

URL

-

https://www.thefamouspeople.com/profiles/jonathan-pollard-6983.php

Last Updated

- October 05, 2017

---

---

---