Pep Guardiola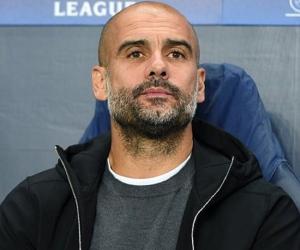 Quick Facts
Birthday: January 18, 1971
Nationality: Spanish
Famous: Hispanic Soccer Players Coaches
Age: 48 Years, 48 Year Old Males
Sun Sign: Capricorn
Also Known As: Josep Guardiola Sala
Born in: Santpedor
Famous as: Former Footballer, Football Manager
Height: 1.8 m
Family:
Spouse/Ex-: Cristina Serra (m. 2014)
father: Valentí Guardiola
mother: Dolors Sala
siblings: Pere Guardiola
children: Maria Guardiola, Marius Guardiola, Valentina Guardiola
Continue Reading Below
Pep Guardiola is a former Spanish footballer and the current manager of the 'Premier League' team 'Manchester City.' Before announcing his retirement from football, he was regarded as one of the best footballers and midfielders in the entire world. In the early 1990s, his association with 'Barcelona' turned out to be extremely successful. 'Barcelona', at that time, was known as "the dream team." Pep was part of 'Barcelona' when it won the 1992 'Euro Cup' and four consecutive 'La Liga' titles from 1991 to 1994. In 1997, he was made the captain of 'Barcelona,' a position which he retained until 2001. He played for his national Spanish football team too. He played a decisive role in making his team win the 1992 'Olympic' gold medal. In 2008, just two years after his retirement as a player, he started working as the manager of 'Barcelona' and led the team to several honorable title wins over the next few years. In 2011, he was named the 'FIFA World Coach of the Year.' In 2013, he was appointed as the manager of 'Bayern Munich' and helped them secure many titles. He is the current manager of 'Manchester City' and is widely regarded as the best coach in the world.
Recommended Lists:
Recommended Lists:
Continue Reading Below
Childhood & Early Life
Pep Guardiola was born on January 18, 1971, in Santpedor, Spain, to Valenti, a bricklayer, and Dolors, a homemaker. He had two older sisters and a younger brother, who was born a few years later.

Before joining the youth academy of 'Barcelona,' he was a football addict and played whenever he got a chance. His love for the game also had him working as a ball-boy in the local matches.

At the age of 13, he was inducted into the youth academy of 'Barcelona,' and his training officially began. He started his professional football career as a defender, and for the next six years, he honed his skills with the aim of seeing himself as part of club's first team.

The head coach of the youth team, Johan Cruyff, grew fond of Pep and included him in the first team, in 1990, when Pep was 19 years of age. This was just the beginning of one of the most legendary player–club associations in the world.

Recommended Lists:

Recommended Lists:

Career

The 1991–1992 season was Pep's first official season with 'Barcelona,' and it did not take him much time to become one of the key players in what came to be known as "the dream team." 'Barcelona' won the 'La Liga' in 1991 and 1992 and the 'Euro Cup' in 1992. Pep got a special mention in an article on the club's winning streak in the Italian sports magazine 'Guerin Sportivo.' The article described Pep as the best footballer below the age of 21.

In October 1992, he made his senior debut in a 'World Cup' qualifier. The same year, he led the Spanish squad to win the 'Olympics' gold medal and won a 'Bravo Award,' which is given to the best player in the world below the age of 21. He represented his team at the 1994 'World Cup,' where his team lost in the quarter-final match. He was not selected for the 1998 'World Cup' because of an injury.

'Barcelona' went on to win the 'La Liga' in 1993 and 1994 and reached the 'UEFA Champions League' final, where they got knocked out by 'Milan.' By 1996, most of "the dream team" had been replaced by new players. Pep was made the captain of the squad in 1997, but an injury kept him away from the field for most of the 1997–1998 season.

In 1998, many European clubs came ahead with lucrative offers for 'Barcelona' to transfer Pep, but 'Barcelona' was not ready to let go of Pep yet. Instead, they signed a new contract with him, which extended his stay in the team until 2001.

During the 1998–1999 season, when Pep made his comeback to the team as a captain, he led them to a 'La Liga' victory. However, plagued with injuries, he struggled to maintain his form. In April 2001, Pep made a public announcement about his decision to quit 'Barcelona.' By then, Pep had been part of the 'Barcelona' teams that had won 16 trophies in total.

In 2001, Pep joined the 'Serie A' team 'Brescia' and was later transferred to 'Roma.' In Italy, Pep was plagued with bad form and charges of consuming banned drugs. It appeared that his glorious days as a competitive footballer had ended. He played in 7 matches for 'Catalonia,' before officially announcing his retirement from the game in 2006. Following this, he went to Mexico to train to be a manager.

In June 2007, he was selected as the coach of the 'Barcelona B' team. In the 2008–2009 season, he was made the coach of the first team. Pep officially started his tenure as a coach from the third qualifying round of the 'Champions League' the same year. Under his guidance, 'Barcelona' went on a 20-match winning streak and maintained the top spot in the 'La Liga' tally.

Continue Reading Below

In his first season as the coach of 'Barcelona,' Pep ensured his team's victory in the 'League' final and in the 'Copa del Rey.' Pep's first season with 'Barcelona' ended with a win over 'Manchester United' in the finals of the 'Champions League.' After this victory, 'Barcelona' became the first Spanish club in the history of the game to win the treble, namely, the 'European Club' title, the domestic cup, and the league title, all in the same year. Pep also became the youngest coach in the history of the game to have coached a 'Champions League'-winning team.

In 2009, Pep helped 'Barcelona' win the 'FIFA Club World Championships' for the first time in the history of the club. The calendar year 2009 was markedly successful for 'Barcelona,' as the club had garnered 9 title wins that year. By February 2010, Pep had crossed the 100-match mark as a coach, and his scintillating win–loss ratio of 71:10 earned him the repute of being the best football coach in the world.

He continued with his successful streak for the following two seasons, and in 2013, he joined 'Bayern Munich.' In December 2013, he led 'Bayern' to a 'Club World Cup' victory. For the remainder of his tenure with 'Bayern,' he brought them a few more glorious victories.

In the 2016–2017 season, he joined 'Manchester City' as their head coach, and by the end of September, he had won all the first 10 matches for his team. Unfortunately, in the next few months, the performance of 'Manchester City' worsened. However, Pep picked up eventually, and the team regained its winning streak.

Recommended Lists:

Recommended Lists:

Personal Life

Pep Guardiola met Cristina Serra when he was 18 years old and had a long-term relationship with her, before eventually tying the knot in 2014. The wedding was a private ceremony in Catalonia, attended by close friends and family. The couple has three children: Maria, Màrius, and Valentina.

During his sabbatical in 2013, Pep planned to settle down in the US, and when he was hired to coach 'Bayern Munich,' his urge to learn German made him practice the language for four to five hours a day.

Pep has been an atheist all his life.

Translate Wiki

to Spanish, French, Hindi, Portuguese

Article Title

- Pep Guardiola Biography

Author

- Editors, TheFamousPeople.com

Website

- TheFamousPeople.com

URL

-

https://www.thefamouspeople.com/profiles/pep-guardiola-12991.php

Last Updated

- March 20, 2018

---

---

---