Jon Cryer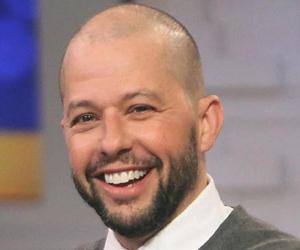 Quick Facts
Nationality: American
Age: 54 Years, 54 Year Old Males
Sun Sign: Aries
Also Known As: Jonathan Niven Cryer
Born in: New York City, New York
Famous as: Actor
Height: 5'9" (175 cm), 5'9" Males
Family:
Spouse/Ex-: Lisa Joyner (m. 2007), Sarah Trigger (m. 1999–2004)
father: Donald David Cryer
mother: Gretchen Cryer
siblings: Robin and Shelly
children: Charlie Austin
City: New York City
U.S. State: New Yorkers
Continue Reading Below
Jon Cryer is an American actor and director, best known for his role in the series 'Two and a Half Men,' and the movie 'Pretty in Pink'. Both his parents were part of the entertainment industry, so it was very natural for him to get inclined toward a career in acting. His first acting credit was in the Broadway play 'Torch Song Trilogy,' after which he played a few minor roles in movies and television serials, before his big break in the romantic comedy movie, 'Pretty Pink.' He wrote and produced the movie, 'Went to Coney Island on a Mission from God... Be Back by Five,' which was screened at the Los Angeles Film Festival. It took him some time to establish as an actor, as his initial movies and television serials were not a great success. His performance in the serial, 'Two and a Half Men,' got him two Emmy awards and things started changing better for him.
Recommended Lists:
Recommended Lists:
Continue Reading Below
Childhood & Early Life
He was born Jonathan Niven Cryer on April 16, 1965, in New York City, New York, US, to David and Gretchen Cryer. His father is a veteran stage, television and film actor, and singer, and his mother is a playwright, lyricist, and actress. He has two sisters - Robin and Shelly. He is of mixed European ancestry.

As his parents were in the showbiz, it was quite natural for him to get inclined towards acting. He started as a child model and stage performer while he was in junior high school. He graduated from Bronx High School of Science in 1983 and decided to pursue a career in acting. He attended performing arts training at Stagedoor Manor during his summer vacations and went on to join the Royal Academy of Dramatic Art in London, UK, for a short course.

His first acting credit was in the Broadway play, 'Torch Song Trilogy.' He appeared in his first lead role as 'Charles Cummings' in the romantic comedy movie, 'No Small Affair,' at the age of 19.

Recommended Lists:

Recommended Lists:

Career

Cryer played minor roles in a few movies and television serials before he got his big break as 'Duckie' in the romantic comedy movie 'Pretty Pink' in 1986. The movie was a great success, and he became a teenage sensation. He also made his debut on television as 'Phil' in the science fiction horror fantasy, 'Amazing Stories,' that year.

He appeared in the lead role in sitcoms, 'The Famous Teddy Z' and 'Partners,' that ran from 1989 to 1990 and 1995 to 1996 respectively. His performances received mixed reviews. During this period he also appeared in a number of movies, including 'Penn and Teller Get Killed', 'Hot Shots' and 'Cannes Man'.

He made his debut as a writer in the movie, 'The Pompatus of Love,' in 1996 and acted as well as wrote and produced the movie, 'Went to Coney Island on a Mission from God... Be Back by Five,' in 1998. The film was screened at the 'Los Angeles Film Festival' and received positive reviews.

From 1998 to 2003, he was cast in a number of TV series but they did not do too well, till he appeared as 'Alan Harper' in the seven-time Emmy nominated serial, 'Two and a Half Men,' that ran from 2003 to 2015. Cryer won a 'Primetime Emmy Award for Outstanding Supporting Actor in a Comedy Series' and 'Primetime Emmy Award for Outstanding Lead Actor in a Comedy Series' for his performance in the serial.

He continued to act in a number of movies, including a cameo appearance as, 'Alan Harper,' from the serial 'Two and a Half Men' in the comedy film 'Due Date,' written by Philips Alan and directed by Todd Philips, which was released in 2010.

He has made several guest appearances on television and appeared as himself in the comedy serial, 'Lady Dynamite,' in 2016. He is part of the cast of the popular serial 'NCIS,' and also appeared in the comedy series, 'Robot Chicken,' in 2018.

Recommended Lists:

Recommended Lists:

Major Works

He has appeared in the films, including 'No Small Affair' (1984), 'Pretty in Pink' (1986), 'Hiding Out' (1987), 'Hot Shots' (1991), 'The Pompatus of Love' (1996), 'Went to Coney Island on a Mission from God... Be Back by Five' (1998), 'Stay Cool' (2009), 'Ass Backwards' (2013), and 'Hit by Lightening' (2014).

Continue Reading Below

His television work include 'Amazing Stories' (1986), 'The Famous Teddy Z' (1989 – 1990), 'Partners' (1995 – 1996), 'Getting Personal' (1998), 'Mr. Show with Bob and David' (1998), 'The Trouble with Normal' (2000 – 2001), 'Two and a Half Men' (2003 – 2015), 'Hannah Montana' (2010 – 2011), 'Husbands' (2012), 'NCIS' (2015 – 2016), and 'Robot Chicken' (2018).

Awards & Achievements

He was awarded a 'Primetime Emmy Award for Outstanding Supporting Actor in a Comedy Series' and 'Primetime Emmy Award for Outstanding Lead Actor in a Comedy Series' for his performance in 'Two and a Half Men' in 2009, and 2012 respectively.

He received a star on the 'Hollywood Walk of Fame' in 2011.

Personal Life

He was married to British actress Sarah Trigger, from 1999 to 2004. They have a son named Charlie Austin. The couple later divorced and went their separate ways. He later married American entertainment reporter and television host, Lisa Joyner, in 2007. The couple have an adopted daughter named Daisy.

He had to assume temporary custody of his son in 2009, when his ex-wife was arrested for felony neglect.

Trivia

He released a book, 'So That Happened,' a memoir of 30 years of his career in the entertainment industry, in 2015.

He has a passion for criminal justice and is part of the team for the popular podcast called 'Undisclosed,' which makes weekly releases on the subject.

He is often mistaken for Broadway actor Matthew Broderick, whom he understudied and replaced in the play 'Torch Song Trilogy.'

| | | |
| --- | --- | --- |
| 2012 | Outstanding Lead Actor in a Comedy Series | Two and a Half Men (2003) |
| 2009 | Outstanding Supporting Actor in a Comedy Series | Two and a Half Men (2003) |

Translate Wiki

to Spanish, French, Hindi, Portuguese

Article Title

- Jon Cryer Biography

Author

- Editors, TheFamousPeople.com

Website

- TheFamousPeople.com

URL

-

https://www.thefamouspeople.com/profiles/jon-cryer-41908.php

Last Updated

- August 25, 2018

---

---

---