John Mayer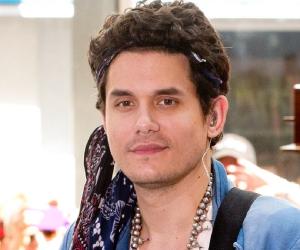 Quick Facts
Birthday: October 16, 1977
Nationality: American
Famous: College Dropouts Guitarists
Age: 41 Years, 41 Year Old Males
Sun Sign: Libra
Also Known As: John Clayton Mayer
Born in: Bridgeport, Connecticut, United States
Famous as: Singer
Height: 1.91 m
Family:
father: Richard Mayer
mother: Margaret Mayer
siblings: Ben Mayer, Carl Mayer
Personality: INFP
U.S. State: Connecticut
Net worth: $ 60 Million as of Mar 22, 2017
More Facts
education: Berklee College of Music, Brien McMahon High School, Fairfield Warde High School
Continue Reading Below
John Clayton Mayer is an American singer-songwriter, guitarist, and producer. Famous for his special skills in guitar and his artistic pursuit for classy pop-rock songs, he has earned major chart success in the US and other countries. Known for both his solo career and his career with the 'John Mayer Trio' group, the knowledgeable musician has millions of fans across the globe. He picked up a guitar at the age of 13 and took lessons for two years. Then through his strong perseverance and determination, he started a career in music. His big break came when he performed at the '2000 South by Southwest Music Festival' in Austin following which Aware Records signed him . The winner of seven Grammy Awards, he at times changed his musical styles and became successful across genres, establishing himself in contemporary rock and broadening his scope to incorporate the blues. TIME applauded him for his "vigorous voice texture, and emotional fearlessness". Most of his albums are commercially successful and have been accredited multi-platinum.
Recommended Lists:
Recommended Lists:
Continue Reading Below
Childhood & Early Life
John Clayton Mayer was born on October 16, 1977 in Bridgeport, Connecticut. He grew up in Fairfield. His father Richard was a high school principal, and his mother Margaret Mayer was a middle school English teacher. He has two brothers.

For his junior year, he attended the Center for Global Studies at Brien McMahon High School in Norwalk.

He first became fascinated with guitar after watching Michael J. Fox's guitar performance in a movie, and he fell in love with blues music after he heard a Stevie Ray Vaughan cassette.

When he was 13, his father rented a guitar for him. He started taking lessons, and got so engrossed in it that his concerned parents took him to a psychiatrist, who declared him healthy. Later he said that his parents' troubled marriage often forced him to "disappear in his own world."

While he was in high school, he started playing guitar at bars and other venues. He also joined a band called Villanova Junction and played with Tim Procaccini, Rich Wolf, and Joe Beleznay.

When he was 17, he was diagnosed with cardiac dysrhythmia, and was hospitalized. He said that during that period, he realized that he had a songwriter in him too. He also suffered from panic attacks, and is still on anti-anxiety medication.

He wanted to skip college to pursue a career in music, but his parents persuaded him to enroll in the Berklee College of Music in 1997, at the age of 19. However, he left Berklee after two semesters and moved to Atlanta with his college friend Clay Cook. They formed a two-man band, 'Lo-Fi Masters', and began performing in local clubs and other places. Soon they parted ways and Mayer started a solo career.

Recommended Lists:

Recommended Lists:

Career

John Mayer released his debut EP, 'Inside Wants Out' on September 24, 1999. The album was re-released by Columbia Records in 2002. Some of the songs, such as 'Back to You', 'My Stupid Mouth', and 'No Such Thing' were again recorded for his debut album 'Room for Squares'.

His debut studio album 'Room for Squares' was released on June 5, 2001. The album peaked at No. 8 on US Billboard 200 chart. It is his best-selling album to date, having sold over 4,484,000 copies in the US.

His second studio album 'Heavier Things' was released on September 9, 2003. Although his songwriting received negative criticism, the album generated positive reviews.

In 2005, he formed a rock band 'The John Mayer Trio' with bassist Pino Palladino and drummer Steve Jordan in which he served as the guitarist. The band released a live album, 'Try!' in 2005.

His third studio album 'Continuum' was released on September 12, 2006. The album incorporated musical elements of blues, marking a change in Mayer's musical style. Music critics praised the album, and Mayer received several accolades.

His fourth studio album, 'Battle Studies' was released on November 17, 2009. It enjoyed commercial success not only in the US, but also in several other countries. Two of its singles received chart success. The album also received acclaims from the music critics, and was certified platinum by RIAA.

His fifth studio album, 'Born and Raised' was released on May 22, 2012. Its first single, 'Shadow Days' was released on Mayer's blog before the release of the album. The second single, 'Queen of California' was released on Hot AC radio on August 13, 2012, and its official video was released on July 30, 2012.

Continue Reading Below

'Something Like Olivia', the third single of the album 'Born and Raised', incorporated some musical elements of folk and Americana, marking another change in Mayer's musical style. Critics praised his technical skills.

Mayer's sixth studio album, 'Paradise Valley', was released August 20, 2013. The album features musical breaks and instrumentals, and consisted of electric guitars instead of harmonica.

Its first single 'Paper Doll', was released on June 18, 2013, followed by 'Wildfire' on July 16, 2013. The third single 'Who You Love' impacted Hot AC radio on September 3. The next single 'Paradise Valley' was available to stream on August 13.

On April 15, 2014, Mayer covered 'XO' at a concert in Australia. His version features acoustic stripped-down rendition with guitar, piano and harmonica. MTV praised his version for simplicity. It debuted at No. 90 on the US Billboard Hot 100 chart, and sold 46,000 copies.

Columbia and Sony Music released his seventh studio album 'The Search for Everything' on April 14, 2017.

John Mayer also performed with 'Dead & Company' a band consisting of Bob Weir, Mickey Hart, Bill Kreutzmann, Oteil Burbridge, and Jeff Chimenti. The band started a tour on May 27, 2017, which ended on July 1. The tour was well received.

Recommended Lists:

Recommended Lists:

Major Works

John Mayer's debut album 'Room for Squares' received positive reviews from music critics. His second studio album 'Heavier Things' debuted at No. 1 on US Billboard 200 chart, and sold 317,000 copies in the first week.

Continue Reading Below

His 'Continuum' album debuted at No 2 on the US Billboard 200 chart, and sold 300,186 copies in the first week. Eventually, it sold over 3 million copies worldwide. The album 'Battle Studies' debuted at No. 1 on US Billboard 200 chart, and sold over a million copies in the US.

Recommended Lists:

Recommended Lists:

Awards & Achievements

John Mayer has won seven Grammy Awards from 19 nominations. He collected a Grammy Award for Best Male Pop Vocal Performance for his single 'Your Body Is a Wonderland' from the album 'Room for Squares' in 2003.

The 'Continuum' album also earned him a Grammy Award for Best Pop Vocal Album. He received two Grammy Awards for 'Daughters' in the categories Song of the Year and Best Male Pop Vocal Performance in 2005.

Some of the other awards he has received are MTV Video Music Awards, ASCAP Award, American Music Award, and many others.

Recommended Lists:

Recommended Lists:

Personal Life

John Mayer has dated actress Jennifer Love Hewitt, singer Jessica Simpson, singer Taylor Swift, and actress Minka Kelly among other prominent show biz personalities.

In 2002, he formed an NGO, 'Back to You' Fund , that fundraises for healthcare, education, arts and talent development.

He supports campaigns creating awareness about climate change and has performed a number of times for charity. He also supports Elton John AIDS Foundation.

Despite resolving to avoid drugs early in his career, he admitted in 2006 that he used marijuana. He was also involved in a serious controversy for making "racist" comments in an interview, for which he later apologized.

He is an avid collector of watches. In March 2014, he sued watch dealer Robert Maron for $656,000 saying that seven of the watches he bought from Maron contained counterfeit parts. However, the next year Mayer released a statement saying that the dealer never sold him any counterfeit watch.

| | | |
| --- | --- | --- |
| 2009 | Best Male Pop Vocal Performance | Winner |
| 2007 | Best Male Pop Vocal Performance | Winner |
| 2007 | Best Pop Vocal Album | Winner |
| 2005 | Song of the Year | Winner |
| 2005 | Best Male Pop Vocal Performance | Winner |

Translate Wiki

to Spanish, French, Hindi, Portuguese

Article Title

- John Mayer Biography

Author

- Editors, TheFamousPeople.com

Website

- TheFamousPeople.com

URL

-

https://www.thefamouspeople.com/profiles/john-mayer-9457.php

Last Updated

- July 18, 2017

---

---

---