John Malkovich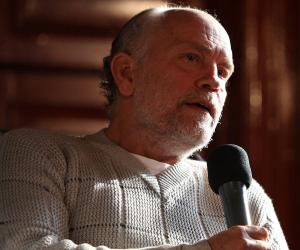 Quick Facts
Birthday: December 9, 1953
Nationality: American
Age: 65 Years, 65 Year Old Males
Sun Sign: Sagittarius
Also Known As: John Gavin Malkovich
Born in: Christopher
Famous as: Actor
Height: 6'0" (183 cm), 6'0" Males
Family:
Spouse/Ex-: Glenne Headly (m. 1982–1990)
father: Daniel Leon Malkovich
mother: Joe Anne
children: Amandine, Loewy
Personality: ISTJ
U.S. State: Illinois
More Facts
education: Logan Grade School, Webster Junior High, Benton Consolidated High School, Eastern Illinois University, Illinois State University
Continue Reading Below
John Gavin Malkovich is an actor and producer best known for his performances in the movies 'Places in the Heart' and 'In the Line of Fire' for which he received Academy Award nominations. He has enjoyed a long and productive career spanning three decades in Hollywood. Starting out as an actor, he eventually made it big as a producer too. A love for the performance arts was something he was born with though neither of his parents was from show business. He displayed a keen interest in acting from childhood and was an active participant in his high school plays. As a teenager he also played with a folk rock musical group and was part of a summer theatre project. He began his acting career as a stage actor. He became a charter member of the Steppenwolf Theatre Company and appeared in several of their productions. He made his Broadway debut as Biff in 'Death of a Salesman'. Following his successful stage career he branched out into films. During his initial years in Hollywood he could manage to get only minor roles but the gutsy actor was never disheartened. He finally landed a major role in 'Places in the Heart' as the blind boarder, Mr. Will, for which he was nominated for the Academy Award for Best Supporting Actor.
Recommended Lists:
Recommended Lists:
Continue Reading Below
Childhood & Early Life
He was one of the five children of Daniel Malkovich and Joe Anne. His father was the conservation director for the State of Illinois and the publisher of 'Outdoor Illinois', while his mother owned the 'Benton Evening News'.

He was overweight as a child and was often made fun of by his elder brother. Resolving to lose weight, he ate nothing but Jell-O for two months and shed several pounds.

He attended Benton Consolidated High School and appeared in a number of plays during high school and also played with a folk rock music band.

He enrolled at Eastern Illinois University and later went to Illinois State University where he majored in theatre.

Continue Reading Below

Recommended Lists:

Recommended Lists:

Career

He joined the Steppenwolf Theatre Company in 1976 along with his friends Joan Allen, Gary Sinise and Glenne Headly. He got noticed for his performance in Sam Shepard's family tragedy, 'Curse of the Starving Class' at the Goodman Theatre in 1978.

In 1980 he appeared in Sam Shepard's play 'True West' for which he won an Obie Award. This was followed by a role in 'A Streetcar Named Desire' in Chicago's Wisdom Bridge Theatre in 1982.

After gaining prominence as a stage actor, he made his foray into films. Initially he could get only small roles, but as the decade of the 1980s progressed he found himself bagging more substantial roles.

He played a blind boarder in the 1984 Depression Era film 'Places in the Heart'. He was much appreciated for this portrayal which is often considered as his breakthrough role. He was nominated for an Academy Award for this role.

In 1985 he acted along with Dustin Hoffman, Kate Reid and Stephen Lang in the CBS made for television film, 'Death of a Salesman'. The film was based on the 1949 play of the same name by Arthur Miller. It was a big hit.

He appeared in Stephen Frears' historical drama 'Dangerous Liaisons' in 1988. He played the amoral Vicomte de Valmont who is chosen by an evil Marquise to seduce an innocent young girl and ruin her. His performance was much appreciated by film critics.

He portrayed Mitch Leary, a psychotic assassin in the crime thriller film 'In the Line of Fire' in 1993. The story revolves around a disillusioned former CIA agent who attempts to assassinate the President of the United States.

Continue Reading Below

In 1999 he played a fictionalized version of himself in the comedy-fantasy film 'Being John Malkovich'. The film also had John Cusack, Cameron Diaz and Catherine Keener. He won several awards and accolades for this role.

He acted in the television historical miniseries 'Napoleon' in 2002. He played Charles Talleyrand in the series which explored the life of Napoleon Bonaparte and his military successes and failures. It was the most expensive miniseries made in Europe in 2002.

He featured in the 2007 documentary film 'Polis Is This: Charles Olson and the Persistence of Place' which was a film about the distinguished poet.

He was part of the ensemble cast of the action comedy 'Red' (2010) which also had actors like Bruce Willis, Morgan Freeman, and Helen Mirren in the line-up. His more recent movies include 'Lines of Wellington' (2012), 'Chavez' (2013), and 'Warm Bodies' (2013).

Recommended Lists:

Recommended Lists:

Major Works

His best known role is of Mr. Will, the blind boarder in the Depression Era film, 'Places in the Heart' which revolves around the story of a widow who tries to manage her farm with the help of two men, one white and the other black.

Recommended Lists:

Recommended Lists:

Awards & Achievements

He won the Boston Society of Film Critics Award for Best Supporting Actor for his role as Mr. Will in 'Places in the Heart' in 1984. He won the Kansas City Film Critics Circle Award for Best Supporting Actor and National Society of Film Critics Award for Best Supporting Actor for the same role.

He was presented the Primetime Emmy Award for Outstanding Supporting Actor in a Miniseries or a Movie for the portrayal of Biff in the television movie, 'Death of a Salesman' in 1985.

Personal Life & Legacy

He married actress Glenne Headly in 1982. He was reported to have a fling with Michelle Pfeiffer which ended his marriage in 1988.

He is in a long term relationship with Nicoletta Peyran with whom he has two children.

1. The Killing Fields (1984)

(Drama, History, War, Biography)

2. Empire of the Sun (1987)

(History, War, Drama)

---

3. Places in the Heart (1984)

(Drama)

4. The Perks of Being a Wallflower (2012)

(Romance, Drama)

---

---

5. Changeling (2008)

(Crime, Drama, Mystery, History, Thriller, Biography)

6. Dangerous Liaisons (1988)

(Romance, Drama)

---

---

---

7. Of Mice and Men (1992)

(Drama)

8. Being John Malkovich (1999)

(Drama, Fantasy, Comedy)

---

---

---

---

| | | |
| --- | --- | --- |
| 1986 | Outstanding Supporting Actor in a Miniseries or a Special | Death of a Salesman (1985) |

Translate Wiki

to Spanish, French, Hindi, Portuguese

Article Title

- John Malkovich Biography

Author

- Editors, TheFamousPeople.com

Website

- TheFamousPeople.com

URL

-

https://www.thefamouspeople.com/profiles/john-gavin-malkovich-1938.php

Last Updated

- September 20, 2017

---

---

---