Jerry Seinfeld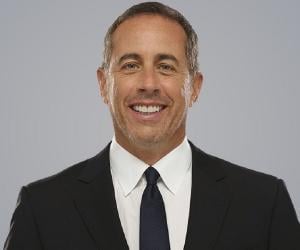 Quick Facts
Nationality: American
Famous: Quotes By Jerry Seinfeld Jewish Actors
Age: 65 Years, 65 Year Old Males
Sun Sign: Taurus
Also Known As: Jerome Seinfeld, Jerome Allen Seinfeld
Born in: Brooklyn
Height: 5'11" (180 cm), 5'11" Males
political ideology: Democratic Party
Family:
Spouse/Ex-: Jessica Seinfeld (m. 1998)
father: Kálmán Seinfeld
mother: Betty Seinfeld
siblings: Carolyn Liebling
children: Julian Kal Seinfeld, Sascha Seinfeld, Shepherd Kellen Seinfeld
Personality: ENFP
U.S. State: New Yorkers
More Facts
education: Queens College, City University of New York (1976), State University of New York at Oswego, Massapequa High School
Continue Reading Below
Jerry Seinfeld is the co-creator of the most successful television sitcom in history, 'Seinfeld'. He is among the few stand-up comedians to have his own television series. Ambitious and driven by perfectionism, he went on to become one of the most highly paid comedians in the entertainment industry. What gives him the edge over other comedians is his knack for effortless comedy that leaves his audiences with infectious laughing sessions. His observational humour is often based on personal relationships, social obligations and the trivial issues faced on a daily basis in modern life. In a career that has spanned more than three decades, Seinfeld continues to come out with innovative approaches in stand-up comedy. He was ranked by Comedy Central to be the '12th out of 100 Greatest Comedians of all Time'. He has appeared on a number of television shows including, 'The Larry Sanders Show', 'Curb Your Enthusiasm' and 'Saturday Night Live'. He also co-wrote and co-produced the film, 'Bee Movie'. He is the author of the book 'Seinlanguage', which made it to the New York Times Best Seller list. To learn more interesting and intriguing facts about his childhood, personal life and achievements in the field of comedy, scroll down and continue to read this biography.
Recommended Lists:
Recommended Lists:
Continue Reading Below
Childhood & Early Life
Jerome Allen Jerry Seinfeld was born in Brooklyn, New York City to Austrian-Jewish sign maker, Kalman Seinfeld and Betty Seinfeld. He was mainly raised in Massapequa, New York.

He attended the Massapequa High School and the East Lake Elementary School for his preliminary education. As a 16 year old, he volunteered at the Kibbutz Sa'ar, a collective community in Israel.

Until his sophomore year, he went to the SUNY Oswego and then transferred to Queens College. In 1976, he graduated from Queens College, with a degree in theatre and communications.

Continue Reading Below

Recommended Lists:

Recommended Lists:

Career

While he was in college, he became passionate about stand-up comedy. Taking his passion a little further, he started working with New York City's comedy club, 'Catch a Rising Star' after his graduation. This also led to an appearance on a Rodney Dangerfield HBO special.

In 1979, he played 'Frankie', a mail delivery boy in the American television sitcom, 'Benson'. The sitcom was broadcast on the ABC network and ran for 158 episodes.

In 1981, he gained fame and attention after he appeared on 'The Tonight Show Starring Johnny Carson'. He made a lasting impression on the mind of Carson and the audiences which led to regular re-appearance. He even made an appearance in 'Late Night with David Letterman'

In 1988, along with Larry David he created, 'The Seinfeld Chronicles' for the NBC network. The show was later renamed, 'Seinfeld' in order to avoid confusion with other shows of the same name. By the fourth season, the show garnered immense public appreciation and was rated as the most popular sitcom on American television.

With a run time that lasted for almost a decade, the last show being aired in 1998, 'Seinfield' became a popular American television sitcom. It went on for a total of nine seasons with 180 episodes.

Meanwhile, in 1993, he published his book titled, 'Seinlanguage'. The book, basically an adaptation of the comedian's standup, earned critical acclaim and was listed on the New York Times Best Seller list.

From 1993 to 1998, he played himself on the American television sitcom, 'The Larry Sanders Show'. This was a late night talk show that was created by Garry Shandling and Dennis Klein.

Continue Reading Below

In 1997, he played himself in the American television situation comedy show, 'NewsRadio'. The following year, he starred in the HBO stand-up comedy special, 'I'm Telling You for the Last Time'.

In 2000, he appeared as 'Comp-U-Comp' in the animated television series, 'Dilbert'. The series was created by Scott Adams and won the Primetime Emmy.

Taking his writing career forward, he came up with his second book, titled 'Halloween'. Illustrated by James Bennett, the book was targeted for young children. He even wrote the forewords for a number of authors.

In 2004, he made a cameo appearance as himself in the improvised American comedy series, 'Curb Your Enthusiasm'. That year, he promoted 'The Adventures of Seinfeld & Superman', a series of short film commercials.

In 2007, he was seen in the 'SeinfeldVision' episode of American television comedy series, '30 Rock', which was broadcast on NBC network. Same year, he played the voice role of 'Barry B. Benson' in the computer animated comedy film, 'Bee Movie'. He also co-wrote the script for the movie.

In 2009, he appeared as himself for a reunion on the show, 'Curb Your Enthusiasm'. The following year, he became the executive producer for the TV reality show and panel game, 'The Marriage Ref'.

In September 2009, he became the first guest to make an appearance on the premiere episode of the talk show, 'The Jay Leno Show'. He was also seen on the comedy series, 'Head Case'.

Continue Reading Below

In 2011, he appeared on stage for the first time in the United Kingdom and the same year he made an appearance on, 'The Daily Show' and the HBO special 'Talking Funny'.

In 2012, he became part of the web series comedy, 'Comedians in Cars Getting Coffee'. The same year he made an appearance as a guest star on the comedy-drama TV series, 'Louie'.

In 2013, he was seen on 'Saturday Night Live'. On the show he appeared in parody of 'The Voice' in the opening monologue episode. Same year, he was featured in the song, 'Outro About Nothing', from the album, 'The Gifted' by rapper Wale.

Recommended Lists:

Recommended Lists:

Major Works

He created and starred in the TV sitcom, 'Seinfeld'. Running for nine seasons, the show was critically acclaimed and commercially successful. 'TV Guide' named the show to be 'the greatest television program of all time'.

Recommended Lists:

Recommended Lists:

Awards & Achievements

In 1993, he was awarded the Primetime Emmy in the category of 'Outstanding Comedy Series' for 'Seinfeld'.

In 1994, he was the recipient of the Golden Globe for the category of 'Best Performance by an Actor in a TV-Series - Comedy/Musical' for 'Seinfeld'.

Continue Reading Below

Personal Life & Legacy

He was romantically involved with comedian and writer Carol Leifer and 17 year old high school student Shoshanna Lonstein.

On December 25, 1999, he married public relations executive, Jessica Sklar. The couple have three children together.

In 2008, he met with a car accident, after the brakes in his 1966 Fiat 500 failed. He was not hurt in the accident.

In 2012, he announced that he practices Transcendental Meditation. He is a supporter of the global charitable organisation, The David Lynch Foundation.

Trivia

According to The Discovery Channel show 'Chasing Classic Cars', it is believed that this American stand-up comedian owns the first and last air-cooled Porsche 911s produced.

1. Comedian (2002)

(Documentary, Comedy)

2. Jerry Before Seinfeld (2017)

(Documentary, Comedy)

---

3. The Thing About My Folks (2005)

(Drama, Comedy)

4. Top Five (2014)

(Romance, Comedy)

---

---

5. Eddie (1996)

(Comedy, Sport)

| | | |
| --- | --- | --- |
| 1994 | Best Performance by an Actor in a Television Series - Comedy or Musical | Seinfeld (1989) |

| | | |
| --- | --- | --- |
| 1993 | Outstanding Comedy Series | Seinfeld (1989) |

Translate Wiki

to Spanish, French, Hindi, Portuguese

Article Title

- Jerry Seinfeld Biography

Author

- Editors, TheFamousPeople.com

Website

- TheFamousPeople.com

URL

-

https://www.thefamouspeople.com/profiles/jerome-seinfeld-1815.php

Last Updated

- August 17, 2018

---

---

---