Jeff Foxworthy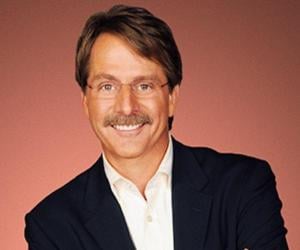 Continue Reading Below
Jeffrey Marshall "Jeff" Foxworthy is a stand-up comedian and actor who rose to fame with his 'You might be a redneck' one-liners. More than just a comic or a television personality, he is also a best selling author of more than 26 books. In a career spanning over a quarter of a century, Foxworthy has released six comedy albums, two of which were certified multi-platinum in the U.S. The son of an IBM executive, he decided to follow in his father's footsteps and aimed for a corporate career, but as luck would have it, he happened to participate in the 'Great Southeastern Laugh-off' held at Atlanta's 'Punchline' comedy club. This success convinced him to ditch his corporate job and try his hand at a comedic career. Today he is regarded as one of the largest selling comedy-recording artists and has been nominated for the Grammy Award. He has made several forays into television as well and launched his own sitcom, 'The Jeff Foxworthy Show.' He also hosted the 'Are You Smarter Than a 5th Grader?' and several other television shows that boosted his mass appeal tremendously. He is a member of one of the most successful comedy tours of all time, 'The Blue Collar Comedy Tour,' which also has Larry the Cable Guy and Ron White as its members.
Continue Reading Below
Childhood & Early Life
Jeff was born in Atlanta, Georgia, on September 6, 1958, as the first child of Jimmy Abstance Foxworthy and Carole Linda. His father held a high profile job at IBM and the family lived in an affluent neighborhood.

He attended Hapeville High School where he was the class clown, and loved making his classmates laugh with his funny antics. He listened to the recordings of the comedians Bob Newhart, Flip Wilson, and Bill Cosby during his leisure time.

He attended Georgia Tech in Atlanta to study computer technology.

Continue Reading Below

Recommended Lists:

Recommended Lists:

Career

He began his professional career at IBM where he worked in mainframe computer maintenance. Even though he held that job for five years, he derived more pleasure from making his co-workers laugh than by working with computers.

When Atlanta's 'Punchline' comedy club announced the 'Great Southeastern Laugh-off' in 1984, his co-workers urged him to participate. He did and won the competition. Inspired by this win he decided to quit his job and devote his life to comedy.

He developed a unique comedic style through which he made fun of rednecks—village people believed to be unsophisticated by the urban ones—through a series of hilarious one-liners. He released a comedy album 'You Might Be a Redneck If…' in 1993 which peaked at No.38 on the Billboard 200 chart.

In the 1990s, he released three more comedy albums: 'Games Rednecks Play' (1995), 'Crank It Up: The Music Album' (1996), and 'Totally Committed' (1998). All these albums were a commercial success.

In 1995, he appeared in 'The Jeff Foxworthy Show,' which was a sitcom based on his comedy routines. The show ran for just one season before being cancelled. The show was aired by NBC in the next season, but it was cancelled again.

He was invited to host the Country Weekly's 'TNN Music City News Country Awards' shows for three consecutive years from 1998 until 2000.

He hosted a weekly syndicated radio show, 'The Foxworthy Countdown' from April 1999 to December 2009. The show featured 'top 25 country hits' and interviews with stars. The highly successful show ran for ten years.

Continue Reading Below

He formed a comedy troupe called 'The Blue Collar Comedy Tour' consisting of himself, Bill Engvall, Ron White, and Larry the Cable Guy, which traveled and performed all over the U.S., starting from Nebraska in 2000 and finishing at Washington D.C in 2006. The group specialized in common-man humor and became hugely popular.

He released his comedy CD, 'Have Your Loved Ones Spayed or Neutered' in 2004. It debuted at No. 1 on the Billboard comedy charts and sold very well.

Leveraging on the success of their comedy tour, Foxworthy co-created the TV series, 'Blue Collar TV' for the WB network. He starred in the show along with Blue Collar members Bill Engvall and Larry the Cable Guy. The show ran for two seasons from 2004 to 2006.

The tremendous popularity of the comedy tour inspired the group to release three DVD movies : 'Blue Collar Comedy Tour: The Movie' (2003), 'Blue Collar Comedy Tour Rides Again' (2004), and 'Blue Collar Comedy Tour: One for the Road ' (2006).

He presented the syndicated version of the quiz game show, 'Are You Smarter Than a 5th Grader?' from September 2009 till March 2011.

Foxworthy has hosted and co-produced two seasons of a biblical-themed game show 'The American Bible Challenge.' Jeff also hosted the food reality show, 'The American Baking Competition,' in 2013.

Continue Reading Below

Recommended Lists:

Recommended Lists:

Major Works

He is best known as a member of the 'Blue Collar Comedy Tour,' which performed in front of sold-out audiences across the U.S., and its success also spawned a highly popular television series and three DVD movies.

Recommended Lists:

Recommended Lists:

Awards & Achievements

He won the American Comedy Award in 1990 for the 'Funniest Male Stand-Up Comic.'

He was presented the 'People's Choice Award' for 'Favorite Male Performer in a New TV Series' for 'The Jeff Foxworthy Show' in 1996.

Personal Life & Legacy

He married Pamela Gregg in 1985, and has two daughters with her.

He is closely involved with the Duke University Children's Hospital in Durham, which specializes in treating children with cancer. He helps the hospital in raising money for cancer treatment.