Jean-Luc Godard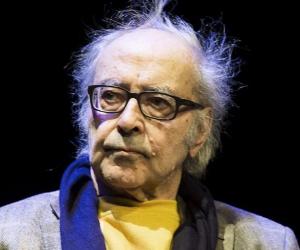 Quick Facts
Birthday: December 3, 1930
Age: 88 Years, 88 Year Old Males
Sun Sign: Sagittarius
Born Country: France
Born in: Paris
Famous as: Film Director
Family:
Spouse/Ex-: Anna Karina (m. 1961 – div. 1967), Anne Wiazemsky (m. 1967 – div. 1979)
father: Paul Godard
mother: Odile Godard
siblings: Claude, Rachel, Véronique
Partner: Anne-Marie Miéville
City: Paris
More Facts
education: University of Paris
Continue Reading Below
Jean-Luc Godard is a celebrated French-Swiss film director, screenwriter and critic. He spent his formative years in Switzerland where his family moved when he was four years old. At the age of 16, he returned to Paris to continue his education but became fascinated with cinema, as a result of which, he failed his baccalaureate examination. Although he later entered the University of Paris to study ethnology, his fascination with cinema made him quit his studies. Thereafter, he began to spend his time watching films in different cine clubs and hanging out with other films buffs, with whom he later started the French New Wave film movement. Starting his career at 19 as a film critic, he had to go through many ups and downs before he was able to make his first film, a documentary called, 'Opération béton'. At 30, he made his first feature film, 'À bout de souffle', which established him as a celebrated director. Thereafter, he continued to make both feature films and shorts, becoming a well-known name in the field of cinema. In spite of his advancing age, he remains as active as before, continuing to make movies till today.
Recommended Lists:
Recommended Lists:
Continue Reading Below
Childhood & Early years
Jean-Luc Godard was born on December 3, 1930, in the seventh arrondissement of Paris into an affluent family of Franco-Swiss descent. His father Paul Godard was a Swiss doctor while his mother Odile (née Monod) was the daughter of Julien Monod, a founder of the Banque Paribas.

Jean-Luc was born second of his parents' four children. He had an elder sister named Rachel, a younger brother named Claude and a younger sister named Véronique.

Possibly in early 1935, when Jean-Luc was four years old, the family moved to Switzerland where they settled in Nyon, located on the shores of Lake Geneva. There, his father began working in a nearby private medical clinic as its director.

Godard spent most of his formative years in Switzerland, attending a school in Nyon. But when the Second World War broke out in 1939, he was visiting France. Eventually, he returned to Switzerland with difficulty. In the following year, he became a naturalized citizen of Switzerland.

He remained in Switzerland throughout the Second World War, spending his time reading children's adventure stories. By the age of 14, he graduated to more serious literature, reading works by authors, such as André Gide and André Malraux. A keen sportsman, he also played tennis, football and skiing.

In 1946, Jean-Luc Godard was sent to Paris to study advanced mathematics at Lycée Buffon. But very soon, he became more interested in cinema and started reading magazines like 'La Revue du cinéma' and books like 'Outline of a Psychology of Cinema', neglecting his studies in the process.

In 1948, he failed his baccalaureate examination due to his interest in cinema and returned to Switzerland. His parents divorced in the same year and he moved with his mother to Lausanne, where he enrolled in high school.

In Switzerland, he remained equally enthusiastic about movies, spending his spare time with other cinema buffs like Roland Tolmatchoff and Jean Parvulesco. Encouraged by his elder sister, he also tried his hand at abstract painting.

In 1949, after passing his baccalaureate exam and spending some time at a preparatory school in Thonon-les-Bains in France, he returned to Paris. There he joined the University of Paris to study ethnology. But driven by the freewheeling intellectual spirit prevalent in Parisian Latin Quarter, he soon abandoned his studies.

After leaving Sorbonne, he applied for a seat at the city's best-known film institute, Institut des hautes études cinématographiques (IDHEC). Upon being rejected by the institute, he started watching movies at different ciné clubs, such as Cinématheque, Ciné-club Quarter Latin (CCQL), Work and Culture ciné Club, etc.

Very soon, he became associated with a young group of film critics, becoming friends with André Bazin, François Truffaut, Jacques Rivette and Eric Rohmer. Eventually, they started the French New Wave film movement.

Continue Reading Below

Recommended Lists:

Recommended Lists:

Early Career

In May 1950, Jean-Luc Godard began his career as a film critic, cofounding a short-lived monthly film magazine called 'La Gazette du Cinema' with Truffaut, Rivette, and Rohmer. They published five issues till November 1950, and he wrote a number of articles for them, often under the pseudonym of 'Hans Lucas'.

Although he was only 19 years old, the articles he wrote for the magazine were quite complex, revealing his strong grasp on the subject. In one such article, entitled 'Towards a Political Cinema', he argued that cinema did not represent reality; instead, it was a part of the reality.

In 1951, he starred as Walter in 'Présentation ou Charlotte et son steak', a short drama film written and directed by Éric Rohmer. He also partially financed the movie, a move that his family did not appreciate. Eventually, they cut off their financial assistance, throwing him into abject poverty.

To survive, Godard had to resort to a bohemian lifestyle, stealing food and money when the situation called for it. In January 1952, he began writing film criticism for 'Les cahiers du cinéma'. However, his financial condition did not improve very much.

Tired of paucity, he returned to Switzerland towards the end of 1952 and stayed with his mother in Lausanne. Here, he got a job with Swiss television in Zurich. But shortly after, he was sent to jail for stealing the company's money. Later, he was transferred to a psychiatric clinic.

He returned to Lausanne after his release and started working as a construction worker at the Plaz Fleuri work site of the Grande Dixence Dam. Later, he worked as a telephone switchboard operator at the same site.

In April 1954, while working as a telephone operator, he made his first film, 'Opération béton' (Operation Concrete), financing it with his wages. While he hired a cameraman, he himself did the voiceover and editing for the documentary. As expected, the company for which worked bought the film for their publicity.

Continue Reading Below

After selling his documentary, Godard moved to Geneva where he made his second film. The low budget short film titled, 'Une Femme coquette', released in 1955, and partially solved his financial problems. He returned to Paris in January 1956.

Return to Paris

In Paris, Jean-Luc Godard resumed writing for 'Les cahiers du cinéma'. Concurrently, he started working with his old friends and unsuccessfully tried to make a film. Finally, in 1957, he made a short film called, 'Charlotte et Veronique, Tous les garçons s'appellent Patrick' (All Boys Are Called Patrick).

In 1958, he wrote and directed another short film called, 'Charlotte et son Jules' (Charlotte and Her Boyfriend). In the same year, he made another short, ''Une histoire d'eau' (A Story of Water). Both films released in 1961.

In 1959, he started the initial work for 'À bout de souffle' (Breathless), his first feature film. Meanwhile, he continued writing for various magazines, including 'Temps de Paris'. Very soon, he was at the forefront of the nouvelle vague aesthetic, the precursor of the French New Wave.

New Wave Era

On 16 March, 1960, 'À bout de souffle' was released in Paris at a chain of four commercial theatres, selling 259,046 tickets in four weeks. The film eventually earned Jean-Luc Godard the Silver Bear Award for Best Director. According to film critic Richard Brody, the overall profit was 50 times its investment.

In 1960, he made 'Le Petit Soldat' (The Little Soldier). However, it was not released until 1963. Meanwhile, on 6 September 1961, he released another award-winning movie, 'Une femme est une femme' (A woman is a woman). It was followed by 'Vivre sa vie', released on 20 September 1962.

Continue Reading Below

In 1963, he released three films; 'Le Petit Soldat', 'Les Carabiniers' and 'Le Mépris' (Contempt). Among them, 'Le Mépris', which released on 20 December 1963, not only received universal critical acclaim, but was also his commercially most successful film.

Riding the wave of remarkable creativity, he continued to make a number of successful films, including 'Bande à part' and 'Une femme mariée' in 1964. Among them, 'Bande à part' is said to be one of his most "delicately charming" films.

In 1965, he released 'Alphaville: une étrange aventure de Lemmy Caution' and 'Pierrot le Fou'. They were followed by 'Masculin Féminin' and 'Made in USA', released in 1966; and 'Deux ou Trois choses que je sais d'elle', 'La Chinoise' and 'Week-end', released in 1967.

Political Cinemas

From 1961 to 1967, apart from making 15 feature films, Jean-Luc Godard wrote and directed eight short films. But in 1968, a political turbulence broke out in Paris, leading to civil unrest and strikes. His work also became more political, and his movies from that period portrayed his ideology, which was largely influenced by Maoism.

In 1968, commissioned by French television, he produced 'Le gai savoir'. However, the final product outraged the producers, and they refused to release the film. Later that year, he left French 'Cinémathèque' over the firing of Henri Langlois. In 1969, he co-founded a group called 'Dziga Vertov' with journalist Jean-Pierre Gorin.

He continued to make political films, nine among them were credited to Dziga Vertov. However, most of his work during this period was incomprehensibly ideological and so it never reached the popularity that his earlier films enjoyed.

Return to Mainstream Filmmaking

In 1980, Jean-Luc Godard returned to mainstream film-making with 'Sauve qui peut (la vie)', garnering considerable critical acclaim and an award nomination for it. It was followed by 'Passion' (1982) and 'Prénom Carmen' (First Name: Carmen, 1983), which won the Golden Lion at the 1983 Venice Film Festival.

In 1985, he had two films released, 'Je vous salue, Marie' (Hail Mary) and 'Détective'. Among them, 'Hail Mary', which retold the story of Jesus Christ's birth, offended many Christians as it contained full frontal nudity and was banned in Argentina and Brazil. The Pope also criticized it.

His 1987 film 'King Lear' also created controversy. Nonetheless, he continued making films, releasing 'Soigne ta droite / Une place sur la terr' (Keep Your Right Up) in the same year. During this time, he also made short films and documentaries.

In 1988, he started working on an important project, in which he combined the 20th century's history with the history of cinema, making an eight-part video on it. Entitled 'Histoire(s) du cinéma', the project was completed in 1998.

In the 1990s, he also produced 11 short and five feature length films. The feature films were: 'Nouvelle Vague' (1990), 'Allemagne année 90 neuf zero (1991), 'Hélas pour moi' (1993), 'JLG/JLG – Self-Portrait in December' (1994) and 'For Ever Mozart' (1996).

As the new millennium set in, he began to concentrate more and more on documentaries, short films and videos, producing 16 of them until 2018. He also made five feature films during this period, starting with 'Eloge de l'amour' (In Praise of Love), which released on 15 May 2001.

'Eloge de l'amour' was followed by 'Notre musique' in 2004, 'Film Socialisme' in 2010, and 'Adieu au Langage' (Goodbye to Language) in 2014. His last film 'Le Livre d'image' (The Image Book) was released on 11 May 2018.

Major Works

Jean-Luc Godard is best known for his first feature length film, 'Breathless'. Released on 16 March 1960, the film continues to rank high on British Film Institute's 'Sight and Sound Critics' poll. It ranked at number 22 among the best films of all time in 1992, at number 15 in 2002, and at number 13 in 2012.

Family & Personal Life

In 1961, Jean-Luc Godard married Anna Karina, the leading lady of his 1960 film, 'Le Petit Soldat'. Although initially their marriage was described as "one of the most celebrated pairings of the 1960s," it did not last long and they divorced in 1965.

In 1967, he married French actress Anne Wiazemsky, who like Anna Karina had acted in several of his films. This marriage was also very short-lived and they separated in 1970. The official divorced was granted in 1979.

In 1970, he met Anne-Marie Miéville, a photographer. Very soon, she began to collaborate with him not only as a photographer, but also as a scriptwriter, film editor, and co-director. Eventually, they developed a long-lasting personal relationship, which continues till date.

Translate Wiki

to Spanish, French, Hindi, Portuguese

Article Title

- Jean-Luc Godard Biography

Author

- Editors, TheFamousPeople.com

Website

- TheFamousPeople.com

URL

-

https://www.thefamouspeople.com/profiles/jean-luc-godard-4309.php

Last Updated

- February 15, 2019

---

---

---