James McBride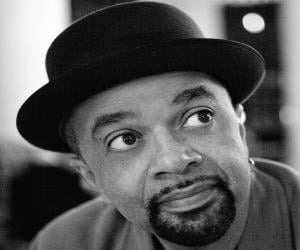 Quick Facts
Birthday: September 11, 1957
Nationality: American
Famous: Quotes By James McBride Writers
Age: 62 Years, 62 Year Old Males
Sun Sign: Virgo
Also Known As: James McBride
Born in: New York City, New York, US
Height: 6'4" (193 cm), 6'4" Males
Family:
father: Andrew D. McBride
mother: Ruth McBride Jordan
siblings: Billy McBride, Dennis McBride
children: Azure McBride, Jordan McBride, Nash McBride
City: New York City
U.S. State: New Yorkers
More Facts
education: Oberlin College, Oberlin Conservatory of Music, Columbia University
awards: 1997 - Stephen Sondheim Award
1996 - Richard Rodgers Award
1996 - ASCAP Richard Rodgers Horizons Award

Continue Reading Below
An American musician and writer, James McBride is synonymous to creativity and inventiveness. His ingenious pursuits and artistic endeavours have led him to become a renowned name in America and beyond. What distinguishes McBride is that his creative gifts are not limited to the field of literature and extends beyond the boundaries. McBride is equally famous for his literary output as he is for his musical accomplishments. He first attained fame for his debut literary issue, 'The Colors of Water: A Black Man's Tribute to his White Mother'. The title of the novel was self-explanatory as it gave a deep insight about the life of McBride, his White mother and the biracial identity that he grew up with. He has touched various genres of literature, be it fiction, non-fiction or comedy. Literary career apart, he is an accomplished musician, composer and jazz saxophonist who has toured with various established and well-reputed musicians and jazz artists. Read further to know more interesting and intriguing facts about James McBride.
Recommended Lists:
Recommended Lists:
Continue Reading Below
Childhood & Early Life
James McBride was born to Rev. Andrew D. McBride and Ruth McBride in New York City, New York. While his father was an African American, his mother was a Jewish immigrant from Poland.

Even before his birth, his father passed away due to cancer. Young James was the eight and the last child of the couple. His mother later remarried Hunter Jordan with whom she had four more children.

At the age of 14, his stepfather passed away. This caused a major emotional stress for both him and his mother. In th realm of his grief, he indulged in erroneous activities like shoplifting, using drugs, drinking alcohol and so on.

Unlike his brothers, Dennis and Billy who attained doctorate degree in medicine, he was not interested in the same and instead enrolled at the Oberlin College to receive an undergraduate degree in music composition in 1979. It was there that he eventually regained his original self.

Post completing his graduate studies, he studied at the Columbia School of Journalism to attain a master's degree in journalism.

Continue Reading Below

Recommended Lists:

Recommended Lists:

Career

Upon concluding his formal studies, he took up the position of a staff writer in well-known and established publication houses including, The Boston Globe, The Washington Post, the Wilmington News Journal and People Magazine.

Furthermore, he started writing pieces for Rolling Stone magazine, Essence and The New York Times. He also contributed writing materials to the Chicago Tribune, the Philadelphia Inquirer and US magazines.

It was while pursuing his journalist career that he came up with a memoir, 'The Color of Water: A Black Man's Tribute to his White Mother' which was published in 1996. The book provided detailed information about his life in an African-American household and his effort to come to terms with the biracial identity.

The memoir was widely accepted and became a bestseller. What's more, it remained on the New York Times Bestseller List for two years and has been translated in more than sixteen languages with record sales of 2.5 million copies. The book has become an American classic and is widely read in schools, colleges and universities.

Post the raving success of his debut venture, in 2002, he turned to fiction and came up with his first fictional novel, 'Miracle at St Anna'. With World War II as the backdrop, the novel provided a detailed account of the history of the African-American 92nd Infantry Division in the Italian campaign

The highlight of the book, 'Miracle at St Anna' was the relationship that a black American soldier shared with an Italian orphan child. Six years later, the book was adapted into a movie of the same name under Spike Lee direction.

While continuing his life as a writer, he did not let go off his musical aspirations completely. He instead served as an accomplished saxophonist and toured with renowned jazz singers and musicians such as Little Jimmy Scott.

Continue Reading Below

He wrote lyrics for established musicians like Anita baker, Grover Washington Jr., Pura Fe, and Gary Burton. He even owned his own band that played an eclectic blend of music.

He composed the theme music for the Clint Harding Network, Jonathan Demme's New Orlean's Documentary, Right to Return, and the Off-Broadway musical Bobos written by playwright Ed Shockley.

In 2005, he published and released the first volume of the documentary, 'The Process' which provided details about his life as a low-profile jazz musician.

Three years later, he came up with his second fictional novel, 'Song Yet Sung'. The novel was basically written with Harriet Tubman as its inspiration. It was based on real-life events that occurred on Maryland Eastern Shore with Patty Cannon as its villain.

The main plot of the novel, 'Songs Yet Sung' revolved around an enslaved woman and her dreams in which a fictional code of communication was used to free the enslaved blacks.

In 2012, he collaborated with director Spike Lee to come up with the film, 'Red Hook Summer'. He co-wrote the film and served as its co-producer.

Year 2013 witnessed the release of his latest novel, based on the genre of comedy, 'The Good Lord Bird'. The book, published under Riverhead Books, was about the life of notorious abolitionist John Brown. Same year, he co-authored the work, 'Hard Listening'.

Continue Reading Below

He is a charter member of the Clint Harding Network, a group of well-known journalists, writers and musicians who have periodically appeared live on a Missouri radio program for the last two decades.

Recommended Lists:

Recommended Lists:

Awards & Achievements

Over his lifetime, he has received numerous awards for both a career in writing and music. Some of them include the American Arts and Letters Richard Rogers Award, the ASCAP Richard Rodgers Horizons Award, and the American Music Festival's Stephen Sondheim Award. Other than these, he has several honorary doctorates.

In 2013, his comic literary venture, 'The Good Lord Bird' won him a National Book Award.

Recommended Lists:

Recommended Lists: