Henry V of England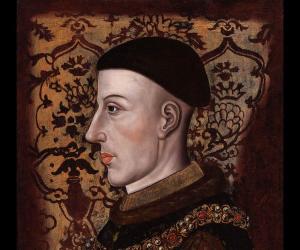 Quick Facts
Birthday: August 9, 1386
Nationality: British
Famous: Emperors & Kings British Men
Died At Age: 36
Sun Sign: Leo
Born in: Monmouth Castle, Monmouth, Principality of Wales
Famous as: King of England (1413-1422)
Family:
Spouse/Ex-: Catherine of Valois m. 1420; wid. 1422
father: Henry IV of England
mother: Mary de Bohun
children: Henry VI of England
Died on: August 31, 1422
place of death: Château de Vincennes, Vincennes, Kingdom of France
Continue Reading Below
Henry V was the king of England and ruled from 1413 till his demise in 1422. He was the second Lancastrian to become the King of England. Succeeding his father Henry IV to the throne, he emerged as an exuberant monarch making the country a powerful kingdom in Europe. He fought for Henry IV during uprising of Welsh ruler Owain Glyndŵr and also at the Battle of Shrewsbury combating the strong House of Percy. At a later stage, however, he got into political discord with his father. Following his father's death and his enthronement, he commenced war with France taking forward the continuing war between the two countries, famous as Hundred Years' War (1337–1453). His victory over numerically superior French army at the Battle of Agincourt in 1415 marking a major English victory in Hundred Years' War helped him almost conquer France. Negotiations with Charles VI of France followed leading to the Treaty of Troyes in 1420 according to which Henry V and his heirs would inherit the French throne after Charles VI's death. Catherine of Valois, daughter of Charles VI, was married to Henry V and after the latter's sudden death in 1422, the couple's only son, Henry VI, became the King of England and disputed King of France.
Recommended Lists:
Recommended Lists:
Continue Reading Below
Childhood & Early Life
Henry V was born on August 9, 1386 in Monmouth Castle, Monmouth, Principality of Wales to Henry of Bolingbroke, who later became King Henry IV of England, and Mary de Bohun. He was usually referred as Henry of Monmouth before becoming King Henry V. His great grandfather was famous King Edward III of England.

Richard II was monarch of England at the time of Henry's birth and the guardian of the king was John of Gaunt, Henry V's grandfather. After exile of his father in 1398, the young boy came under guidance of Richard II who handled him kindly.

Following the death of Henry's grandfather, Richard II disinherited his father who, on the other hand, invaded England in June 1399 and eventually succeeded in garnering support and overthrowing Richard II from the throne declaring himself as King Henry IV of England.

On October 13, 1399, Henry V was crowned the Prince of Wales during the coronation ceremony of his father. He was bestowed with the title of Duke of Lancaster on November 10, 1399. Thereafter, he was also made Duke of Aquitaine, Duke of Cornwall and Earl of Chester.

According to a contemporary record, he was at The Queen's College, Oxford in 1399 under the supervision of his uncle Henry Beaufort, the then Chancellor of the university.

Richard II was held in captivity and finally died presumably of starvation on February 14, 1400. Starting that year, Henry V served as High Sheriff of Cornwall till 1404.

Recommended Lists:

Recommended Lists:

Early Experiences, Role in Government & Discord with Henry IV

Almost three years hence a part of English forces came under the command of Henry V who led them against the Welsh ruler Owain Glyndŵr. Until 1408, he was engaged in combating the uprising.

Meanwhile, the Battle of Shrewsbury took place between the forces of Henry IV and that of English nobleman, Sir Harry Hotspur, on July 21, 1403. The battle concluded with a decisive royalist victory, and saw the 16-year old Henry V fighting fiercely for his father.

During the Battle of Shrewsbury Henry V getting severely injured when an arrow stuck his face. Although extracted with utter precision amidst best possible treatment by royal physician, it left permanent scars on his face speaking volumes of gallantry of the young prince.

Starting from January 1410 for the next eighteen months when Henry IV was ill, Henry V helped by his uncles, Henry Beaufort, and Thomas Beaufort, ran the government.

He implemented several policies most of which were, however, dismissed by Henry IV after his recovery. Father and son differed in their viewpoint on domestic and foreign policies which gradually led to a severe political discord between the two. Henry IV also dismissed his son from his council in November 1411.

Accession & Reign as King Henry V

Following the death of his father on March 20, 1413, Henry V ascended the throne. His coronation ceremony was held at Westminster Abbey, London, on April 9, 1413.

All domestic policies were handled by him and with time, he created a more expansionist policy out of them.

Continue Reading Below

He moved ahead with a 'let past offences or causes of conflict be forgotten and reconciled' attitude. Such attitude saw him re-interring Richard II with honour, setting Edmund Mortimer, son of Richard II, free and making Mortimer and his brother Roger Knights of the Bath on April 8, 1413.

Although the cause of Mortimer's claim to throne became basis of uprisings against Henry IV and Henry V, and later taken up by Yorkists in the Wars of the Roses, Mortimer remained a significant and ardent vassal of Henry V and Henry VI.

Henry V's generosity also saw him restoring titles and estates of the heirs whose predecessors suffered during his father's rule.

The monarch however never shied away to show his ruthless side to "nip the movement in bud" to secure his own rule. This was evident from the case of his close friend, Sir John Oldcastle.

When Oldcastle was uncovered as a Lollard leader he was brought to trial in 1413. He, however, fled from the Tower of London and organized a rebellion against Henry V that included an endeavor to abduct the monarch. As the insurrection failed, Oldcastle was captured and executed in London on December 14, 1417.

Henry V promoted application of English language in government and became the first monarch after Norman Conquest to use the language in his personal correspondence.

Role in Hundred Years' War

Henry V then turned his attention to foreign affairs, particularly on the ongoing Hundred Years' War (1337-1453), the most significant middle age conflict that witnessed generations of rulers of England fighting over succession to the French throne against French rulers.

Continue Reading Below

According to historians, Hundred Years' War is divided into three phases - the Edwardian Era War (1337–1360); the Caroline War (1369–1389); and the Lancastrian War (1415–1453) with the latter initiated by Henry V when he invaded Normandy in 1415.

Henry V set sail for France on August 12, 1415 and there his forces besieged the Harfleur fortress thriving to capture it on September 22 that year.

Thereafter, he achieved a major victory in what became famous as the Battle of Agincourt. The battle took place on Saint Crispin's Day on October 25, 1415 in the County of Saint-Pol, Artois. He literally led his smaller, exhausted and malnourished men-at-arms to a decisive victory over the French forces co-commanded by Constable Charles d'Albret and other important Armagnac party French noblemen.

The French King Charles VI was already prone to mental illness and suffered from moderate mental incapacitation, Henry V's victory at Agincourt further crippled France.

King of Hungary and later the Holy Roman Emperor Sigismund paid visit to Henry V in pursuit of brokering peace between England and France. While Henry V treated Sigismund lavishly including enrolling him in the Order of the Garter, the latter inducted Henry V into the Order of the Dragon.

Later, the Treaty of Canterbury was signed by Henry V and Sigismund on August 15, 1416, that acknowledged English claims to France thus ending friendship between France and the House of Luxembourg established by Sigismund's grandfather, John of Bohemia.

Henry V started afresh with the Hundred Year's War again in 1417 conquering lower Normandy and then succeeding in the Siege of Rouen (July 29, 1418 - January 19, 1419), marking another significant event in the war thus capturing Normandy's capital Rouen.

As the mighty English forces reached outside the walls of Paris by August 1419, the French court submitted themselves to Henry V. Negotiations followed that led to the Treaty of Troyes signed on May 21, 1420, which acknowledged that Henry V and his heirs would inherit the French throne after Charles VI's death.

According to the Treaty of of Troyes, he married Charles VI's daughter Catherine of Valois on June 2, 1420, at the Troyes Cathedral.

His last military campaign saw him besieging and capturing Dreux in 1421 and then laying siege to Meaux and finally capturing it on May 2, 1422.

Personal Life & Legacy

His only son Henry was born through Catherine of Valois on December 6, 1421 at Windsor Castle.

His sudden death on August 31, 1422, at the Château de Vincennes, seemingly from dysentery that he contacted during the siege of Meaux, resulted into crowning of his infant son as King Henry VI of England and also the disputed King of France.

Henry V was interred on November 7, 1422 in Westminster Abbey.

Translate Wiki

to Spanish, French, Hindi, Portuguese

Article Title

- Henry V of England Biography

Author

- Editors, TheFamousPeople.com

Website

- TheFamousPeople.com

URL

-

https://www.thefamouspeople.com/profiles/henry-v-of-england-33642.php

Last Updated

- August 27, 2017

---

---

---