Henry Rollins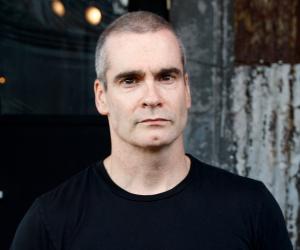 Quick Facts
Birthday: February 13, 1961
Nationality: American
Age: 58 Years, 58 Year Old Males
Sun Sign: Aquarius
Also Known As: Henry Lawrence Garfield
Born in: Washington, D.C., U.S
Famous as: Musician, Actor, Writer, Radio Host
Height: 5'9" (175 cm), 5'9" Males
Family:
father: Iris H. Garfield
mother: Paul Jerome Garfield
More Facts
education: The Bullis School
awards: 1995 - Grammy Award for Best Spoken Word Album
Continue Reading Below
Henry Rollins is best known as a musician and the founder of the rock group, Rollins Band, which is included among the VH1's 100 Greatest Artists of Hard Rock. But that's not all about him! Rollins is such a talented and multi-faceted personality that it is very difficult to categorize him! For along with being a singer cum songwriter he is also a journalist and an actor who is now hosting radio shows. His vast interests also include campaigning for social and political causes such as LGBT Rights and World Hunger Relief. Looking at the confident and super successful Henry Rollins today makes it difficult to believe that he was once a shy and insecure teenager who suffered bouts of depression. His parents separated when he was quite young and he was abused by his mother's boyfriend which made his childhood very unhappy. But he developed a love for music and literature which would pave the way for his future career. He started off as a member of a band called State of Alert. His fortunes took a turn for the better when he was offered a chance to join the band Black Flag which established the charismatic youngster as a rock star.
Recommended Lists:
Recommended Lists:
Continue Reading Below
Childhood & Early Life
He was born as Henry Lawrence Garfield to Iris and Paul Garfield. His parents divorced when he was three and he was raised by his mother. He had a very unhappy childhood as he was beaten up by his mother's boyfriend.

Growing up he was very insecure and developed depression. However, help came in the form of a teacher who encouraged the scrawny boy to lift weights which helped to boost his confidence.

He attended a strict, all-boys school called the Bullis School. It was here that he realized his interest in writing. He enrolled at the American University in Washington D.C., but dropped out after a single semester in 1979.

Continue Reading Below

Recommended Lists:

Recommended Lists:

Career

He struggled to make a living after dropping out of college and worked at several minimum-wage jobs to make ends meet. During this time he also started getting active on the local music scenario and was gaining in popularity working as a roadie for some bands. He adopted the name Henry Rollins when he started performing.

In 1980, he joined a punk band formerly called The Extorts which was renamed as State of Alert. He served as the band's leading singer and also wrote the lyrics. Henry was just 19 at that time and was beginning to enjoy the attention he was getting.

He was a big fan of the band Black Flag and attended many of their concerts. The band's vocalist Dez Cadena wanted to switch to guitar and asked Henry to replace him as the vocalist, an offer he was delighted to accept. He joined them in 1981.

He played several concerts with the band and built up his own fan base too along the way. The Black Flag disbanded in 1986 and Rollins went on to pursue career as an independent artist.

He collaborated with guitarist Chris Haskett and released a hardcore punk record, 'Hot Animal Machine' in 1987. It was followed by the release of the album 'Big Ugly Mouth' in the same year.

In 1987, he formed the Rollins Band with Haskett, Andrew Weiss, and Sim Cain. Andrew was a bassist while Sim played the drums. Their live sound engineer was Theo Van Rock who was also credited as a band member. Their debut album, 'Life Time' was released in 1987, followed by the release of 'Do It', their first EP.

Rollins began to appear in films during the 1980s though his film career progressed only during the 1990s when he got the chance to appear in movies like 'The Chase' (1994), 'Heat' (1995), and 'Lost Highway' (1997).

Continue Reading Below

He started hosting a weekly radio show, 'Harmony in My Head' in May 2004. He played different genres of music on the show including hard rock, blues rock, punk, heavy metal, jazz and classical music.

In April 2006, he stared hosting a weekly television talk show, 'The Henry Rollins Show' which features interviews with celebrities and musical performances. The show ran for two seasons and ended in September 2007.

In addition to being a singer and actor, Rollins is also the author of several books including 'Black Coffee Blues', 'Do I Come Here Often?', 'See a Grown Man Cry', and 'Now Watch Him Die'.

Recommended Lists:

Recommended Lists:

Major Works

He is best known as the founder of the rock group, Rollins Band, which also featured his friend Chris Haskett. The band was very popular during the 1990s and produced hits like 'Low Self Opinion' and 'Liar'. Their music was uncompromising and intense.

Recommended Lists:

Recommended Lists:

Awards & Achievements

He won a Grammy Award for Best Spoken Word Album in 1994 for the audiobook version of his memoir, 'Get in the Van'.

Personal Life & Legacy

Rollins is a very solitary person and enjoys being alone. He is not married and does not have any girlfriend. He is totally committed to his work and finds utmost satisfaction in it.

He is a human rights activist who supports gay marriages and is very vocal about his stance on LGBT Rights. As a musician he tours with the United Service Organizations to perform for troops stationed overseas.

1. Heat (1995)

(Drama, Crime, Thriller, Action)

2. Lost Highway (1997)

(Mystery, Thriller)

---

3. Bad Boys II (2003)

(Comedy, Action, Thriller, Crime)

4. He Never Died (2015)

(Thriller, Comedy, Fantasy, Drama)

---

---

5. Feast (2005)

(Action, Horror, Comedy, Thriller)

6. The Alibi (2006)

(Comedy, Drama, Romance)

---

---

---

7. Suck (2009)

(Music, Comedy, Horror)

8. The New Guy (2002)

(Comedy)

---

---

---

---

Translate Wiki

to Spanish, French, Hindi, Portuguese

Article Title

- Henry Rollins Biography

Author

- Editors, TheFamousPeople.com

Website

- TheFamousPeople.com

URL

-

https://www.thefamouspeople.com/profiles/henry-lawrence-garfiel-1614.php

Last Updated

- September 25, 2017

---

---

---