Harry Anderson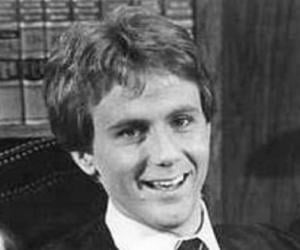 Quick Facts
Birthday: October 14, 1952
Nationality: American
Age: 67 Years, 67 Year Old Males
Sun Sign: Libra
Also Known As: Harry Laverne Anderso
Born in: Newport
Famous as: Actor
Height: 1.93 m
Family:
Spouse/Ex-: Elizabeth Morgan (m. 2000–2018), Leslie Pollack (m. 1977–1999)
children: Dashiell Anderson, Eva Fay Anderson
U.S. State: Rhode Island
More Facts
education: North Hollywood High School
Continue Reading Below
Harry Anderson was an American actor and magician best known for playing Judge Harry Stone in the famous TV series, 'Night Court.' He became extremely popular after appearing in the famous late-night variety show 'Saturday Night Live' on eight occasions from 1981 to 1985. He hosted several comedy shows including 'Harry Anderson's Sideshow,' which had elements of magic. He also appeared in a couple of films, such as 'The Escape Artist' and 'A Matter of Faith.' Anderson was nominated at the prestigious 'Primetime Emmy Awards' for three consecutive years, thanks to his outstanding performance in 'Night Court.' Apart from enjoying a successful career as an actor and magician, Anderson was also keen on opening a nightclub, which he did in 2005. On April 16, 2018, at the age of 65, Harry Anderson breathed his last at his residence in Asheville, North Carolina.
Recommended Lists:
Recommended Lists:
Childhood & Early Life
Harry Laverne Anderson was born on October 14, 1952 in Newport, Rhode Island, United States of America. He had a difficult childhood as his father, who was working as a traveling salesman, would often stay away from the family. In the mid-1950s, Anderson's parents got separated and he moved to Chicago along with his mother and his siblings.

His childhood was predominantly spent in Chicago. In order to make both ends meet, his mother reportedly worked as a hooker, which was vaguely confirmed by Anderson later in his life. 'My mom was a hustler, she did a lot of things and had many men friends,' he had said in one of his interviews.

In the late 1950s, Anderson's mother moved to Las Vegas, Nevada, along with her children. She started working in Las Vegas, where she became one of the earliest female blackjack dealers of the town. Anderson's mother was good at handling cards, so much so that he developed an interest and fascination towards cards after getting inspired by his mother's work as a blackjack dealer.

In 1962, Anderson moved to California in order to live with his father. He was subsequently enrolled at 'North Hollywood High School' in Los Angeles. He then became one of the members of the popular 'Dante Magic Club' during his teenage years. He graduated high school in 1970 and was the valedictorian of his class.

During his late teens, Anderson had developed a penchant for performing simple tricks. In fact, he started making money by displaying his tricks on the streets. He ran a lucrative shell game business in San Francisco when he was still fairly young. He also started hanging around with con-men, who were responsible in teaching him various tricks.

By 1973, he was performing street magic on a regular basis. He would perform at least a couple of shows daily, exhibiting his skills at streets, fairs, and college campuses. Street magic had become his livelihood as he would literally pass his hat among his audience in order to collect money in the form of donation at the end of his performance.

Anderson gradually became a prominent street performer and many started spreading the word about his skills. He soon gained prominence as a magician, which led to him performing at various stage shows. While performing at the famous 'Magic Castle Hotel' in Los Angeles, he was spotted by a talent agent, who introduced him to stage show organizers in Las Vegas.

Recommended Lists:

Recommended Lists:

Career

Anderson did not take long to catch the attention of many with his amazing yet simple magical tricks. He became extremely popular as he often combined elements of comedy in his tricks. His popularity soon took him to places, including the television set of one of the most famous American variety shows, 'Saturday Night Live.'

Anderson's brand of magic and comedy became a hit among the viewers of 'Saturday Night Live,' which prompted the show's producer Lorne Michaels to make more number of episodes featuring the young magician.

Anderson went on to appear in the show on eight occasions from 1981 to 1985. While performing the dangerous needle-through-the-arm trick in one of the episodes, Anderson accidentally pierced his arm when he was trying to explain about the trick to a viewer, who was worried about him performing the trick.

Anderson's popularity grew through 'Saturday Night Live,' which earned him an opportunity to star as Harry Gittes in the popular sitcom, 'Cheers.' He then made his film debut in 1982, when he played Harry Masters in 'The Escape Artist.' However, his biggest breakthrough as an actor came in the year 1984, when he played Judge Harold Stone in NBC's popular sitcom, 'Night Court.'

He was seen in 193 episodes of 'Night Court' from 1984 to 1992, during which he was nominated at the prestigious 'Primetime Emmy Awards' for three consecutive years. Meanwhile, he went on to appear in several series, miniseries, mockumentaries, and television films.

In 1988, he appeared in a couple of movies. While he played Freddie in 'Spies, Lies & Naked Thighs,' he portrayed Professor Henry Crawford in the remake of 'The Absent-Minded Professor.' In 1990, he lent his voice to Disney's television film 'Mother Goose Rock 'n' Rhyme' and then went on to play Richie Tozier in the supernatural horror drama miniseries 'It,' which was based on Stephen King's novel of the same name.

From 1993 to 1997, he was seen as Dave Barry in 98 episodes of the popular American sitcom, 'Dave's World.' He continued to appear in various other television series throughout the 90s. He then took up the role of Elwood P. Dowd in the 1996 remake of the 1950 classic film, 'Harvey.'

Continue Reading Below

From 1997 to 2014, Anderson appeared in various television shows, including 'Lois & Clark: The New Adventures of Superman,' 'Noddy,' 'Son of the Beach,' '30 Rock,' and 'Gotham Comedy Live.' He was also seen in a couple of films like 'Hexing a Hurricane' and 'A Matter of Faith,' which turned out to be his final film.

As a magician, Anderson travelled extensively and was part of many famous stage shows. He even collaborated with other popular magicians like Criss Angel with whom he appeared in a TV show titled 'The Science of Magic,' which was later released in DVD format.

Anderson had also tried his hand at writing, as he came up with a book titled 'Games You Can't Lose: A Guide for Suckers,' which he co-authored along with his longtime friend Turk Pipkin.

Recommended Lists:

Recommended Lists:

Personal Life

Harry Anderson met Leslie Pollock early in his career, when he was still performing on the streets. Leslie too, was a performer and was an expert in mentalism acts. Since they had similar interests, they started dating and eventually joined hands to come up with acts of their own.

He married Leslie in 1977 and had two children with her. Leslie would often appear along with Anderson in important events and award shows. She was also spotted at the 39th 'Primetime Emmy Awards,' which was held in September 1987.

Though Anderson and Leslie were happy together initially, their marriage began to deteriorate in the early 1990s. It led to their separation and eventually the couple decided to make their separation legal by opting for a divorce in the year 1999.

The following year, Anderson entered the institution of marriage once again with a woman named Elizabeth Morgan. In the early 2000s, he bought an apartment in New Orleans and started living there along with his wife Elizabeth. He then opened a shop named 'Sideshow,' which sold things related to magic tricks.

In 2005, he opened a nightclub named 'Oswald's Speakeasy,' where he started performing a one-man show called 'Wise Guy.' In the wake of 'Hurricane Katrina' that caused catastrophic damage, he openly criticized the federal government and the then Mayor of New Orleans, Ray Nagin.

In 2006, Anderson sold his nightclub and moved to Asheville, North Carolina, where he settled down along with his wife. Just like his character in 'Night Court,' Anderson was a huge fan of singer Mel Tormé. In fact, the singer had made several guest appearances on 'Night Court.'

The sitcom's creator Reinhold Weege later said that he had no idea that Anderson was a fan of Mel Tormé while casting him to play Judge Harold 'Harry' Stone. When Mel Tormé passed away in 1999, Anderson delivered a moving eulogy at the singer's funeral.

Interestingly, many reports suggest that Anderson was married thrice and that Leslie Pollock was not his first but second wife. However, there are no records that support the claim. In fact, according to a few reports, his first marriage disappeared from history, just like one of his magic tricks!

Death

In January 2018, Harry Anderson suffered several strokes after being affected by influenza. He never recovered from the disease and on April 16, 2018, Anderson breathed his last while sleeping at his Asheville residence in North Carolina. He was 65 years old at the time of his death. The news was confirmed by his friend Turk Pipkin, who said Anderson was hospitalized a few months back and that he remained sick as a result of the flu.

1. The Escape Artist (1982)

(Drama, Crime)

2. She's Having a Baby (1988)

(Drama, Comedy, Romance)

---

3. A Matter of Faith (2014)

(Drama)

Translate Wiki

to Spanish, French, Hindi, Portuguese

Article Title

- Harry Anderson Biography

Author

- Editors, TheFamousPeople.com

Website

- TheFamousPeople.com

URL

-

https://www.thefamouspeople.com/profiles/harry-anderson-12025.php

Last Updated

- June 19, 2018

---

---

---