Gregory La Cava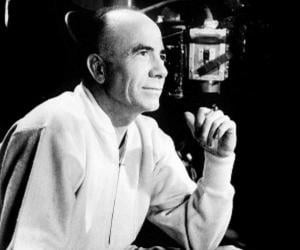 Quick Facts
Nationality: American
Famous: Directors American Men
Died At Age: 59
Sun Sign: Pisces
Born in: Towanda, Pennsylvania
Famous as: Film Director
Family:
Spouse/Ex-: Beryl Morse (1924—1930), Grace Olive Nicholls Hoyt Garland (1940—1945)
place of death: Malibu, California
U.S. State: Pennsylvania
Continue Reading Below
Gregory La Cava was an American film director best known for his comedies 'My Man Godfrey' and 'Stage Door.' One of the most prominent directors in Hollywood during the 1930s, he was known for his unconventional direction style and creative treatment of comedic themes. He was especially reputed for drawing the best performances from the actresses which led him to be referred to as a woman's director. But it was not only women he directed to perfection; he also directed many top actors of his era to Academy Award nominations. A highly creative and innovative individual, he became interested in the visual arts as a young boy and studied at the Art Institute of Chicago and the Art Students' League. He began his career as a newspaper reporter and cartoonist and soon moved to animated movie work at the studio of the silent era animator, Raoul Barré. A highly skilled young man, he was eventually hired by the newspaper magnate, William Randolph Hearst, to work for his International Film Service. With time La Cava grew more ambitious and forayed into Hollywood where he found considerable success as a film director. However, despite all his greatness behind the camera, he fell victim to the vice of alcoholism which eventually led to his downfall.
Recommended Lists:
Recommended Lists:
Childhood & Early Life
Gregory La Cava was born on March 10, 1892, in Towanda, Pennsylvania, U.S. into a family of modest means. Artistic from a young age, he started displaying his creativity early on in life.

After leaving school he began to study painting at the Art Institute of Chicago and the Art Students' League of New York. However, he had to drop out due to his family's dire financial situation and take up a job.

Recommended Lists:

Recommended Lists:

Career

He started working as a newspaper reporter in Rochester, New York, and also took up assignments as a cartoonist with two papers, 'The New York Globe' and the 'Evening World.'

In 1913, his success as a cartoonist led him to a job in animated movie work at the studio of the silent era animator, Raoul Barre. The young man impressed Barre with his skills and determination and was soon made one of the principal animators on the popular 'Animated Grouch Chaser' series.

In 1915, the multi-millionaire and newspaper magnate, William Randolph Hearst, started a rival animation studio, called International Film Service (IFS), and hired La Cava from his competitor. La Cava, who was made editor-in-chief of the new organization, held this position until the company closed in 1918.

Even after IFS closed, La Cava continued to make animated shorts. During the early 1920s he set his eyes on films and transitioned to live-action productions, writing and directing two-reel comedy shorts and features.

He made his Hollywood directorial debut with 'His Nibs' in 1921, starring Colleen Moore. A series of short comedies followed which included 'A Social Error' in 1922, 'Helpful Hogan' and 'The Fiddling Fool' in 1923, and 'Restless Wives' and 'The New Professor' in 1924.

He enjoyed moderate success during the silent era and ventured into talkies in the late 1920s with 'Saturday's Children' in 1929.

His career flourished during the 1930s as his films began enjoying mainstream success. He also got the opportunity to work with some of the top most actors and actresses in Hollywood during this time. In 1934, he directed 'The Affairs of Cellini', which earned four Academy Award nominations, including Best Actor for Frank Morgan.

Continue Reading Below

La Cava reached the pinnacle of his career in 1936 when he directed the William Powell and Carole Lombard starrer 'My Man Godfrey,' a comedy about a snobbish socialite who falls in love with the butler, much to the man's dismay. The film was a success, both critical and commercial.

In 1937, he directed the star-studded 'Stage Door,' a story of aspiring young actresses who share an apartment. The film was a hit which helped to revive the failing career of Katharine Hepburn and earned several Academy Award nominations.

Gregory La Cava was undoubtedly a highly creative individual and talented director, but he was also a notorious alcoholic who would often arrive for shooting in a drunken state. His alcoholism wrecked havoc with his professional life and his career declined during the 1940s. He directed sporadically during the decade but his career was all but over.

Major Works

The screwball comedy film 'My Man Godfrey' is probably one of the director's best known films. The story of a socialite who falls in love with a butler was a runaway hit and earned huge profits. In 1999, the film was deemed "culturally significant" by the United States Library of Congress and was selected for preservation in the National Film Registry.

La Cava directed the film 'Stage Door,' adapted from the play by the same name, which is counted among his greatest films. The story of several aspiring actresses portrayed by Katharine Hepburn, Ginger Rogers, Gail Patrick, Constance Collier, and Andrea Leeds, received very good reviews and was nominated for four Academy Awards.

Awards & Achievements

He was twice nominated for the Academy Award for Best Director: 'My Man Godfrey' (1936) and 'Stage Door' (1937).

In 1937, he won the New York Film Critics Circle Award for Best Director for the film 'Stage Door.'

He has a star on the Walk of Fame at 6906 Hollywood Blvd.

Personal Life & Legacy

Gregory La Cava was twice married and twice divorced. He married Beryl Morse Greene in 1924. The couple had one child in their six years of marriage and divorced in 1930.

His second marriage was to Grace Olive Nicholls Hoyt Garland in 1940. This marriage ended within five years in 1945.

He was an alcoholic and died of a heart attack nine days before his 60th birthday on March 1, 1952.

Translate Wiki

to Spanish, French, Hindi, Portuguese

Article Title

- Gregory La Cava Biography

Author

- Editors, TheFamousPeople.com

Website

- TheFamousPeople.com

URL

-

https://www.thefamouspeople.com/profiles/gregory-la-cava-7675.php

Last Updated

- October 12, 2017

---

---

---