Quentin Tarantino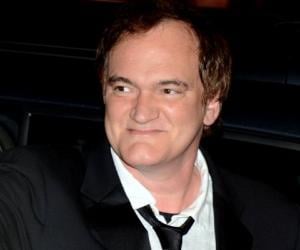 Quick Facts
Nationality: American
Famous: School Dropouts Native Americans
Age: 55 Years, 55 Year Old Males
Sun Sign: Aries
Also Known As: Quentin Jerome Tarantino
Born in: Knoxville
Famous as: Fimmaker
Height: 1.85 m
Family:
father: Tony Tarantino
mother: Connie Zastoupil
siblings: Tanya Marie - Ronnajean Tarantino Murphy - Edward Tarantino
Personality: ESFP
U.S. State: Tennessee
More Facts
education: Narbonne High School
Continue Reading Below
Either an individual grasps Quentin Tarantino's films, or doesn't. Those who do understand his movies, relate to his craft of making a daring fusion of thrillers, neo-noir, and non-linear films. Those who do not apprehend his films, pass them off as mere art-house cinema material. Nonetheless, Quentin Tarantino has grown to become one of the biggest names in Hollywood. Not only has he managed to gather a cult following for his films, he, unlike his previous generation of filmmakers, has understood in entirety, what 'kind' of films get the audiences flocking to cinema halls. From the famous 'Pulp Fiction' to 'Inglorious Basterds' and 'Reservoir Dogs' to 'Natural Born Killers', he has come a long way from working in a video rental store to one of the most legendary director-screenwriters of all time. Through most part of his life, he juggled as the multifaceted actor, director, screenwriter and producer and in the latter part of his life, decided to stick to doing what he knew best - direction and production. One would be able to spot a Quentin Tarantino classic from a mile away. His films are pregnant with dissimilar traditions, gangster violence, Blaxploitation themes and accented language.
Recommended Lists:
Recommended Lists:
Continue Reading Below
Childhood & Early Life
Quentin Jerome Tarantino was born on March 27, 1963 in Knoxville, Tennessee, United States, to Tony Tarantino, an actor and Connie McHugh, a nurse. He is of Italian-Irish-Cherokee ancestry. He was raised by his mother and stepfather, Curt Zastoupil.

He studied at Fleming Junior High School, where he took up drama classes and also studied at Narbonne High School, before he dropped out at the age of 15.

After he quit school, he attended James Best Theater Company but left it after two years.

He began working as an employee in the video rental store, 'Video Archives'. He began to discuss movies at length with his colleagues and other customers who would come to rent films. It is believed that during this time, he was exposed to Blaxploitation films and also paid close attention to the type of movies that customers preferred to rent/purchase.

Continue Reading Below

Recommended Lists:

Recommended Lists:

Career

Quentin Tarantino met Lawrence Bender at a party. The latter encouraged him to write his first screenplay, which he did and called it 'My Best Friend's Birthday'. However, the reel of the film was destroyed in a fire and the screenplay would go on to form the basis for 'True Romance'.

He debuted as a director with the film, 'Reservoir Dogs', which released in 1992. The film became an instant hit and was screened at the Sundance Film Festival the same year.

In 1993, he write the screenplay for the American romantic-crime movie, 'True Romance' starring Van Kilmer, Christian Slater and Gary Oldman. The following year, he wrote the screenplay for 'Natural Born Killers'.

He had become so popular in Hollywood by now that many scriptwriters approached him for films like 'Speed' and 'Men in Black'. But he refused the scripts, withdrew to Amsterdam and began working on his next big project, 'Pulp Fiction'.

In 1994, 'Pulp Fiction' was released and received numerous awards for its ingenious direction and non-linear story line. It became so popular that he was nominated for the category of 'Best Director' for the Academy Awards.

In 1996, he starred in and wrote the script for the Robert Rodriguez film, 'From Dusk till Dawn'. He then directed a Blaxploitation film, 'Jackie Brown', which was an adaptation of the novel, 'Rum Punch'.

In the new millennium, he directed the hit feature, 'Kill Bill: Vol.1' starring Uma Thurman, in 2003. The movie was so successful that it spawned a hit sequel, 'Kill Bill: Vol.2', the next year.

Continue Reading Below

In 2004, he was made the President of the Jury at the Cannes Film Festival. The next year, he collaborated with Robert Rodriguez once again for the neo-noir film, 'Sin City'. He also co-produced the slasher film, 'Hostel'.

He once again collaborated with Robert Rodriguez for the 2007 flick, 'Grindhouse', which was not very successful with the audiences. The same year, he produced the second installment of the 'Hostel' series, 'Hostel: Part II'.

In 2009, he directed and wrote the blockbuster war film, 'Inglourious Basterds', which is considered one of his highest-grossing films. Two years later, the production for 'Django Unchained', a spaghetti western, began.

In 2012, his highest-grosser film till date, 'Django Unchained' was released.

Recommended Lists:

Recommended Lists:

Major Works

'Inglourious Basterds', the war film directed by Quentin Tarantino in 2009, is one of the biggest American blockbusters till date and earned a whopping $321 million in theaters worldwide. The movie went on to receive a number of important awards including eight Academy Award nominations. The film is till date, the second highest commercially successful film in the United States and was showcased at the 62nd Cannes Film Festival.

'Django Unchained', released in 2012 is a spaghetti western film directed by Tarantino and earned over $424 million worldwide, which is Tarantino's highest grossing film till date. The movie earned a number of awards and accolades including the Academy Awards and the BAFTA have and made history by becoming the only Tarantino film to be approved for official distribution in China, owing to their strict policies regarding film distribution.

Recommended Lists:

Recommended Lists:

Awards & Achievements

He won the Independent Spirit Award for the category of 'Best Director' for 'Pulp Fiction', in 1994.

He won an Academy Award for 'Best Writing (Original Screenplay' for 'Pulp Fiction', in 1995.

He won the Broadcast Film Critics Association Awards for 'Critics Choice for Best Original Screenplay' for 'Inglourious Basterds', in 2010.

He won an Academy Award for 'Best Original Screenplay' for 'Django Unchained', in 2013.

He won a BAFTA Award for 'Best Original Screenplay' for 'Django Unchained', in 2013.

In 2013, he also won the Golden Globe Award for 'Best Screenplay' for 'Django Unchained'.

Personal Life & Legacy

He has been romantically linked with a number of women including Mira Sorvino, Sofia Coppola, Allison Anders, Kathy Griffin, Uma Thurman and Didem Erol. He does not plan to marry anytime soon because he believes that this is the 'time to make movies'.

He is best-friends with collaborator, Robert Rodriguez. He is also close to Paul Thomas Anderson, Kevin Smith and Harvey Keitel.

Trivia

This famous American director and screenwriter considers Uma Thurman from the 'Kill Bill' fame as his 'muse'.

This famous American director of the 'Django Unchained' fame displays 'Rio Bravo' for prospective girlfriends as a test for their compatibility.

1. Pulp Fiction (1994)

(Crime, Drama)

2. Kill Bill: The Whole Bloody Affair (2011)

(Crime, Action)

---

3. Django Unchained (2012)

(Western, Drama)

4. Inglourious Basterds (2009)

(Adventure, War, Drama)

---

---

5. Reservoir Dogs (1992)

(Crime, Drama, Thriller)

6. Kill Bill: Vol. 1 (2003)

(Action, Crime, Thriller)

---

---

---

7. Kill Bill: Vol. 2 (2004)

(Crime, Thriller, Action)

8. Sin City (2005)

(Crime, Thriller)

---

---

---

---

| | | |
| --- | --- | --- |
| 2013 | Best Writing, Original Screenplay | Django Unchained (2012) |
| 1995 | Best Writing, Screenplay Written Directly for the Screen | Pulp Fiction (1994) |

| | | |
| --- | --- | --- |
| 2013 | Best Screenplay - Motion Picture | Django Unchained (2012) |
| 1995 | Best Screenplay - Motion Picture | Pulp Fiction (1994) |

| | | |
| --- | --- | --- |
| 2013 | Best Original Screenplay | Django Unchained (2012) |
| 1995 | Best Screenplay - Original | Pulp Fiction (1994) |

Translate Wiki

to Spanish, French, Hindi, Portuguese

Article Title

- Quentin Tarantino Biography

Author

- Editors, TheFamousPeople.com

Website

- TheFamousPeople.com

URL

-

https://www.thefamouspeople.com/profiles/quentin-jerome-tarantino-2599.php

Last Updated

- May 14, 2018

---

---

---