George Stevens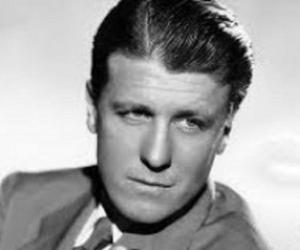 Quick Facts
Birthday: December 18, 1904
Nationality: American
Famous: Directors T V & Movie Producers
Died At Age: 70
Sun Sign: Sagittarius
Born in: Oakland, California, United States
Famous as: Film Director & Producer
Family:
Spouse/Ex-: Joan McTavish (m. 1968–1975), Yvonne Howell (m. 1930–1947)
children: George Stevens Jr.
U.S. State: California
More Facts
awards: 1957; 1952 - Academy Award for Best Director - Giant; A Place in the Sun
1954 - Irving G. Thalberg Memorial Award
1952 - Golden Globe Award for Best Motion Picture – Drama - A Place in the Sun

Legion of Merit
1957; 1952 - Directors Guild of America Award for Outstanding Directing – Feature Film - Giant; A Place in the Sun
1960 - Golden Globe Award for Best Film Promoting International Understanding - The Diary of Anne Frank
New York Film Critics Circle Award for Best Director
1960 - DGA Lifetime Achievement Award
1938 - Medal of Special Recommendation for the Overall Artistic Contribution - Vivacious Lady

Continue Reading Below
George Stevens was an American director, producer, screenwriter and cinematographer best remembered for films like 'The More the Merrier', 'A Place in the Sun', 'Shane' (1953), 'Giant', and 'The Diary of Anne Frank' (1959). For over forty years, he created some of the best Hollywood melodramas and screwball comedies. His films were characterized by his signature craftsmanship of brilliant camera techniques, tasteful incorporation of music and visuals, great attention to details, and expert treatment of emotional themes. When it came to film making, he clearly preferred quality over quantity, quite unlike most of his Hollywood peers. He was well-known for conducting extensive research before embarking on a new film. Most of his pre-production time was dedicated to working with the writers on the screenplay. His films were expressive, sincere, and exhibited great humanism as he was more interested in touching his audience's heart rather than earning profits. Most of his films depict the American society of the 1930s and 1940s, and chronicles the quest for fulfilment of the American Dream.
Recommended Lists:
Recommended Lists:
Childhood & Early Life
George Stevens was born on December 18, 1904, in Oakland, California to Landers Stevens and Georgie Cooper. Both his parents were stage actors and had their own theatre company, Ye Liberty Playhouse, in Oakland. His uncle was the drama critic Ashton Stevens.

During his childhood, he travelled far and wide with his parents, picking up knowledge about the stage. He began performing on stage at the age of five. He worked in his father's theatre group, initially as an actor and eventually, as a stage manager.

He joined Hollywood as a cameraman when he was still a teenager, and by the early 1920s, he became a cinematographer at Hal Roach Studios. His first production was the Laurel and Hardy short film, 'Roughest Africa' (1923).

Recommended Lists:

Recommended Lists:

Career

George Stevens shot a number of other films like 'Sugar Daddies' (1927), 'Two Tars' (1928), and 'Below Zero' (1930). In 1933, he directed his first feature, 'The Cohens and Kellys in Trouble', a B-film for Universal.

In 1934 at RKO (American motion picture studio), he made the low-budget romantic comedy 'Bachelor Bait' with Stuart Erwin and Rochelle Hudson; and 'Kentucky Kernels' - a Bert Wheeler and Robert Woolsey starring farcical comedy.

In 1935, he made the crime comedy 'The Nitwits' with Wheeler and Woolsey. In the same year, he made 'Laddie' (1935)—a nostalgic drama, with John Beal and Gloria Stuart—and 'Alice Adams', an adaptation of Booth Tarkington's famous novel starring Katharine Hepburn. 'Alice Adams' was very successful and received an Academy Award nomination for outstanding production.

In 1936, he made 'Swing Time' (1936), a classic musical starring Fred Astaire and Ginger Rogers.

1937 was a year of disappointments for him. His movie 'Quality Street' starring Katherine Hepburn was a sophisticated yet weak adaptation of J.M. Barrie's play. Furthermore, 'A Damsel in Distress' also failed to achieve popularity.

In 1938, he directed a screwball comedy 'Vivacious Lady' which became a commercial hit, ending his unsuccessful period. He also enjoyed success with 'Gunga Din', considered one of the best directions of 1939.

In 1940, he made 'Vigil in the Night', adapted from an A.J. Cronin novel. The film was a bleak drama which failed at the box-office. He then left RKO and joined Columbia, where he directed the melodrama 'Penny Serenade' (1941).

Continue Reading Below

In 1942, he made 'The Talk of the Town' and the movie became a big hit. Irwin Shaw and Sidney Buchman received an Academy Award nomination for Best Screenplay. The film also received an Oscar nomination for outstanding motion picture.

This was followed by two comedies 'Woman of the Year' (1942) and 'The More the Merrier' (1943). The latter earned six Academy Award nominations, including outstanding motion picture and best director.

Soon afterwards, Stevens joined the U.S. Army Signal Corps as head of the motion-pictures unit. He was responsible for filming the Normandy Invasion and the liberation of the Dachau concentration camp. The World War II work affected him deeply and he began making movies based on tragic themes. 'I Remember Mama' (1948) was his first post-war feature film, for RKO.

He then joined Paramount and his first picture for them was 'A Place in the Sun' (1951). The film was a huge success and received nine Academy Award nominations. The film helped Stevens win his first Academy Award for Best Director.

In 1953, he made 'Shane' - a classic western. Well received for its intelligent script and eye-catching cinematography, the film was nominated for six Academy Awards, including best motion picture and director.

His next big success came with 'Giant' (1956). Although more than three hours long, the classic drama with its all-star cast was well received by audiences. It received ten Academy Award nominations, and Stevens won his second Oscar for Best Director.

Three years later, 'The Diary of Anne Frank' (1959) brought him success and popularity again. The film portrayed the true story of a young Jewish girl who goes into hiding with her family during World War II. The film received eight Academy Award nominations, including best motion picture and best director.

Continue Reading Below

In 1965, he made 'The Greatest Story Ever Told'. The movie was a biblical spectacle, but regardless of an all-star cast the film failed at the box office. He made his final film in 1970 called 'The Only Game in Town'.

Major Works

His movie 'A Place in the Sun' (1951) was a remake of the 1931 film based on Theodore Dreiser's 'An American Tragedy'. The film starred Montgomery Clift as an ambitious man in love with a socialite, played by Elizabeth Taylor. Their relationship is intimidated by the man's former girlfriend, played by Shelley Winters. The film helped Stevens win his first Academy Award for Best Director.

'Shane' (1953) was a classic western, based on a novel by John Schaefer. It starred Alan Ladd as a former gunslinger, who becomes a ranch hand for the Starrett family. The film received six Oscar nominations, including best motion picture and best director.

'Giant' (1956) was based on a novel by Edna Ferber. It starred Rock Hudson as an affluent cattle rancher, Elizabeth Taylor as his socialite wife, and James Dean as a rival turned oil millionaire. The film received ten Academy Award nominations, including best motion picture, and Stevens won his second Academy Award for Best Director.

Awards & Achievements

George Stevens headed the U.S. Army Signal Corps unit that filmed the Normandy landings and the liberation of the Dachau concentration camp. For these efforts, he was awarded the Legion of Merit.

He won the Academy Award for Best Director twice, in 1951 for 'A Place in the Sun' and in 1956 for 'Giant'. He was also nominated in 1943 for 'The More the Merrier', in 1954 for 'Shane', and in 1959 for 'The Diary of Anne Frank'.

He directed 16 different actors in Oscar-nominated performances such as Katharine Hepburn, Cary Grant, Charles Coburn (also winner), Jean Arthur, Irene Dunne, Montgomery Clift, Shelley Winters (also winner), et al.

The Directors Guild of America honoured him with the Best Director Award twice, for 'A Place in the Sun' and 'Giant'. He was also honoured with the D.W. Griffith Lifetime Achievement Award.

He was honoured with a Star on the Hollywood Walk of Fame, located at 1709 Vine St.

Personal Life & Legacy

George Stevens was married twice. He first married Yvonne Howell on January 1, 1930. The couple had a son and they divorced on August 1, 1947.

His second marriage was to Joan McTavish on 17 May 1968. The marriage lasted till his death.

His son, George Stevens, Jr., grew up to be a television and film writer-producer-director and the first CEO and director of the American Film Institute. His grandson, Michael Stevens, is also a television and film producer-director.

George Stevens died of a heart attack on March 8, 1975 on his ranch in Lancaster, California. He is interred at Forest Lawn Memorial Park in the Hollywood Hills of Los Angeles.

Translate Wiki

to Spanish, French, Hindi, Portuguese

Article Title

- George Stevens Biography

Author

- Editors, TheFamousPeople.com

Website

- TheFamousPeople.com

URL

-

https://www.thefamouspeople.com/profiles/george-stevens-7764.php

Last Updated

- November 09, 2017

---

---

---