George Cukor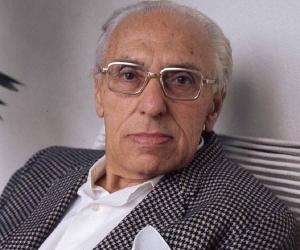 Quick Facts
Nationality: American
Famous: Directors American Men
Died At Age: 83
Sun Sign: Cancer
Also Known As: George Dewey Cukor
Born in: Manhattan, New York, U.S.
Famous as: Film Director
Family:
father: Viktor Ikor
mother: Helena Ikor
Died on: January 24, 1983
place of death: Los Angeles, California, U.S.
U.S. State: New Yorkers
Continue Reading Below
George Cukor was an American film director known for films like 'The Philadelphia Story' and 'Gaslight.' Most famous for his comedies and literary adaptations, he established himself as a skilled director of sound films when Hollywood was making a transition from silent films to talkies. One of the top film directors of the 20th century, he had a long and productive career that spanned around five decades during which he won the Academy Award for Best Director once. The son of Hungarian Jewish immigrants to America, he became interested in acting at a young age. As a young boy, he appeared in several amateur plays and took dance lessons and his fascination with show business only increased with age. While he was in high school, he would often cut classes to attend afternoon matinees. His lawyer father expected him to follow in his footsteps but the creative and ambitious youngster had no intention of entering the legal profession. Instead he began working for theater companies and soon made his Broadway directorial debut with 'Antonia.' After a few years, he moved to Hollywood just as the talkies were making their emergence. Soon establishing himself as a reputed director of sound cinema, Cukor touched the peak of his career with 'My Fair Lady', which won him an Academy Award.
Recommended Lists:
Recommended Lists:
Continue Reading Below
Childhood & Early Life
George Dewey Cukor was born on July 7, 1899, in Manhattan, New York, U.S. to Hungarian Jewish immigrants Viktor and Helén Ilona Gross as their younger child. He had one elder sister. His father was a lawyer who served as an assistant district attorney.

He fell in love with acting as a young child and appeared in several amateur plays and took dance lessons. As a teenager, he became so fascinated with theater that he often bunked classes to attend afternoon matinees.

He went to the DeWitt Clinton High School and worked as a supernumerary with the Metropolitan Opera during his senior year. He graduated in 1917 and was expected to study law by his father.

He reluctantly enrolled in the City College of New York, where he entered the Students Army Training Corps in October 1918 towards the end of the World War I. His military duty did not last long and shortly after, he left school.

Recommended Lists:

Recommended Lists:

Career

Over the next few years he held a string of jobs as an assistant stage manager, stage manager, and general manager of a summer stock company. In the mid-1920s, he made his Broadway directorial debut with 'Antonia' by Hungarian playwright Melchior Lengyel. It was his direction of a 1926 stage adaptation of 'The Great Gatsby' by Owen Davis that first earned him the attention of the New York critics.

The late 1920s marked a dynamic period in Hollywood. With the advent of the talkies, Hollywood began to recruit New York theater talent for sound films. Excited by the opportunities films offered, Cukor moved to Hollywood in 1929.

His initial months in Hollywood were a struggle and he worked hard to get a foothold. After co-directing several films, he made his debut as a solo director in 1931 with 'Tarnished Lady,' a story of a woman who marries a wealthy man but is unhappy with her life.

George Cukor directed Katharine Hepburn in her screen debut 'A Bill of Divorcement' in 1932. The film was a success and he and Hepburn became friends. They worked together in several other films over the years, such as, 'Little Women' (1933), 'Sylvia Scarlett' (1935), and 'Holiday' (1938).

He was hired to direct 'Gone with the Wind' by Selznick in 1936. But the plan fell through and he was fired from the project. There are several theories as to why he was fired, and some suggest that it might have been due to Cukor's homosexuality.

He began the 1940s with the romantic comedy 'The Philadelphia Story' which starred his longtime friend Katharine Hepburn, Cary Grant, and James Stewart. While the decade saw him directing the flop movie 'Her Cardboard Lover' (1942), it also saw him enjoy success with the Ingrid Bergman starrer 'Gaslight' (1944).

In 1954, he directed Judy Garland and James Mason in the musical 'A Star is Born.' The film was selected for preservation in the US National Film Registry by the Library of Congress as being "culturally, historically, or aesthetically significant" in 2000.

Continue Reading Below

His career saw a lot of ups and downs in the ensuing years with several of his films like 'Heller in Pink Tights' and 'Let's Make Love' (both 1960) failing to perform well at the box office.

He directed his best known film, 'My Fair Lady', in 1964. The film was a huge commercial as well as critical hit that earned Cukor several accolades.

In the following years he became less active, directing films only sporadically. He directed his final film, 'Rich and Famous' in 1981.

Major Works

George Cukor gained considerable fame for directing the romantic comedy film, 'The Philadelphia Story', which is about a divorced socialite whose wedding plans are threatened by the arrival of her former husband. The film was a big success and received six Academy Award nominations, including one for Cukor.

His best known film is 'My Fair Lady' a musical film that tells the story of a poor Cockney flower seller girl who is trained by a phonetics professor to speak "proper" English. The film won eight Academy Awards.

Awards & Achievements

George Cukor won the Academy Award for the Best Director for 'My Fair Lady' in 1965. He also won the Golden Globe Award for Best Director and the Directors Guild of America Award for the same film.

In 1976, Cukor was awarded the George Eastman Award, given by George Eastman House for distinguished contribution to the art of film.

Personal Life & Legacy

George Cukor was homosexual. He was known for the lavish parties he arranged for his other homosexual friends and was considered as an unofficial head of Hollywood's gay subculture. He also had close friendships with several Hollywood celebrities—both men and women.

He maintained a close relation with a younger man called George Towers and even financed his education at the Los Angeles State College of Applied Arts and Sciences and the University of Southern California. Towers later married a woman but maintained a deep bond with Cukor for life.

Cukor died of a heart attack on January 24, 1983, at the age of 83.

Trivia

This American film director was very skilled at coaxing great performances from actresses, a trait which earned him the title a 'woman's director'—a nickname he loathed.

| | | |
| --- | --- | --- |
| 1965 | Best Director | My Fair Lady (1964) |

| | | |
| --- | --- | --- |
| 1965 | Best Director | My Fair Lady (1964) |

| | | |
| --- | --- | --- |
| 1975 | Outstanding Directing in a Special Program - Drama or Comedy | Love Among the Ruins (1975) |

| | | |
| --- | --- | --- |
| 1966 | Best Film from any Source | My Fair Lady (1964) |

Translate Wiki

to Spanish, French, Hindi, Portuguese

Article Title

- George Cukor Biography

Author

- Editors, TheFamousPeople.com

Website

- TheFamousPeople.com

URL

-

https://www.thefamouspeople.com/profiles/george-cukor-7615.php

Last Updated

- October 31, 2017

---

---

---