Geneviève Castrée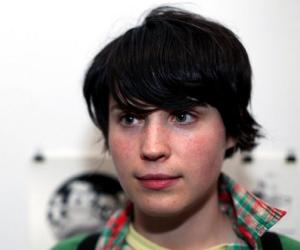 Quick Facts
Nationality: Canadian, American
Famous: Artists & Painters Canadian Women
Died At Age: 35
Sun Sign: Aries
Also Known As: Geneviève Elvrum
Born Country: Canada
Born in: Loretteville, Quebec
Famous as: Canadian Cartoonist
Family:
Spouse/Ex-: Phil Elverum (m. 2003–2016)
place of death: Anacortes, Washington
Continue Reading Below
Geneviève Castrée or Geneviève Elverum (née Gosselin) was a Canadian musician, cartoonist and multimedia artist, best known for her 2013 graphic memoir, 'Susceptible.' Born and raised by a single mother in Quebec, Canada, she reportedly experienced a somewhat troubled childhood and found relief in comics and music. She decided at a very young age that she wanted to become a cartoon artist and self-published her mini-comics, with Castrée as her last name. She was a teenager when her first three comic books were published by the Montreal publishers. Her third book, 'Pamplemoussi,' which assimilated music with her drawings, brought her fame in comics and music. She was a self-taught artist as well as musician. Later she released 8 more albums, under the name 'Woelv,' and then as 'Ô PAON.' Her work has been featured in some significant anthologies. Her 2013 memoir image book, 'Susceptible,' was published by 'Drawn & Quarterly,' and it brought her several accolades. Her last publication was 'Maman Sauwage,' a book of French poetry. She was married to musician Phil Elverum and was a mother of a baby girl. Soon after the child-birth she was diagnosed with stage 4 pancreatic cancer and succumbed to it in July, 2016.
Recommended Lists:
Recommended Lists:
Continue Reading Below
Childhood & Early Life
Castrée was born on April 9, 1981, in Loretteville, Quebec, Canada. As she described later in her memoir, she led a painful and neglected childhood with her single mother and her mother's boyfriend/stepfather.

She was drawn towards cartoons since a young age and was an avid reader of 'Tintin.' She had even won a 'Tintin' competition. She also enjoyed comics by Argentinian cartoonist Quino, Renée French, Chester Brown and Julie Doucet, among others. She wished to become a cartoonist from an early age. As a teenager she began drawing and self-publishing her mini-comics and began with 'Castrée' as her last name.

At 15, she travelled across the country to reconnect with her biological father who had left her and her mother 10 years before. During her growing up years she found solace in the local punk community and also in developing her skills as a cartoonist. Though she met her father, there wasn't any closeness in their relationship. Later when she had no place to go, her father built her a log cabin when she moved west.

Recommended Lists:

Recommended Lists:

Career

Castrée started her career as cartoonist when she was just 16. Her first publishers were 'L'oie De Craven' of Montreal, who published her first 3 books. She made her debut in 2000 with the book, 'Lait Frappé,' followed by 'Roulatheque Roulatheque Nicolore' in 2001. These books were well received, but she got her breakthrough as an artist in 2004 by her third book, 'Pamplemoussi.' It was an unusual art work that united her music and images. The book was much larger than regular comics as it also contained the music LP.

She wasn't a musician before she made music for her own comics. Just as she was a self-taught artist, Castrée trained herself in music to create sounds that matched the images of her books. She felt that her stories needed the music to present a complete picture.

Later, Castrée released 8 albums under the name 'Woelv' (2004 – 2007) and then 'Ô PAON' (2007 – 2016). These albums were accompanied with her own art work and some were in collaboration with her fellow artists, Karl Blau and Lori Goldston. She also worked with her husband, Phil Elverum/Elvrum, who has released music under names like 'The Microphones' and 'Mount Eerie.'

Her work is also featured in remarkable anthologies, including, 'Kramer's Ergot #4,' edited by Sammy Harkham, 'Drawn & Quarterly Showcase #3' edited by Chris Oliveros and also the publishing company's 25th anniversary anthology. She was posthumously featured in 'The Best American Comics 2016' edited by Roz Chast. Castrée held a number of exhibitions around the globe, in Canada, the USA, Europe, Australia and Japan.

In 2013, Castrée's image book, 'Susceptible,' was published by 'Drawn & Quarterly.' It is a memoir of her growing up years in Quebec and later when she moved to British Columbia. It describes the intense closeness she felt to her mother and also, the ways in which she felt alienated and belittled by her mother. It is an intense and personal exploration of her childhood spent in an atmosphere of drug abuse and alcoholism.

The book, 'Susceptible,' brought her recognition and fame. It fetched Castrée nominations for 'Great Graphic Novel for Teens' (2014), 'Best Book Doug Wright Award' (2014), and 'Ignatz Award for the Outstanding Graphic Novel' (2013).

With her first publishers, 'L'oie De Craven', she published a book of poetry in French, 'Maman Sauwage,' in 2015. Her nearly complete last image book, 'The Bubble,' was completed by friend and graphic artist Anders Nilsen and was published by 'Drawn & Quarterly' in 2017.

She expressed a lot about gender injustice and cultural imperialism. She created a book and a music record about the Iraq war in the mid-2000s.

Recommended Lists:

Recommended Lists:

Personal Life

Castrée was married to musician Phil Elverum/Elvrum, who is known by the names 'Mount Eerie' and 'The Microphones.' After the marriage she settled with her husband in the small town of Anacortes, Washington, US. They both were active in the local art and music scene and involved in conducting the local musical event, 'What the Heck Fest.'

In 2015, she gave birth to their daughter, Agathe, and four months later was diagnosed with stage 4, inoperable pancreatic carcinoma. She and her mother reconciled at that time. When her terminal illness was confirmed, her husband set up a GoFundMe account to manage their expenses.

She died on July 9, 2016. Phil Elverum released two concept albums, 'A Crow Looked at Me,' and 'Not Only,' which mourn the passing away of the artist.

Recommended Lists:

Recommended Lists:

Translate Wiki

to Spanish, French, Hindi, Portuguese

Article Title

- Geneviève Castrée Biography

Author

- Editors, TheFamousPeople.com

Website

- TheFamousPeople.com

URL

-

https://www.thefamouspeople.com/profiles/genevive-castre-43000.php

Last Updated

- November 24, 2018

---

---

---