Garry Shandling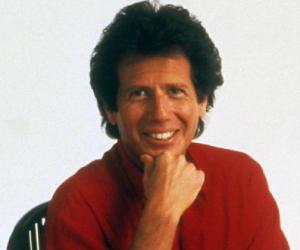 Quick Facts
Birthday: November 29, 1949
Nationality: American
Famous: Jewish Actors Jewish Comedians
Died At Age: 66
Sun Sign: Sagittarius
Also Known As: Garry Emmanuel Shandling
Born in: Chicago
Famous as: Stand-up Comedian
Height: 1.79 m
Family:
father: Irving Shandling (1919-1985)
mother: Muriel Estelle (née Singer)
siblings: Barry Shandling
place of death: Los Angeles
City: Chicago, Illinois
U.S. State: Illinois
More Facts
education: University of Arizona, Palo Verde High School
Continue Reading Below
Garry Shandling was an American stand-up comedian and actor best recognized for his super successful shows, 'It's Garry Shandling's Show' and 'The Larry Sanders Show'. Originally a script writer, Shandling wrote for a number of sitcoms before making his way to become a stand-up performer. His first major breakthrough, though an unconventional one, as a guest-host on 'The Tonight Show Starring Johnny Carson,' gave his career a kick start that he needed. Soon, Shandling came up with 'It's Garry Shandling's Show' for Showtime which scripted history. The show went on to be the most loved and appreciated show of its time. Beating his own record, Shandling next came up with 'The Larry Sanders Show' which became the most precious gem of his career graph, a real masterpiece. The show not just garnered him global attention but also earned him several awards, including an Emmy and a BAFTA award. Shandling's humorous gigs and sheer screen presence earned him film roles as well. His three-decade long career has included some exceptional work that speaks volumes of his artistic talent and skill as a stand-up comedian.
Recommended Lists:
Recommended Lists:
Continue Reading Below
Childhood & Early Years
Garry Emmanuel Shandling was born on November 29, 1949, in Chicago, Illinois. His father, Irving Shandling, was the owner of Shandling Lithographic, an art and academic print shop, while his mother, Muriel Estelle, served as the proprietor of Muriel Shandling's Animal Fair, a pet store.

Shandlings moved to Tucson, Arizona when Garry was young. The move was primarily made to get better treatment for his elder brother, Barry Philip, who was suffering from cystic fibrosis. However, Barry did not live long and died an early death.

Garry Shandling completed his preliminary education from Palo Verde High School, before enrolling at the University of Arizona in Tucson, for a major in electrical engineering. However, he dropped out of it and pursued a degree in marketing instead. Shandling even took up a year of postgraduate studies in creative writing. He started contributing humorous articles to small magazines.

Continue Reading Below

Recommended Lists:

Recommended Lists:

Career

Garry Shandling had a knack for humour and wittiness in his write-ups which was noted by comedian, George Carlin, whom Shandling showed his work. Carlin encouraged him to continue writing which he eventually did.

In 1973, Shandling moved to Los Angeles for better opportunities. Briefly, he worked with an advertising agency before taking up script writing classes. Subsequently, he started penning scripts. Shandling sold a script of the popular NBC sitcom, 'Sanford and Son'. Other projects written by him include sitcoms 'Welcome Back', 'Kotter' and 'Three's Company'.

Towards the latter half of the 1970s, Shandling found himself to be a part of an improv group with Paul Willson. Just when things had starting shaping up on his career front, Shandling met with a major accident that crushed his spleen. He was hospitalized for two weeks. It was after the accident that seeds for becoming a stand-up comedian were sprouted in his mind.

Year 1978 was a breakthrough year for Shandling as he performed his first gig as a stand-up comedian at the Comedy Store in Los Angeles. A year later, he became one of the few performers to cross the picket line. Interestingly until then, Shandling wasn't even a regular in the line-up. People thought of him as a successful sitcom writer who was trying to break into the comic scene.

After years of performing at the Comedy Store, Shandling's fate turned when he was picked by a talent scout company for 'The Tonight Show Starring Johnny Carson'.

In 1981, he appeared as a guest and eventually substituted Carson on a regular basis until 1987.

In 1984, Shandling got a big break of his career with his debut performance as a stand-up special, 'Garry Shandling: Alone in Vegas'. Two years later, he followed it up with a televised special titled, 'The Garry Shandling Show: 25th Anniversary Special' for Showtime. In 1991, a third special titled, 'Garry Shandling: Stand-Up' was a part of the HBO Comedy Hour.

Continue Reading Below

Shandling's career surged meteorically upwards with 'It's Garry Shandling's Show' in 1985, which he co-created with Alan Zweibel. He penned 15 episodes for the series. Highly successful, the show became a huge hit and ran for about 72 episodes on Showtime. It garnered four Primetime Emmy nominations, including one for Shandling.

Post the success of 'It's Garry Shandling's Show,' Shandling came up with the magnum opus show of his career, the critically and commercially acclaimed, 'The Larry Sanders Show'. A behind-the-scene talk show sitcom, the show was a big hit and ran for 89 episodes until 1998 on HBO. It grabbed 56 Emmy Award nominations and three wins, which stands as a testimony to its success and positive reception.

Meanwhile, in 1993, NBC offered Shandling $5 million to take over 'Late Night with David Letterman' show but he declined. Later, he also declined the offer to host the 'The Late Late Show' in favour of 'The Larry Sanders Show'. Shandling had written about 38 episodes for the show and also wore the director cap thrice during the series' finale season. He won several awards for the show.

'The Larry Sanders Show' gained an iconic status and gained prominent listings. While TV Guide named it as the 38th Greatest Show of All Time in 2002, Entertainment Weekly ranked it the 28th Best Show of the past 25 years, in 2008. It was also included on Time magazine's '100 Greatest Shows of All Time.'

Shandling's perfect comic timing and wittiness earned him supporting roles in several films, including 'The Night We Never', 'Love Affair and Mixed Nuts', 'Dr. Dolittle', 'Hurlyburly', 'Trust the Man', 'What Planet Are You From?', 'Town & Country', 'Over the Hedge', 'Captain America: The Winter Soldier' and so on. Shandling's final performance was as the voice of Ikki in the live-action remake of 'The Jungle Book'.

Other than performing gigs as a stand-up comedian, Shandling was a regular feature at the Grammy Awards from 1990 to 1994, hosting the event annually. He even hosted Emmy Awards in 2000, 2003 and 2004.

Shandling put his writing skills to paper when he co-published 'Confessions of a Late Night Talk Show Host: The Autobiography of Larry Sanders', written in the voice of his alter-ego Larry Sanders, along with David Rensin.

Recommended Lists:

Recommended Lists:

Major Works

The magnum opus of Shandling's career came with the highly successful and critically acclaimed, 'The Larry Sanders Show'. Running for 89 episodes, the show received overwhelming response. It garnered 56 Emmy Award nominations and three wins, with Shandling himself receiving 18 nominations - five for acting, seven for writing, and six for being co-executive producer, of which he won one, for Outstanding Writing in a Comedy Series. Other than Emmy, Shandling also received two Golden Globe nominations. He won two American Comedy Awards, eight CableACE Awards, and a BAFTA Award. The series gained a legendary status and served as a precursor for many other shows.