Fe del Mundo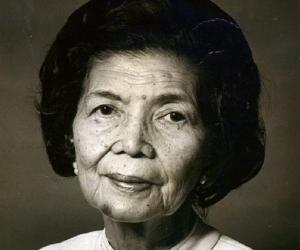 Quick Facts
Birthday: November 27, 1911
Nationality: Filipino
Famous: Pediatricians Filipino Women
Died At Age: 99
Sun Sign: Sagittarius
Also Known As: Fe Villanueva del Mundo
Born in: Intramuros
Famous as: Pediatrician
Family:
father: Bernardo del Mundo
mother: Paz
place of death: Quezon City
More Facts
education: Boston University School of Medicine, Harvard Medical School, University of the Philippines College of Medicine
awards: Ramon Magsaysay Award
Continue Reading Below
Fe Villanueva del Mundo was a pediatrician, author and humanitarian from the Philippines. She is recognized and celebrated for her pioneering work in the field of pediatrics. From founding the first pediatric hospital in the Philippines to serving the poor through her medical practice, del Mundo's contributions are endless. After earning her medical degree from Manila, she went to the United States to earn her master's degree. After training at various reputed institutions, she returned to her country to serve the International Red Cross. She contributed to the field of medicine by researching on dengue, a prevalent malaise during that time. She went on to become a teacher and wrote a foundational textbook on Pediatrics. Her most noble contribution is The Children's Medical Hospital, which she built. The hospital served many in need and continues to do so today. She continued her medical practice well until her death in 2011. Her contributions have been recognized internationally, and she has been the recipient of several awards, including the Ramon Magsaysay Award for Public Service. She was also awarded the National Scientist of the Philippines in 1980 and became the first woman to be bestowed the honor. Her contributions continue to benefit millions today.
Recommended Lists:
Recommended Lists:
Childhood & Early Life
Fe Villanueva del Mundo was born on 27 November 1911 in Intramuros, Manila. Her parents Bernardo del Mundo and Paz lived near the Manila Cathedral at the time. She was among the eight children in the family. Her father was a respected lawyer who served a term in the Philippine Assembly.

Of her eight siblings, three died during infancy; while one sister died at 11 due to appendicitis. These deaths influenced Mundo to want to become a doctor and help the poor.

She enrolled at the University of the Philippines College of Medicine in 1926 to pursue her dream of becoming a doctor. Her dedication helped her get through the medical school, and she graduated with a degree in 1933. She was also the class valedictorian.

After graduating, del Mundo successfully cleared her medical board exam in the same year. During her training period, she was exposed to children suffering from various diseases in Marinduque. At this juncture, she decided to specialize in pediatrics.

The then President Manuel Quezon lent a helping hand and offered to pay for her tuition and training at any school of her choice in the United States. She moved to Boston in 1936 to continue her studies in pediatrics.

She completed her degree after working at Harvard Medical School, University of Chicago and Johns Hopkins Hospital in various capacities. She completed her training by offering to work in various pediatric clinics.

During her time in Boston, del Mundo undertook several positions. She worked as an Assistant Physician at Boston Children's Hospital, and she later became a research fellow in Pediatrics in 1940. She finally earned her Master's Degree in Bacteriology from Boston University School of Medicine in 1940.

Recommended Lists:

Recommended Lists:

Career

Despite a successful tenure in the US, Fe del Mundo decided to return to the Philippines in 1941 to work towards her dream of improving the life of the impoverished. She embarked on her career by joining the International Red Cross and worked as a caretaker for children in the internment camp.

While working for the International Red Cross, she decided to create a temporary hospice within the refugee camps. She soon came to be known as the 'Angel of Santo Thomas'. However, during the Japanese invasion of the country, the hospice was shut down in 1943.

Later in 1943, she was asked by the Mayor to lead a hospital for children. This hospital later became a medical center during the bloody Battle of Manila and was renamed the North General Hospital. Del Mundo served as the director of the hospital until 1948 and actively worked during turbulent times.

In 1954, del Mundo accepted the position of a faculty member at the University of Santon Tomas (then known as Far Eastern University). At the same time, she opened a private pediatric clinic and continued her practice.

Through the 1950s, del Mundo studied the dengue fever closely as it was a common affliction in her country. Her observations and findings helped many understand the disease and find a cure for it.

She went on write several articles, reports and reviews in reputed medical journals on rampant diseases, such as dengue, measles, and polio. Her book 'Textbook of Pediatrics' continues to remain the foundational textbook used in medical schools in the Philippines today.

Fe del Mundo wanted to do something of her own, such as establishing her own pediatrics hospital. To achieve this dream, she sold her home and all of her belongings and took a loan from the GSIS to build the hospital.

Continue Reading Below

Her vision was finally realized in 1957 when The Children's Medical Hospital, Quezon City, was inaugurated. It was the first pediatric hospital in the Philippines. Later in 1966, the hospital expanded to incorporate Maternal Health and Childcare. This made it first of its kind in Asia.

Fe del Mundo continued to remain on the Board of Trustees of the hospital and pursued research. The hospital has helped millions of people ever since its inauguration.

She spent the remainder of her life propagating and pursuing what was close to her heart: upliftment of rural communities. She visited several boroughs to advise and explain the benefits of childcare, breastfeeding and other health practices.

Her contributions to the field of public health are immeasurable. She actively promoted the ideas of immunization and nutrition. She emphasized the role of midwives in rural communities and encouraged their training.

Given the rapid increase in population, Mundo actively advocated population control and gave information about family planning methods to her patients during her field visits. She also invented a bamboo incubator for rural communities that functioned without electricity.

She remained an active medical practitioner until her death. Her relentless efforts bore fruits as the country's pediatric health improved considerably. Her contributions continue to uplift the impoverished people in the Philippines.

Major Works

Fe del Mundo's research and insights were compiled into what became known as the 'Textbook of Pediatrics'. This served as the foundational textbook in many medical schools in the Philippines.

Continue Reading Below

Her life and soul were invested in building a hospital solely focused on pediatrics and neonatal care. Her dream came true when she inaugurated The Children's Medical Hospital in Quezon City. It was the first of such hospitals in Asia.

Awards & Achievements

Fe del Mundo's contributions were recognized by many international establishments. In 1966, she was honored with the Elizabeth Blackwell Award for her 'outstanding service to mankind' by Hobart and William Smith Colleges.

In 1977, she received the reputed Ramon Magsaysay Award for her contributions and outstanding public service. In the same year, she received the Most Outstanding Pediatrician and Humanitarian Award at the 15th International Congress of Pediatrics.

In 1980, she became the first woman to be declared the National Scientist of the Philippines. Later in 2008, she received the Blessed Teresa of Calcutta Award from the AY Foundation.

In 2010, she was awarded the Order of Lakandula, rank Bayani, by Filipino President Gloria Macapagal-Arroyo at the Malacanan Palace.

After her death in 2011, she was honored with the Grand Collar of the Order of the Golden Heart Award by former Filipino President Benigno Aquino III.

Family & Personal Life

Mundo lived well into her late 90s devoting her life to her work. She died on August 6, 2011 after suffering from a cardiac arrest. She was subsequently buried at Libingan ng mga Bayani.

Trivia

In honor of her 107th birthday, Google dedicated its Google Doodle of the day to del Mundo in November 2018. Google further wrote about how del Mundo's trailblazing career was an inspiration for many women in medicine.

Translate Wiki

to Spanish, French, Hindi, Portuguese

Article Title

- Fe del Mundo Biography

Author

- Editors, TheFamousPeople.com

Website

- TheFamousPeople.com

URL

-

https://www.thefamouspeople.com/profiles/fe-del-mundo-25104.php

Last Updated

- February 02, 2019

---

---

---