Donatella Versace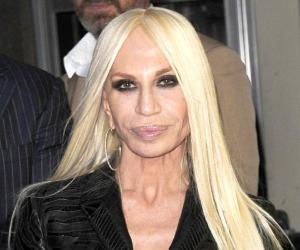 Quick Facts
Nationality: Italian
Famous: Business Women Fashion Designers
Age: 63 Years, 63 Year Old Females
Sun Sign: Taurus
Also Known As: Donatella Francesca Versace
Born in: Reggio di Calabria, Italy
Height: 1.65 m
Family:
Spouse/Ex-: Paul Beck (m. 1987)
father: Antonio Versace
mother: Francesca Versace
siblings: Gianni Versace Santo Versace Tina Versace
children: Allegra Versace Daniel Versace
Net worth: $680 million as of Apr 26, 2017
Continue Reading Below
Donatella Versace, the younger sister of the famous designer Gianni Versace was his adviser and inspiration while he was a budding designer. When Gianni Versace started his own fashion company in Milan, she was right there by his side and organized many fashion shows and advertising campaigns. He awarded her with her own diffusion label, 'Versus' which produces clothes till today. But after his murder, the 'Versace' Empire fell upon hard times and she became creative director of the 'Versace Group'. It was during the rebuilding process that Donatella showed her other talent - public relations. Using such celebrity friends as Madonna, Demi Moore, Elton John and others, she began to equate the 'Versace' name with celebrity in the public eye. By doing so, she managed to turn the 'Versace' line back into a force in the fashion industry. Another of the tactic she developed to ensure the visibility of the brand was to use well-known models for the catwalk shows which would generate press coverage. She brought a new sensibility to the house of 'Versace'. These days, the label is more in tune with the modern woman, while retaining her brother's original ethos. She has emerged from her brother's shadow and has diversified to other fields by creating branded hotels in Australia and Dubai.
Recommended Lists:
Recommended Lists:
Continue Reading Below
Childhood & Early Life
Versace was born in the Italian city of Reggio Calabria as the daughter of a personal financier to the Italian aristocracy. She is the youngest of four children in her family.

In 1977, she enrolled at the Florence University in Italy to pursue languages. She was very close to her brother Gianni who encouraged her passion for fashion.

Continue Reading Below

Recommended Lists:

Recommended Lists:

Career

In 1979, Donatella moved to Milan to work with Gianni, first as a design assistant and later in the public relations department. She was the only person who could contradict her brother with her constructive criticism.

She plunged into the fashion world during the 1980s. Gianni launched a perfume 'Blonde', dedicated to her and gave her own diffusion label, 'Versus', which remains a well-known Versace inner line.

The assassination of Gianni in Florida in July 1997 devastated her, but she quickly recollected herself and took-over as the chief designer. In October, she made her solo debut for spring the following year.

In 1998, she mounted her first couture show for the Versace Atelier at H�tel Ritz Paris. She built her runway over the hotel's swimming pool, like her brother, but this time using sheer glass.

Her first collection, attended by a host of celebrities, was a triumph. But in typical Donatella fashion, she credited its success to the seamstresses and models and dedicated the show to her late brother.

The show became an annual event, with regular guests including Catherine Zeta Jones, Liz Hurley, Elton John and even Prince Charles. She began to use well-known models for the catwalk shows, to generate press coverage.

Several low-key receptions, however, did not deter her. She continued to manage earlier collections, but she believed that she could not just continue with what Gianni was doing.

Continue Reading Below

In 2002, Gianni and Donatella's most famously designed Versace clothing was a special exhibit at the historical Victoria and Albert Museum of London to be honored for extraordinary fashion success and symbolism worldwide.

The company created the grand, luxurious Palazzo Versace resort on the Gold Coast of Australia while the Burj al-Arab, in Dubai boasts a broad collection of Versace furniture and beddings in its lavish rooms.

Plans for the Palazzo Versace Dubai were announced in May 2005. The Palazzo Versace boasts a number of suites and luxury villas, including an exclusive spa. The hotel interiors are furnished with various Versace collections. As Creative Director, Donatella executed the final plans.

In 2008, she was made the honorary chairman for London's 'Fashion Fringe'. The 'Fashion Fringe' was an initiative by fashion writer Colin McDowell and 'IMG Fashion' to support emerging designers.

In 2009, Donatella asked Christopher Kane, the Scottish designer, to revive 'Versus'. The pair successfully revitalized the brand, making it a major player again on the 'Fashion Week' schedule.

In November 2012, Kane departed from 'Versus' as the Italian fashion house planned to completely overhaul the label, ceasing the production of seasonal collections - with a renewed focus on digital.

JW Anderson, an Irish designer was appointed to create a capsule collection for the 'Versus' label, as he's well versed with the new digital world and therefore, an ideal partner for their new direction.

Continue Reading Below

She started using pop star Lady Gaga as her muse, and in October 2012, in a much publicized visit, invited the pop singer to her late brother's apartment in Milan.

Recommended Lists:

Recommended Lists:

Major Works

Under Donatella's guidance, 'Versace' moved beyond clothing and expanded its horizon to accessories and home furnishings. The company even operates two hotels morphing Versace in to a complete lifestyle brand.

In February 2001, she launched her own fragrance, 'Versace Woman', a fragrance that harmoniously combines the hints of frangipani blossoms and leaves with jasmine, bergamot and eglantine.

Awards & Achievements

In 2007, Versace was inducted into the 'Rodeo Drive Walk of Style'. In October that year, pop star Prince presented her with the 'Fashion Group International Superstar Award'.

In 2010, 'Versace' was nominated for the 'VH1 Do Something With Style Award' for providing art supplies to children and creating a tote bag, whose proceeds will go to 'Starlight' and the 'ONE Foundations'.

Personal Life & Legacy

Donatella is married to American model Paul Beck. They have two children: daughter Allegra and son Daniel Versace.

Maya Rudolph often impersonates her on the show 'Saturday Night Live', which airs on the NBC network. In reality, both the ladies are good friends.

She was also featured in Lauren Weisberger novel, 'The Devil Wears Prada' and was also mentioned in the song 'Gulabi Ankhein' from the 2012 Bollywood movie, 'Student of the Year'.

A movie drama called, 'House of Versace', was broadcast on 'Lifetime Network' in 2013. It presents the chronicles of the Versace family and Gina Gershon portrays the role of Donatella Versace.

Trivia

When asked how she keeps young, this Italian fashion-designer replied in her thick accent, "Haven't you heard? I sleep every night in the deep freezer!"

This famous Italian fashion designer also played a small role in the American comedy film, 'Zoolander', directed by and starring Ben Stiller.

Translate Wiki

to Spanish, French, Hindi, Portuguese

Article Title

- Donatella Versace Biography

Author

- Editors, TheFamousPeople.com

Website

- TheFamousPeople.com

URL

-

https://www.thefamouspeople.com/profiles/donatella-versace-4743.php

Last Updated

- October 09, 2017

---

---

---