Derek Hough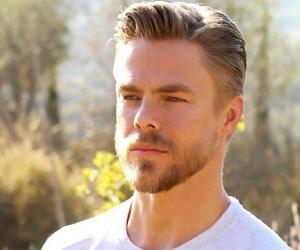 Quick Facts
Nationality: American
Famous: American Men American Dancers
Age: 33 Years, 33 Year Old Males
Sun Sign: Taurus
Also Known As: Hough, Derek
Born in: Salt Lake City, Utah, United States
Famous as: Professional Dancer
Height: 1.78
Family:
father: Bruce Robert Hough
mother: Mari Anne Hough
siblings: Julianne Hough, Katherine Hough, Marabeth Hough, Sharee Hough
U.S. State: Utah
More Facts
education: Italia Conti Academy of Theatre Arts
Continue Reading Below
Derek Hough is an American dancer specializing in Latin and Ballroom dance. He is also a choreographer, director, actor, musician, singer and song-writer. He was athletic as a young child and was introduced to the fine arts by his mother. He took up dancing as a child and went on to learn under dance coaches Corky and Shirley Ballas. Derek Hough is best known for his appearance in ABC network's reality dance series 'Dancing with the Stars'. He has been associated with the show for several seasons and won six times. Being a professional dancer, he has competed in several contests around the globe and has travelled across the world to places like Japan, Netherlands, Poland, Ireland, and Czechoslovakia. He has appeared in several theatre productions like 'Footloose: The Musical' and 'Burn the Floor'. He has played many cameo roles in feature films and television series as well. His dance performances have earned him prestigious awards like the Primetime Emmy Awards. Apart from dancing, he is also a singer and plays the instruments piano, drums and the guitar.
Recommended Lists:
Recommended Lists:
Continue Reading Below
Childhood & Early Life
Derek Hough was born on 17 May 1985 in Utah, Salt Lake City. He was the fourth child of Marianne and Bruce Hough, who were dancers. His father was elected as chairman of the Utah Republican Party twice.

He has four sisters named Sharee, Marabeth, Katherine, and Julianne. Julianne also went on to become an accomplished dancer and choreographer. As a child, he participated in karate, acrobatics, and sports like football and basketball. He was introduced to fine arts by his mother.

He was 12 years when his parents separated; he was then sent to London to study under ballroom dancers Shirley Ballas and Corky Ballas. He spent ten years in London and studied at the Italia Conti Academy of Theatre Arts, where he received training in theatre, gymnastics, song and several dance forms including jazz, tap and ballet.

He, along with his sister Julianne and his tutors' son Mark Ballas, formed a pop music trio named 2B1G ("2 Boys, 1 Girl"), to perform in dance competitions in the US and UK.

Career

Between 1998 and 2004, Derek Hough participated in several competitions that took him to several foreign nations like Japan, Netherlands, Poland, Ireland, the US and Czechoslovakia. In 2002, he won the WDSF World Youth Latin Champion, as well as the Under-21 Latin title at the Blackpool Dance Festival in 2003.

Meanwhile in 2001, he made a guest appearance in the feature film 'Harry Potter and the Sorcerer's Stone'. In 2006, he became a part of a theatre cast by playing the lead in 'Footloose: The Musical'. However, he made his Broadway debut later in 2010 with 'Burn the Floor'.

In 2007, he was one of the panelists on the reality television show BBC One's 'DanceX'.

In 2007, he made his initial appearance at the Season four of the reality dancing show 'Dancing with the Stars', as a guest instructor. The same year, he joined the crew as a professional instructor for the following season. He was paired with actress Jennie Garth and the duo reached the semifinals during the season.

In season seven (2008) of 'Dancing with the Stars', Derek Hough appeared with model Brooke Burke. The pair won the season as well as the mirror ball trophy. In the following season of the show, he appeared along with rapper Lil' Kim.

In season nine of the show, he was paired with model Joanna Krupa. However they were eliminated during the semifinals, finishing in the fourth place. For the next season (season ten), he partnered with singer Nicole Scherzinger and they won the season's final.

Derek Hough has been associated with the show 'Dancing with the Stars' for many years, except for two seasons, season 12 and season 22. Celebrities he has partnered with during this period include television personality Maria Menounos, paralympic snowboarder Amy Purdy, YouTube personality Bethany Mota, gymnast Nastia Liuki, and wildlife conservationist Bindi Irwin.

Continue Reading Below

In 2011, he took a break from his reality show appearances to act in his debut feature film 'Make Your Move'. The movie premiered years later, in 2014.

In 2013, he stated that he would be working on a performance for the 2014 Sochi winter Olympics short dance program for ice dancers Meryl Davis and Charlie White. The contesting duo went on to win a gold medal for the routine.

In 2014, he also directed Mark Ballas' music video song titled 'Get My Name'. He released his first book 'Taking the Lead: Lessons from a Life in Motion' the same year. The book went on to enter 'The New York Times Best Seller' list.

In 2015 he made an appearance at the New York Spring Spectacular, at Radio City Music Hall.

He bought a house with Mark Ballas in order to flip it for profit. The renovation process was broadcast as a four episode series 'Mark & Derek's Excellent Flip', that was aired on HGTV in 2015.

The following year it was announced that he would play the lead in the Broadway production 'Singin' in the Rain', scheduled for premiere in 2017. He also choreographed and appeared in the music video 'The Arena' alongside performance artist Lindsey Stirling.

He has made special appearances in television series like 'Jane the Virgin' (2016). The same year he played the role of Corny Collins in the NBC live broadcast of the musical 'Hairspray'.

Continue Reading Below

In 2017 he was also the lead actor, director and choreographer in the music video of the song 'I Believe in You' in the album 'Nobody but Me' by Michael Bublé.

Major Works

Though Derek Hough has donned several roles as a dancer, choreographer, actor, musician, singer and songwriter, he is best known as a dancer. He rose to fame with his stint in the reality television show 'Dancing with the Stars.'

Awards & Achievements

In 2013, Derek Hough won the Primetime Emmy Award for Outstanding choreography for his work in 'Hey Pachuco/Para Los Rumberos/Walking on Air.'

The UCLA honored Derek and his sister Julianne Hough with the Kaleidoscope Award in 2014. The same year he was honored with the GLSEN Inspiration Award as well. He also won the Young Hollywood Awards for 'Hottest Body' of the year.

In 2015 he won multiple awards for his work in 'Elastic Heart' (with Julianne Hough & Tessandra Chavez): The Industry Dance Awards for America's Favorite TV/Film Performance as well as the Primetime Emmy Awards for Outstanding choreography. The same year he was voted as 'America's Favorite Choreographer' at the Industry Dance Awards.

He was listed as a co-choreographer in 'MKTO's Classic', for which he received the World Choreography Awards for 'Television Live Performance' in 2015.

In 2016, Derek Hough won the Industry Dance Awards for Favorite Dance Idol. The same year he was also honored along with Julianne Hough by the Inspiration Award at The Dizzy Feet Foundation's Celebration of Dance Gala.

Personal Life & Legacy

Derek Hough dated British actress and singer- songwriter India de Beaufort from 2000 to 2008.

In 2008, he met former model and actress Shannon Elizabeth. They were in a relationship for a year.

Net Worth

Derek Hough has an estimated net worth of USD 3 million. Though his primary sources of income are choreography and dance, he has also explored opportunities in acting and theatre and appeared in music videos.

Trivia

Apart from dance, he can also play musical instruments like the drums, guitar and piano.

Translate Wiki

to Spanish, French, Hindi, Portuguese

Article Title

- Derek Hough Biography

Author

- Editors, TheFamousPeople.com

Website

- TheFamousPeople.com

URL

-

https://www.thefamouspeople.com/profiles/derek-hough-14643.php

Last Updated

- March 23, 2017

---

---

---