Demetress Bell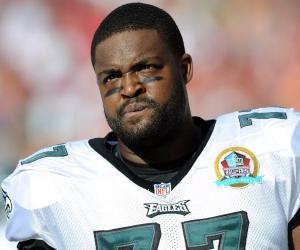 Quick Facts
Nationality: American
Famous: American Football Players American Men
Age: 34 Years, 34 Year Old Males
Sun Sign: Taurus
Also Known As: Demetress Carte Bell
Born in: Summerfield, Louisiana, United States
Famous as: American Football Player
Height: 1.96 m
Family:
father: Karl Malone
mother: Gloria Williams
siblings: Chastity Bell, Chauncey Bell, Cheryl Ford, Daryl Ford, Monisha Bell
U.S. State: Louisiana
More Facts
education: Northwestern State University
Continue Reading Below
Demetress Bell is a former American football offensive tackle, who played for Buffalo Bills and Philadelphia Eagles. He started playing softball while he was studying in Summerfield High School as his institution did not have a football team of its own. Besides softball, he also tried his hand in basketball and performed sufficiently well to earn a scholarship for representing Northwestern State University. He represented Northwestern State University in college-level basketball competitions and meets, participating in a total of 88 fixtures spread over three seasons. Of the four National Collegiate Athletic Association (NCAA) players who played both in football and basketball in Division I in 2006-2007 season Demetress was one of them. Following the end of the 2006-07 Season, Bell decided, once and for all, to focus on a 'gridiron football' career, and consequently, stopped playing basketball for good. His professional career as an American football player took off when he was selected by Buffalo Bills—the team representing the Buffalo-Niagara Falls metropolitan area. He played for Buffalo Bills for four consecutive seasons but had to eventually withdraw from the active roster owing to a knee injury. Thereafter, he represented Philadelphia Eagles for one season and was later on contracted by Dallas Cowboys as a practice squad member.
Recommended Lists:
Recommended Lists:
Continue Reading Below
Childhood & Early Life
Demetress Bell was born on 3rd May 1984 in Summerfield, Louisiana and spent his growing up years in the unincorporated community administered by the northeast Claiborne Parish.

His mother, Gloria Bell Williams, was only 13, when she gave birth to Demetress. According to her, Karl Anthony Malone, the celebrated former American basketball player (now retired) is the biological father of Demetress Bell.

He attended the Summerfield High School under the Claiborne Parish School Board and his natural affinity for sports spurred him to take up softball. Initially, he was more drawn towards softball as compared to basketball or American football.

Slowly and gradually, he started playing more of basketball as he approached the end of his high school years. His skills and talent was noticed and he was selected for a basketball scholarship in Northwestern State University of Louisiana.

He represented Northwestern State University in 88 college-level games matches and contests for three seasons: 2003-2004, 2004-2005, and 2006-2007.

Demetress was amongst the four acclaimed NCAA (National Collegiate Athletic Association) sportspersons who played football as well as basketball in the Division I in the 2006-2007 Season.

At the end of the 2006-07 Season, he made up his mind to channelize his efforts towards developing a career revolving around football.

Recommended Lists:

Recommended Lists:

College-Level Career

Demetress Bell, before he moved to Northwestern State University on a scholarship, never got the opportunity to play American football simply because his high school, Summerfield High School, did not have any football squad. It was only towards the latter half of 2005 when the sports coach of his university redshirted him that allowed him to forego the basketball term and make it to the academia's football team. In the beginning, Demetress took the field playing in one of the two DE (defensive end) positions.

In 2006, he was entrusted with the responsibility of overseeing the 'left tackle' position as most of the team members that made up the offensive line were confined to the benches because of injuries. He was awarded the All-Louisiana honors as a reserve team member in that season. In the subsequent season, he played a more active role in the offensive position that earned him entry in the All-Louisiana and All-Southland Conference first-teams.

Professional Career

After earning his graduate degree in 'general studies' from Northwestern State University in 2008, Demetress Bill was selected to represent Buffalo Bills during 2008 NFL Draft's seventh round. Although he had played only three seasons of organized football, Buffalo Bills did not confine him to the practice squad but rather kept him in their active lineup, based on his innate skills. Bill did not play a single match in the entire 2007-08 Season as Buffalo Bill managers considered him more fit for future projects.

The incumbent head coach of Buffalo Bills, Dick Jauron, picked up Demetress for the active team, assigning him the left tackle position for the 2008-09 Season, judging him by his performance in training camps' fixtures.

His performance on the field during the season's first-half was pockmarked by the numerous penalties ascribed to him that merited him mixed reviews. While playing a match against Tennessee Titans, he suffered a serious knee-injury that made him unavailable for the remaining fixtures of the campaign and also eventually led to his opting out of Buffalo Bills.

The Philadelphia Eagles contracted Demetress for a five-year term on April 4, 2012 for approximately US$34.5 million. Unfortunately, he was signed out of the team in less than a year—on 6 February 2013.

Dallas Cowboys signed him on six months later but only as an offseason/practice squad player.

Personal Life & Legacy

The aspect of Demetress Bell's paternity had been like an albatross around his neck right from the day he was born and this issue has also blighted his entire professional career. Karl Malone who is the purported father of Demetress as corroborated by his mother Gloria Bell has refrained from admitting the same publicly until now. Nevertheless, a paternity suit filed by Gloria's family in 1996 which necessitated the assaying of Malone's blood samples almost confirmed that either he or one of his brothers was the biological father of Demetress.

Karl Malone turned a deaf ear to the paternity lawsuit and did not show up during the court hearings but later on settled the matter with the plaintiff out of court. Malone made an undisclosed single payment to the Bell family and did not provide any funds for continued child support. Gloria's family desisted from incriminating Karl, though he was an adult when he impregnated her, as he was a neighbour and also that his incarceration would stifle any chances of his offering financial support to Demetress Bell.

Bell came to know about his father's identity only after passing out of high school. His mother has gone on record to mention that Bell did not wish to hear anything about Karl Malone. Bell's refusal to acknowledge his father stemmed from the latter's unwillingness to accept Bell as his son.

He remembers having communicated only once with Karl Malone when he was an 18-year old teenager.

Trivia

For nearly 29 years after his birth, Bell had continued to write his first name as "Demetrius" but later on came to know that the correct spelling of his name was "Demetress".

Translate Wiki

to Spanish, French, Hindi, Portuguese

Article Title

- Demetress Bell Biography

Author

- Editors, TheFamousPeople.com

Website

- TheFamousPeople.com

URL

-

https://www.thefamouspeople.com/profiles/demetress-bell-34272.php

Last Updated

- October 05, 2017

---

---

---