Dawn Brancheau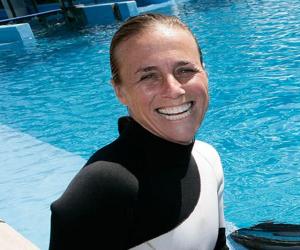 Quick Facts
Nationality: American
Famous: American Women Aries Women
Died At Age: 40
Sun Sign: Aries
Also Known As: Dawn Therese Brancheau, Dawn Therese LoVerde
Born in: Cedar Lake, Indiana
Famous as: Animal Trainer
Family:
Spouse/Ex-: Scott Brancheau (m. 1996–2010)
father: Charles LoVerde
mother: Marion LoVerde
Died on: February 24, 2010
place of death: Orlando, Florida
U.S. State: Indiana
Continue Reading Below
Dawn Brancheau was an American animal trainer who worked at 'SeaWorld Orlando.' Brancheau was an animal lover from a very young age. She resolved to become a 'Shamu' trainer after watching a 'Shamu' show during a family vacation in Orlando. Hence, she earned degrees in psychology and animal behavior from the 'University of South Carolina.' Initially, she worked with dolphins for a couple of years at 'Six Flags Great Adventure,' in New Jersey. In 1994, she joined 'SeaWorld Orlando' and started working with otters and sea lions. In 1996, she started working with orcas and eventually played an instrumental role in revamping the 'Shamu' show at 'SeaWorld Orlando.' The noted animal trainer, who spent most of her time taking care of marine animals, met with a tragic end when she was killed by an orca named Tilikum. Brancheau became the only trainer at 'SeaWorld' to be killed by an animal. Interestingly, the orca that killed her was involved in the deaths of two other people.
Childhood & Early Life
Dawn Therese LoVerde was born on April 16, 1969, in Cedar Lake, Indiana, USA. She was the youngest child among six children born to Marion and Charles LoVerde.

Brancheau was a passionate animal lover since her childhood days. She aspired to become a 'Shamu' trainer after watching a 'Shamu' show during a family vacation in Orlando. She attended the 'University of South Carolina' from where she completed her graduation with degrees in psychology and animal behavior.

Career

Brancheau worked for the New Jersey-based amusement park 'Six Flags Great Adventure,' where she worked with dolphins for two years. In 1994, she started working for 'SeaWorld Orlando.' She started her career at 'SeaWorld Orlando' by working with sea lions and otters. From 1996, she began working with orcas, also known as killer whales.

She was featured on NBC-affiliated TV station 'WESH' in 2000. During her appearance on 'WESH,' she spoke about the importance of staying physically fit while working with orcas. To keep herself fit, Brancheau pursued cycling and running.

Brancheau played a key role in revamping the 'Shamu' show at 'SeaWorld Orlando.' Her role in revamping the show along with her decade-long work at the marine zoological park was profiled in 2006.

Interaction between the animal trainers and the orcas was considered the main attraction of the 'Shamu' shows at 'SeaWorld.' Brancheau was a senior trainer who was featured in various 'SeaWorld' public performances. However, she had once stated that it was dangerous to work with orcas in such close proximity.

Tragic Death

Brancheau was performing with Tilikum, the largest orca at 'SeaWorld Orlando,' for a show called 'Dine with Shamu.' Tilikum was earlier involved in the deaths of two people. On February 20, 1991, it had attacked and drowned a part-time trainer named Keltie Byrne at the now-defunct 'Sealand of the Pacific,' and on July 6, 1999, Tilikum killed a 27-year-old man named Daniel P. Dukes in 'SeaWorld Orlando.'

In the 'Dine with Shamu' show, the guests were invited to dine at an open-air restaurant by the poolside while watching the performance of the orcas. On February 24, 2010, Brancheau was lying next to the killer whale at the edge of the pool. As part of the routine, Brancheau had her hand placed on Tilikum's head just before the end of the show. In an unexpected turn of events, she was suddenly grabbed by her ponytail and pulled into the water by Tilikum.

While the visitors watched Brancheau being drowned by Tilikum, the employees at 'SeaWorld Orlando' tried to distract the killer whale by throwing food at it. Though they did not succeed in distracting Tilikum, they did manage to direct the orca to a medical pool in order to calm it down. Tilikum released Brancheau's body only after being directed to the medical pool. However, the damage had already been done.

Continue Reading Below

The autopsy report of Brancheau stated that her death was caused by drowning. It also stated that Brancheau had suffered from severe injuries including dislocation of left elbow and fractures to ribs, jawbone, and cervical vertebra. Her spinal cord was cleaved and her scalp was totally torn off from her head. Brancheau was laid to rest at 'Holy Sepulchre Cemetery,' located in Worth Township, Cook County, Illinois.

The Aftermath

Following the demise of Brancheau, 'SeaWorld' trainers refrained from performing shows with orcas. Subsequently, 'SeaWorld' banned the shows that required the trainers to be in the water with orcas. 'SeaWorld' had earlier too banned such actions on account of serious injuries caused to the trainers by the orcas, but such bans would later be lifted by 'SeaWorld' allowing its trainers to perform shows with the orcas. This time, however, the ban was more pronounced due to the intervention of 'Occupational Safety and Health Administration' (OSHA).

On August 23, 2010, 'OSHA' imposed a fine of $75,000 on 'SeaWorld' for three safety violations, one of which was related to Brancheau's death. A series of legal battles ensued between 'SeaWorld' and 'OSHA.' 'SeaWorld' filed a number of appeals, hoping to resume its shows. In 2015, 'SeaWorld' was once again cited for not adequately protecting its trainers.

Brancheau's death became a national concern as many criticized the captivity of orcas. The US House of Representatives and lawmakers in California proposed a legislation to ban the captivity of the orcas. In 2015, the 'California Coastal Commission' made its move to ban the breeding of killer whales.

'SeaWorld' went on to declare that it would discontinue the program of artificial insemination breeding of captive killer whales. It also mentioned that it would join hands with the 'Humane Society of the United States' to work against ocean pollution, shark finning, commercial whaling, and seal hunts. 'SeaWorld' also said that it would concentrate more on rescue operations of marine animals.

Family & Personal Life

Dawn Therese Brancheau married 'SeaWorld' stunt water skier Scott Brancheau in 1996. Apart from working at 'SeaWorld,' Brancheau also worked as a volunteer at a local animal shelter where she took care of two Labradors. At her home, she raised many birds, rabbits, chickens, and a variety of stray ducks.

Even though Brancheau's husband, Scott, hired a Chicago law firm, he refrained from taking legal action against 'SeaWorld.' Brancheau's death inspired the critically acclaimed American documentary film 'Blackfish.' The film criticized the captivity of orcas. It premiered at the 2013 'Sundance Film Festival' and received 'BAFTA Award' nomination for 'Best Documentary.'

Gabriela Cowperthwaite, the director of 'Blackfish,' questioned 'SeaWorld's' version of the incident. She also questioned its theory, which stated that Tilikum had targeted Brancheau as she had a long ponytail. Cowperthwaite argued that the captivity of Tilikum and the harassment that it faced at 'Sealand of the Pacific,' where it was kept earlier, contributed to the orca's aggression.

'SeaWorld,' on the other hand, refused to participate in the production of 'Blackfish' and later claimed that the film was inaccurate and misleading. Many performers and musicians canceled their pre-scheduled shows at 'SeaWorld' following the release of 'Blackfish.'

Brancheau's family came up with the 'Dawn Brancheau Foundation' in her honor. The foundation aims to continue the legacy of Brancheau by helping humans and animals alike. The foundation also aims at improving the lives of needy children and animals. It also promotes the significance of community service.

Translate Wiki

to Spanish, French, Hindi, Portuguese

Article Title

- Dawn Brancheau Biography

Author

- Editors, TheFamousPeople.com

Website

- TheFamousPeople.com

URL

-

https://www.thefamouspeople.com/profiles/dawn-brancheau-43343.php

Last Updated

- December 31, 2018

---

---

---