David Foster Wallace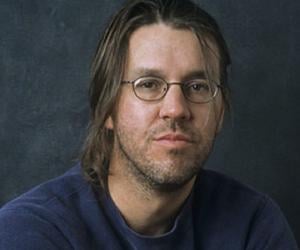 Quick Facts
Birthday: February 21, 1962
Nationality: American
Famous: Novelists American Men
Died At Age: 46
Sun Sign: Pisces
Born in: Ithaca, New York
Famous as: Writer
Family:
Spouse/Ex-: Karen L. Green (m. 2004–2008)
father: James D. Wallace
mother: Sally Foster Wallace
siblings: Amy
Died on: September 12, 2008
place of death: Claremont, California
U.S. State: New Yorkers
Cause of Death: Suicide
More Facts
education: Amherst College, University of Arizona, Harvard University
awards: MacArthur Fellowship
Continue Reading Below
David Foster Wallace was a noted American author and university instructor. Wallace was a cheerful and funny child and good student. He also played tennis, participating in several tournaments across the state. But at some point in his middle school, he started developing an anxiety disorder and started taking drugs. By the time Wallace entered college, he had become a full-blown addict and began to suffer from depression, missing two full semesters because of it, but excelling academically between the attacks. His first novel was published while he was still a student of creative writing in Arizona. But while working on his doctoral thesis at Harvard, he had a breakdown, having to spend some time at a halfway house. He wrote an encyclopedic novel, 'Infinite Jest', after being released from there. The 1996 novel is one of the most celebrated English-language books of our times. Concurrently, he also started teaching and by the time he committed suicide at the age of 46, he had several books to his credit.
Recommended Lists:
Recommended Lists:
Continue Reading Below
Childhood & Early Years
David Foster Wallace was born on February 21, 1962 in Ithaca, New York, USA. His father James Donald Wallace is Emeritus Professor of Moral Philosophy at the University of Illinois while his mother Sally Jean née Foster was a professor of English at Parkland College, Champaign.

Wallace was the oldest of his parents' two children. His sister Amy Wallace-Havens is two years his junior. He loved teasing her, knowing very well how to make her hysterical. Much later, Amy lovingly mentioned him as "benevolently sadistic, if that makes any sense at all".

The Wallace siblings grew up in a liberal academic household in Urbana, Illinois. Their TV time was restricted to two hours each day and one 'Wild West' kind of show per week. When David objected, his father encouraged him to write intra-family memo, inducing a flair for writing early in his childhood.

His early writings, now housed in the Ransom Center at the University of Texas, include two interesting poems written about his mother. Later however, he moved to prose, writing fictions like 'Ralph and the Legal Milestone' in his senior year in high school.

As a child, he also invented a game called, 'Captain Phlegm and his trusty sidekick, Goat Bile', amusing himself by playing both parts during long winter days. Amy often begged him to let her play Goat Bile, but he always refused.

In Urbana, Wallace began his education at Yankee Ridge Elementary School, later moving to Urbana High School, from where he graduated in 1980. He was a good student and earned perfect grades at school, also reading a lot of books, especially 'Hardy Boys' and the works of J. R. R. Tolkien.

During his middle school years, he began playing tennis. A very competitive player, he soon started attending competitions all over Illinois, achieving a regional ranking. While traveling by car to different destinations, he came in close contact with the state's topography and fell in love with it.

These tennis trips, undertaken without adult supervision, introduced him to drugs and alcohol. By then, he had begun to develop a self-loathing, leading to occasional anxiety attacks. In some of the early notes, which came to light after his death, he wrote "ankles too thin, calves not muscular enough" and "Thighs squnch (sic) out repulsively."

By the time, Walace was in his senior school, he had started smoking pots. He also started having sweating attacks, which embarrassed him greatly. As an antidote, he started carrying a towel and a tennis racket, as if to show that he was just back from the court.

Continue Reading Below

Recommended Lists:

Recommended Lists:

College Education

In 1980, David Foster Wallace graduated from school and enrolled in Amherst College, doing double major in English and philosophy. There he began to flourish as a scholar, pursuing modal logic and mathematics in philosophy, concurrently participating in the glee club. He soon became very popular among the students.

Despite his popularity at Amherst, he continued to suffer from recurring bouts of depression. In his sophomore year, he suddenly left for home, stunning his family, which did not have any inkling of his condition. Nonetheless, he returned to college after a series of therapy sessions and medication.

While at Amherst College, he lost two full semesters due to his depression, with the third attack occurring immediately after his graduation in the summer of 1985. This time, he was admitted to a psychiatric unit where he was diagnosed with clinical depression and prescribed antidepressants.

In between the attacks, Wallace continued to excel academically, writing 'Richard Taylor's Fatalism and the Semantics of Physical Modality' as his philosophy thesis. He received Gail Kennedy Memorial Prize for it. In 2011, the thesis was published as 'Fate, Time, and Language: An Essay on Free Will'.

For his thesis in English, he submitted 'The Great Ohio Desert', which was eventually published as his first novel, 'Broom of the System'. Till then, he did not have any literally ambition; planning to follow his parents into an academic career.

In his senior year at Amherst, one of his professors commented that his philosophy writing had the quality of unfolding story. It made him consider a career in writing. After his graduation in 1985, he got admission in the University of Arizona to pursue creative writing, getting his Master of Fine Arts degree in 1987.

Continue Reading Below

Recommended Lists:

Recommended Lists: